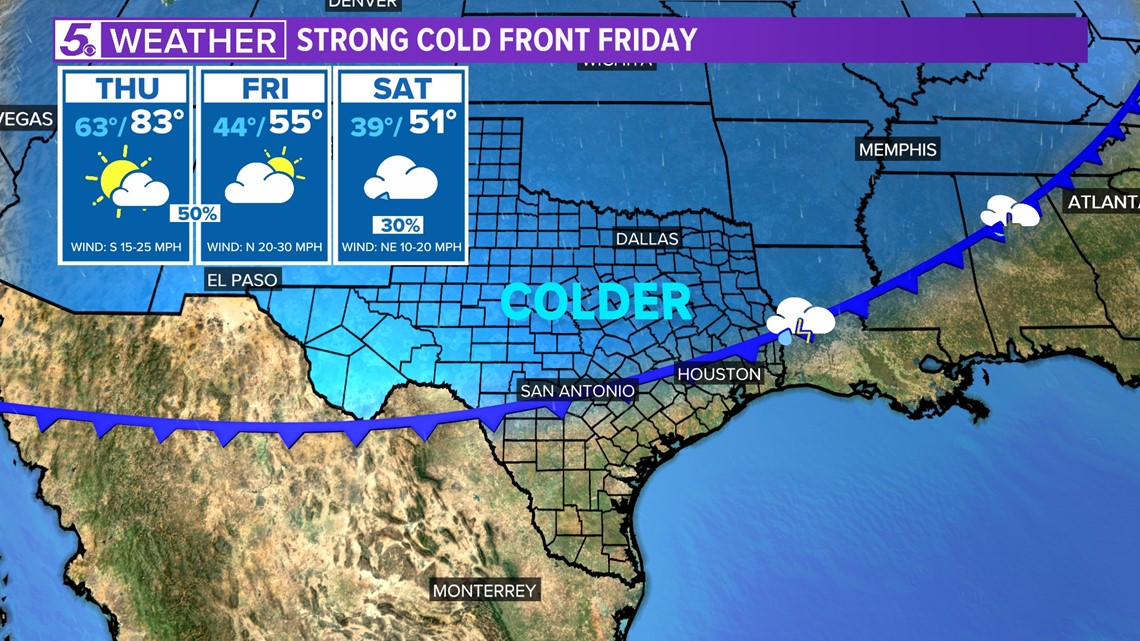 Weather will feel almost winter-like as possible storms and strong winds will come through San Antonio with our next system.
SAN ANTONIO — Get ready San Antonians, as a rollercoaster of weather is in store for the rest of spring break as cold front brings winter-like weather and possible storms over the next 48 hours.
San Antonians will want to keep an eye on the forecast this week, especially if you're planning any outdoor activities for spring break.
Our next cold front is bringing a chance of severe weather with hail, storms and damaging wind conditions. Behind the front San Antonians can also expect a sharp drop in temperatures ahead of this weekend.
Here's what you need to know:
Wednesday (High 73 and Low 53): Another cloudy day with consistent wind speeds at 20-25 mph. Temperatures will be very comfortable to enjoy your spring break outdoors.
Thursday (High 83 and Low 63): The threat for severe weather begins in the afternoon as storms could fire up along a dryline. Currently, San Antonio remains at a Slight Risk for severe weather on Thursday, according to the Storm Prediction Center.
Weather models show mostly light rain possible in the afternoon with the severe risk increasing by late evening.
The afternoon will be very warm in the low 80s. Perfect day to sit poolside because over the next 24 hours temperatures will be a very different story. After the cold front rolls through late Thursday night, winter-like weather will start to settle in.
As we near midnight on Thursday large hail, damaging winds and rotation can't be ruled out with this next system. The northerly wind behind the front will also bring wind gusts between 30 – 45 mph.
St. Patrick's Day (High 54 and Low 44): Here comes the jacket weather!
As San Antonians wake up Friday morning temperatures will be in the 40s. Brrr! Then by the afternoon high temperatures will only reach the 50s.
Rain and storms could still pop-up early Friday morning. Weather models show by 9 a.m. most of the heavier rain should die down by Friday afternoon leaving the rest of the day with partly cloudy skies.
Weekend: As San Antonians wrap up their spring break weekend make sure to dress warm. Both Saturday's and Sunday's high temperatures will be in the 50s and morning lows in the 40s.
In addition to the cold weather scattered showers stick around Saturday and Sunday.
The sharp drop in temperatures also brings a wintry mix possibility for areas around the Hill Country. Especially Sunday night to Monday morning.
By Tuesday temperatures in San Antonio will bounce back up near 70 degrees and partly cloudy skies.
Original News Source

Running For Office? Conservative Campaign Management – Election Day Strategies!