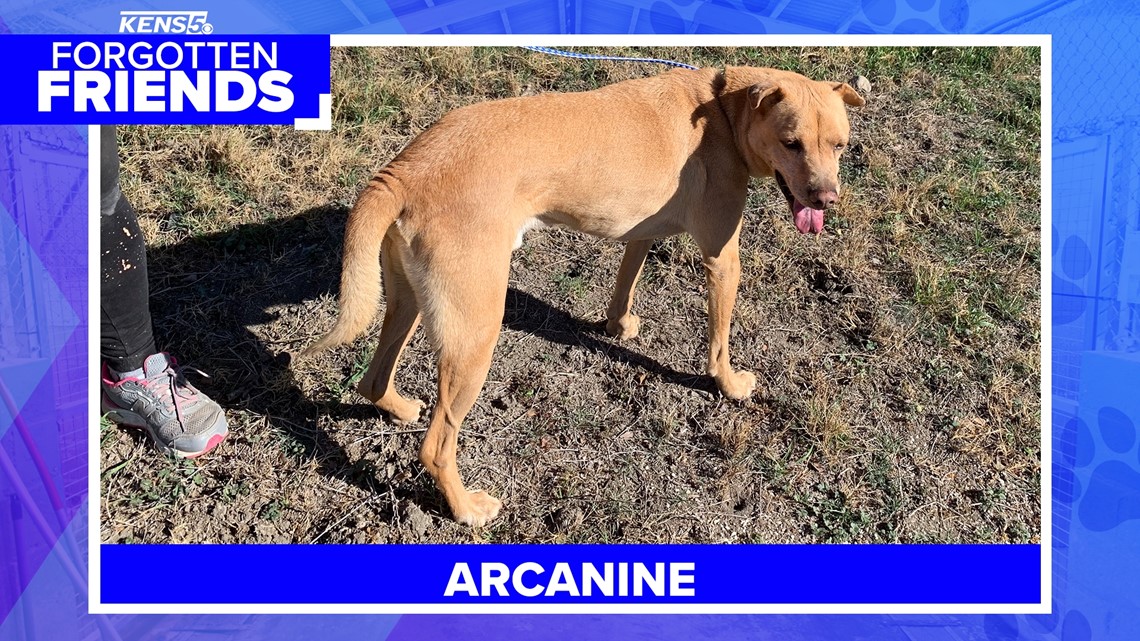 This poor boy has lived at the shelter his entire life, overlooked by everyone looking to adopt a dog.
CONVERSE, Texas — Our "Forgotten Friends" series showcases a dog or cat each week that has spent a lengthy time at an area shelter, just waiting for someone to notice them and bring them home to love.
What would you say if we told you that this week we met a dog who has lived almost their entire life, at least nine years, in a giant cage at an animal shelter?
Arcanine at the Converse Animal Shelter is a blonde lab mix who is just about 10 years old and has lived at the shelter his whole life, waiting for someone to bring him home and love him.
What makes his story even more sad is that he was surrendered by his owner back in March of 2013 when he was only a puppy because they were moving and couldn't take him with them.
Arcanine is a 10-year-old blonde lab mix | Forgotten Friends
Arcanine is named after the Pokemon character he resembles who has an orange pelt with jagged black stripes, and is said to be fiercely brave and loyal.
The shelter staff said that he loves going for walks and does really well on a leash. He loves the time he gets to spend outside and wants to stop and mark his territory frequently. Probably because he has never really had any place he could call his own.
Arcanine gets a new toy every week and promptly tears it to pieces moments after receiving. He likes to pull out the squeakers and decapitate his toys.
Other than that, he's just a "really chill dog" who is very low maintenance.
The staff thinks he would do really well in an active home, possibly with older kids. He gets along great with other dogs but we don't know about cats, because he hasn't been tested around any.
Tracy Guastella, the trainer at the shelter, thinks that one of the reasons he keeps getting overlooked is because he has a really loud roommate, so folks walk right on by his cage without even noticing him laying down in the back. Most of the dogs at CASI are two to a cage because they just don't have enough space for dogs to be in their own enclosure.
Arcanine is heartworm negative and current on all of his shots. He doesn't have any health problems that the shelter is aware of.
Tracy said he doesn't need any special attention, he just needs a home he can call his own and a human to love him unconditionally.
Are you ready to make a doggie's dreams come true?
Visit the Converse Animal Shelter at 9634 Schaefer Road in Converse, 78109.
You can even take Arcanine home and see if he's a good fit for you and your family without adopting him first. The shelter will let you take him home on a trial basis or even foster him for no charge, and they'll even give you the dog food and take care of all of the veterinary visits! Everybody wins! Arcanine finally gets a home of his very own, and it frees up a spot at the shelter making room to save another dog from a kill shelter.
It's not often you get the chance to save TWO lives.
Tuesday – Friday 10 a.m.-12 p.m. & 2-4 p.m.
Saturday 10:00 a.m. – 3:00 p.m.
Closed Sunday & Monday
If you'd like to volunteer, just show up anytime. Adoptions are only handled during business hours.
Dogs $150 and Cats $100
Includes Microchip, Spay/Neuter, Vaccinations
Are you not ready to adopt a pet, but want to help take care of the animals at the shelter? Converse Animal Shelter has an Amazon Wish List you can visit and purchase from to be delivered right to their door.