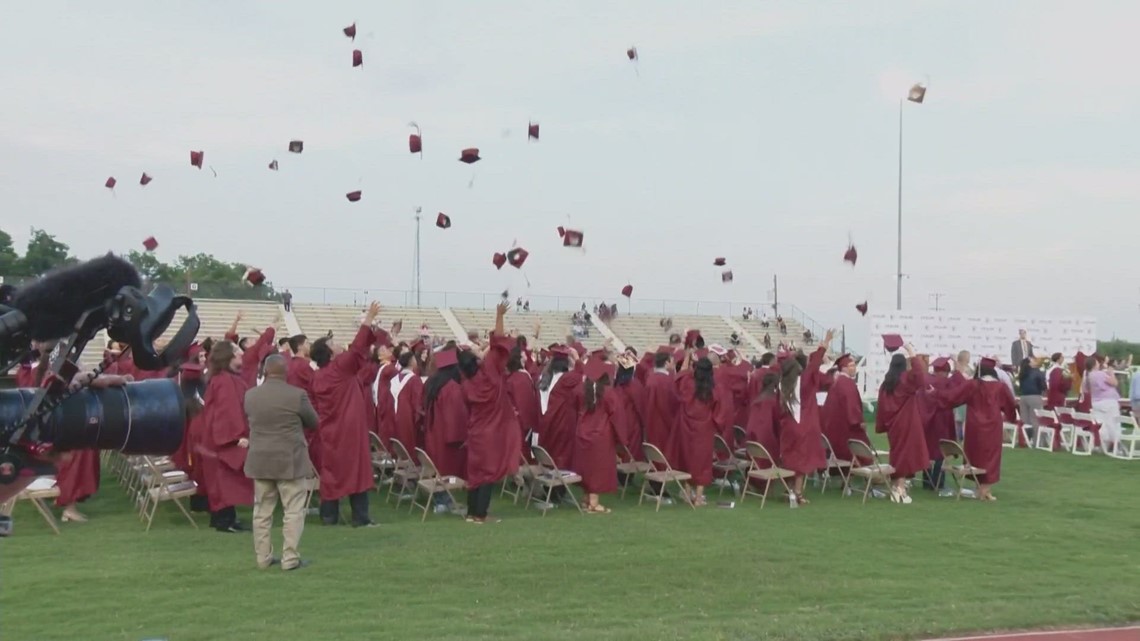 An incredibly heavy week ended in celebration, as nearly 300 high school students received their diplomas.
UVALDE, Texas — Celebration capped off a painful week in Uvalde.
Nearly 300 high school students received their diplomas Friday night. Graduates were recognized for their hard work and many accomplishments.
"We don't know what his next adventure will be, but I'm sure it will be awesome," said Estella Martinez.
Martinez is a proud grandmother. She could be seen holding a sign that said, 'Way to go Nate,' at Honey Bowl Stadium.
"He struggles, but he made it," said Martinez. "He graduated!"
Graduate Balerie Munoz soaked in the moment.
"I'm so excited," she said. "I'm ready!"
Munoz plans to join the Marines, and said she'll be sworn in this June.
"I know it's the hardest [branch]," said Munoz. "I want to do something that's hard."
As Munoz tackles a new challenge, her community is still coming to terms with its own. Many are navigating how to move forward one year after catastrophe.
"Our community has faced a tragedy no community should ever have to face," said Principal Randy Harris during his commencement speech. "19 students are forever in the fourth grade, and two teachers are gone. The only way to move forward is to be the change we want to see in the world."
The victims of the Robb Elementary massacre were honored alongside the graduates. Munoz hopes to keep their memories alive.
"The little kids that passed – they are never going to get this opportunity," said Munoz. "Since they are not going to get this opportunity, I just want do what I can to live life to the fullest for them."
Original News Source

Running For Office? Conservative Campaign Management – Election Day Strategies!