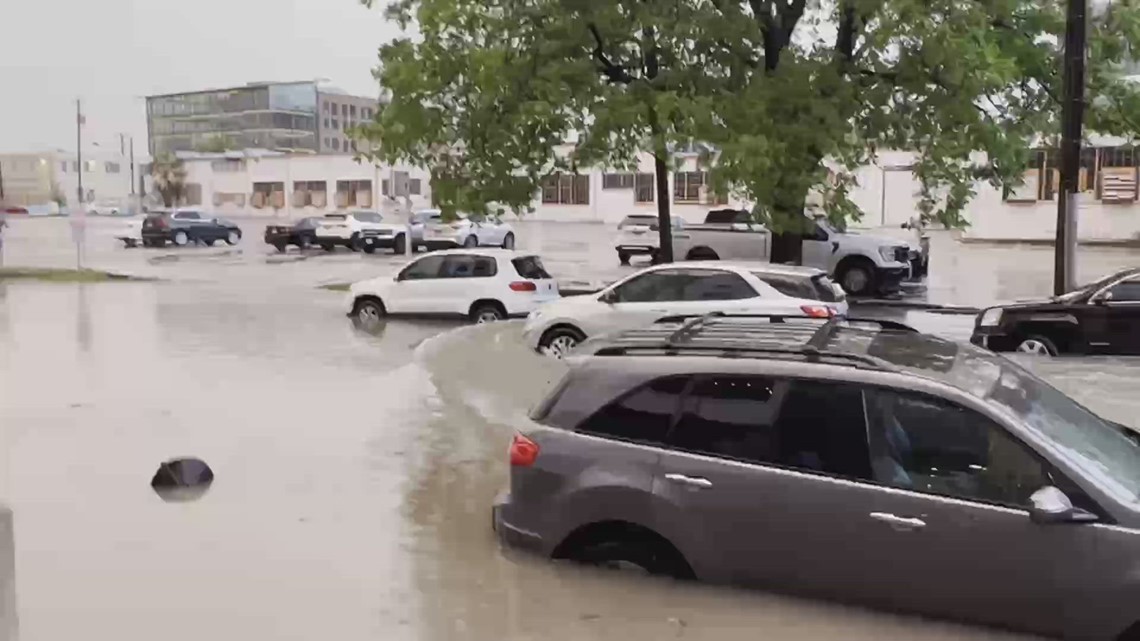 With days of advanced notice, all entities are on alert for strong Mother's Day Weekend weather.
SAN ANTONIO — A Mother's Day Weekend flooding threat that's been bubbling all week has arrived on San Antonio's doorstep.
At the northwest side's Orsinger Park, gates are closed and will remain closed until Monday out of an abundance of caution as county officials prepare for what could be a prolonged flooding event.
"There's trees, there are the gazebos that people would be in," said Tom Peine, spokesperson for Bexar County. "It just creates a dangerous environment when you add high winds and rain to it."
The City of San Antonio started preparing days ago by installing barricades early; once the rain falls, it can be hard to get those barricades where they need to be.
"When we realize the rain comes down and there is water on the roadway, our crew goes over then and barricades the roadway and closes the roadway," said Razi Hosseini, director of the San Antonio Public Works Department.
If you're planning on heading out, city and county officials recommend checking the conditions of roads online.
"We are also asking the public to go on Public Works's website and check the road closures," Hosseini said. "We post those on the our website to make sure people doesn't use those roadway."
The City of New Braunfels also has some weekend changes in store due to the heavy rain. The recycling center on Butcher Street will be closed Saturday, while access to Comal River and City Tube Chute are preemptively closed.
Should the river rise over the dam, all recreation on the Comal will be closed until water subsides. City street crews continue to pre-stage barricades at low water crossings.
Back in San Antonio, the fire department's message is simple: Don't go out unless you have to.
"The last thing we want is (for you to) put yourself in any kind of danger where we may need to come rescue you," SAFD Spokesperson Joe Arrington said. "It's key, when we have severe storms like this and heavy rain, that you stay home if you can."
If you do decide to drive around a high-water barricade, a fine of $2,000 and/or a 180-day jail stint could await. And, if you have to be rescued, each vehicle occupant could be charged $650.
>TRENDING ON KENS 5 YOUTUBE:
[embedded content]
Original News Source

Running For Office? Conservative Campaign Management – Election Day Strategies!