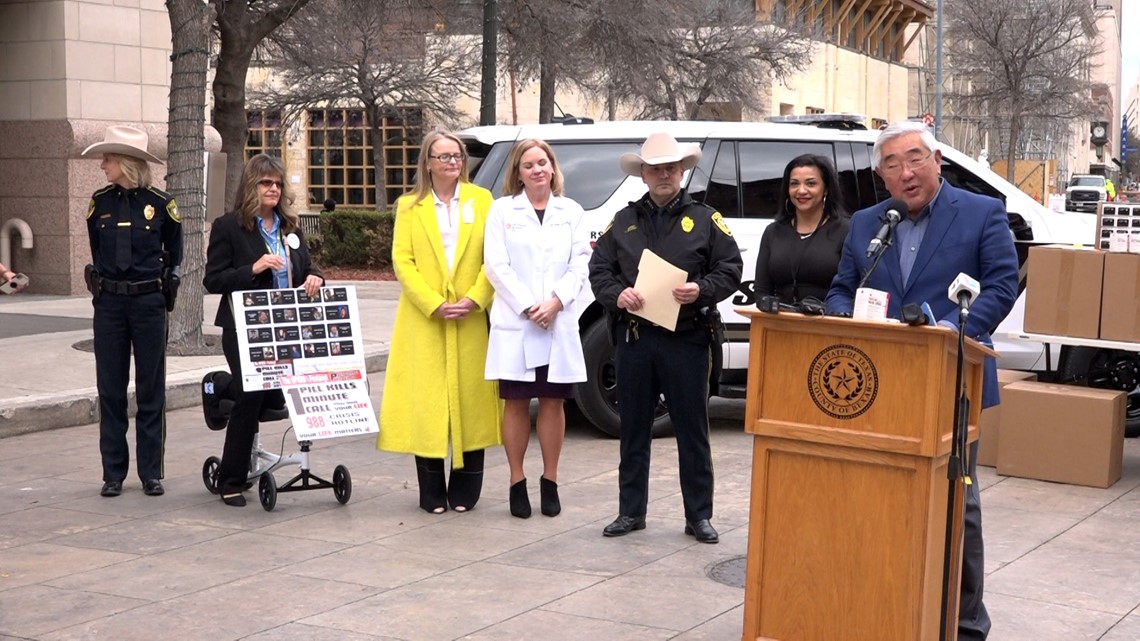 The supply was paid for by funds the county received in opioid settlements. One San Antonio family wants others to learn its benefits.
SAN ANTONIO — Bexar county sheriff's deputies are getting a 20-month supply of Naloxone, the life-saving medication that could counteract overdose effects, commonly known as Narcan.
On Friday, the Bexar County Judge announced opioid settlement funds were used to buy the nearly 2,000 doses, which will go into the hands of first responders.
For one San Antonio family who watched the announcement—they're hopeful Narcan will prevent tragedies like the one they experienced.
Veronica and Daniel Kaprosy stood outside the Bexar County Courthouse, holding a framed picture of their daughter Danica.
"She wanted to be an engineer, she had plans of going to New York for college," the two told KENS 5.The family says Danica suffered from insomnia and had bad food allergies.
And wanted to make the pain go away.
"We don't know if it was bought by her or given to her, a Percocet, she took a Percocet and she never woke up, it was a full fentanyl," Veronica said.
The reality is what more than 250 families have faced in the last two years within Bexar County.
But the sheriff's office says it has saved lives, more than 51 times in 2022 thanks to Narcan.
The deputies on the front lines of the opioid crisis are grateful for the donation.
"We're hoping this lasts 20 months, I was asked earlier about what happens if we run out, and we're gonna have to figure that out sooner rather than later because it is the new normal for us," Sheriff Salazar said.
Bexar County leaders have collaborated in the past to give donations of Narcan to the Sheriff's Office.
"A day like this is really not about us at all, it's about honoring the people whose lives were lost because they did not have access to lifesaving intervention," Dr. Jennifer Potter, UT Health Vice President for Research said before the crowd.
Friday also marks six months since Danica died. She was only 17-years-old.
Her parents want to fight the stigma surrounding drug overdoses, instead calling it a poisoning from fentanyl.
"They're not popping a handful of pills, it's a fentanyl poisoning. They're taking something unknowingly and they're dying from it," Veronica said.
Her parents will spend the rest of their days educating others.
"It happened to our family, it happened our daughter, do something and be proactive and get knowledge of what this drug can do," Daniel Kaprosy told KENS 5.
Although the parents did not know what Narcan was or if it could've saved their daughter's life, they are hoping the awareness of Narcan can save others.