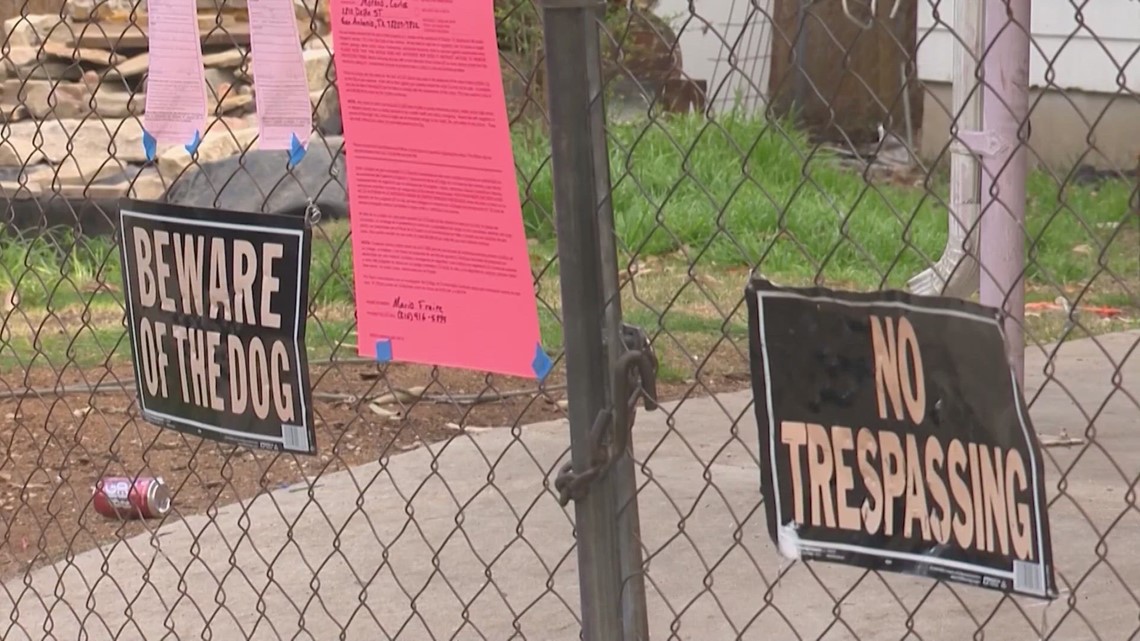 One measure would give Animal Care Services more authority to impound a dog. The bill would also allow Texans to anonymously file complaints about a dangerous dog.
SAN ANTONIO — San Antonio lawmakers filed three bills Friday that aim to protect Texans from violent dogs.
Legislators drafted the measures after two Staffordshire Terriers killed a man and injured three other people on the city's West side.
San Antonio police charge the dogs' owners, Christian Moreno and Abilene Schnieder, with dangerous dog attack causing death and criminal negligence causing injury to an elderly person. Both charges are felonies.
Police also Thursday arrested Schnieder's sister, Destiny Cardona, for felony retaliation. An affidavit alleges she threatened to kill a neighbor who spoke to the media about the attack.
Animal Care Services euthanized both dogs and another of Moreno's Staffordshire Terriers that roamed the streets during the mauling.
Though neighbors repeatedly called city authorities about the dogs, Animal Care Services says no one filed a sworn affidavit required to designate the terriers as "dangerous dogs." After prior bitings, Moreno and Schnieder paid a fee and retrieved their pets.
In San Antonio, people who own dogs formally designated as "dangerous" must obtain liability insurance policies on the animals, attend a pet ownership class, and post a special warning sign on their property. The dogs must be muzzled, micro-chipped, and spayed or neutered.
Animal Care Services also has broader authority to seize or euthanize a "dangerous dog."
One proposal authored by Rep. Liz Campos, D-San Antonio, would give animal control the authority to designate dogs as "dangerous" without a victim's affidavit. In lieu of the sworn statement, ACS investigators would themselves need to observe and document the dog's behavior.
The bill would also allow victims to anonymously file dangerous dog affidavits. Some witnesses to the Feb. 24 attack told police they were afraid to make reports, fearing retaliation.
The same measure would also stiffen penalties for criminals convicted of attack by dangerous dog more than once. Repeat convictions would be punished as a third-degree felony.
"We're proud to work with our state lawmakers to help make San Antonio a safer community and look forward to partnering in the coming legislative session," Animal Care Services spokesperson Lisa Norwood said in a statement to KENS 5 Friday. "This is a conversation we are having not only with our legislative leaders but other animal control authorities throughout the state who are faced with similar issues of addressing irresponsible pet owners with menacing dogs threatening our neighborhoods and residents."
"Whether it's revised legal processes or entirely new legislation to strengthen accountability, the aim will be to prevent any more families from facing the tragedy of a dog attack," she continued.
Rep. Diego Bernal, D-San Antonio, and Sen. Jose Menendez, D-San Antonio, filed similar legislation Friday that would allow witnesses and victims to sign anonymous affidavits. The bills would also give ACS the authority to designate a dog as dangerous.
"We need to take back the streets of San Antonio," Menendez said. "We have to send a message that we're serious about this."
Menendez wants concerned San Antonio residents to travel to Austin and "tell their story" during committee debate on the measure.
"I want people to understand why we need the bill," he said.
The bills have not yet been assigned a date for initial debate.