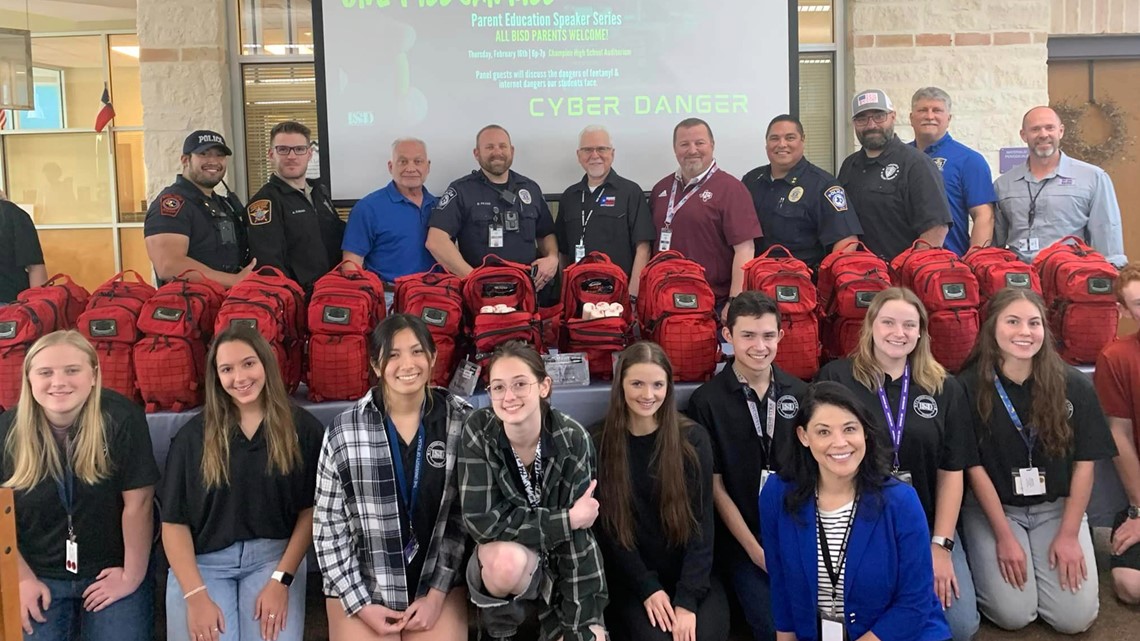 It's a new medical kit containing life-saving materials to use in the event of a tragedy. They were delivered one week ago.
SAN ANTONIO — If your child attends Boerne ISD, they may notice their school resource officer walking around with a red backpack.
It's a new medical kit containing life-saving materials to use in the event of a tragedy. They were delivered one week ago.
The goal of the new trauma kits is to help school resource officers provide emergency aid more quickly — before and after the first crew of paramedics arrives.
"Schools have first aid kits available for all the students, teachers and counselors. The trauma kits are for really the event of a mass casualty scenario," said Rey De La Fuente, President of the Boerne Police Foundation.
The Boerne Police Foundation, established in 2015, has a mission of supporting the local police department and fill any city budget gaps that may exist. If the police department needs certain equipment or training sooner rather than later, the foundation will help raise funds to make it happen.
De La Fuente says after Boerne police officers completed Stop The Bleed training, many realized that in order to do the job faster, they simply needed more.
"We determined that the school resource officers had an additional need for some improved equipment," explained De La Fuente. "After the Uvalde tragedy, it's top of mind for a lot of people."
With the help of donors, the Boerne Police Foundation received funding for several backpacks supplied by Homefront Trauma Training.
"They have tourniquets in them, chest seals, pressure dressings. They also have heat blankets in there. So if someone does get hurt and there's a loss of blood, they're able to keep people warm," said Andrew Martinez, Owner & Operator of Homefront Trauma Training, LLC.
Martinez is a veteran who specialized in trauma medicine as a combat medic. Now living in the area, he used his medical expertise — ranging from field medicine to acute and long-term care — to start a business.
"I think right now as a country, we have a lot of difficulties on different areas of what we're dealing with every day. This is one area that I felt that I can contribute something to," said Martinez. "Especially in America right now, more and more people are finding themselves in the situation of they could use that training."
What's inside the trauma kit backpack isn't foreign to Boerne SRO's. In January, officers learned how to use these materials over two hours of high stress training with Homefront Trauma Training.
"[We had] fake wounds that hook up the pumps and spray blood. So there's a visceral visual response to what they're arriving to," said Martinez. "We also used smoke and noise distraction devices to amplify the environment of high stress."
Corporal David Chavez has 20 years in law enforcement under his belt. The best part of his career, he says, is being a school resource officer. His primary campus is Boerne Middle School North and Chavez is also assigned to Boerne Academy.
"Our role as school resource officers goes a lot more than just enforcing the law on our campuses," said Chavez. "It's safety, it's security, it's mentoring, it's educating."
Homefront Trauma Training included 45 minutes of classwork time, an hour and a half of low stress training, followed by the high stress training. The goal was for officers to take the skills they know and use them under high stress to find out what needs work and what doesn't.
"We had to apply a tourniquet, but before we applied the tourniquet on ourselves, we had to dip our hands into a bucket of ice water to simulate the loss of the fine motor skills that one goes through under high stress," said Chavez. "I'm very fortunate in my career where I have not had to have gone through something like that in real life. Nevertheless, I can only imagine the amount of stress and how high your heart rate is going to be in an event like that. Being able to train like that is key."
Now, Cpl. Chavez is more comfortable with his elevated skillset. Upon receiving his red medical backpack, he said it felt like Christmas in February. Chavez said he carries his trauma kit with him wherever he goes.
"The staff members I work with for the school district, they know it's there," he said. "Here shortly, we're going to be going over a plan of 'Alright, if something bad happens and I'm not in the office, that red bag has some things in there that can help us get through these situations.'"
Cpl. Chavez says soon, Boerne ISD will also teach Stop The Bleed classes to 7th and 8th graders who are interested.
So far, five schools have been sponsored by the Boerne community to provide medical kits to SRO's. De La Fuente says their goal is raising $90,000 to fund all 12 schools in the district. At the moment, they're nearly halfway to their goal.
To make a donation or sponsor a school, visit BoernePoliceFoundation.com. Any questions can be e-mailed to BoernePoliceFoundation@gmail.com.
To book a session with Homefront Trauma Training, visit HomefrontTrauma.com and click on "Contact Us". Keep in mind, training is catered to your experience. All groups, churches and workplaces are welcome.