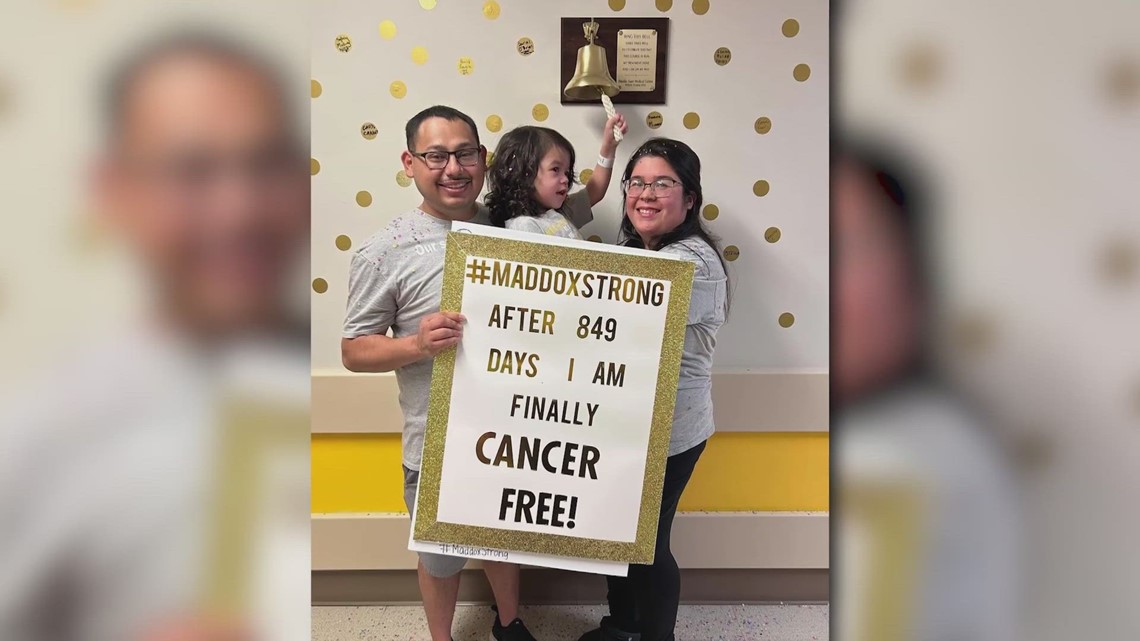 Two national organizations known for helping kids with critical illnesses are stepping up to help this local family with seven kids.
SAN ANTONIO — After three difficult years, a San Antonio Military family is finally beginning to get a sense of normalcy again. Two national organizations known for helping children with critical illnesses, are stepping up to help a local family.
KENS 5 Anchor Sarah Forgany sat down with the mother of a 5-year-old who has been battling cancer since he was just two and she has a message for parents.
"In an instant, our life was just our life was shattered," an emotional Brittany Smith said as she sobbed while hold her son Maddox. "I fell to the floor, and I cried and I screamed. "
In October of 2020, Maddox was just two years old when Smith received some devastating news.
"When they told me that they thought he had cancer."
Doctors diagnosed him with High Risk B-Cell Acute Lymphoblastic Leukemia.
"He was just playing, playing on the floor. He didn't have a clue what was going on or what was about to start happening to him."
Within two days, Smith says her little boy was getting his first round of chemo. It would turn into a nearly three year journey, 110 hospital stays,
multiple surgeries and many chemotherapy treatments.
Every day was unpredictable.
"I mean, he's a baby. He hasn't gotten to enjoy life and do fun things," Smith said, "I was terrified. I was so afraid that he wasn't going to live."
In that time the mother of seven children would often go weeks without seeing her other kids. She was next to Maddox in the hospital, isolated at the height of the pandemic.
"We've spent the better half of the past two, two and a half years, pretty much just kind of sheltering in place from the outside world for his safety."
The military family eventually left North Carolina where Smith's husband was stationed with the Army and moved to San Antonio.
Maddox would continue his treatment here, at Brooke Army Medical Center.
Smith says treatments worked but not without serious side effects.
"A whole list of developmental delays because of his treatment. I mean, he's nonverbal for the most part right now."
But Smith is thankful Maddox is here today standing strong and she has a message for all parents.
"If you see any abnormal signs with your children, bruises, bleeding, get them checked and don't second guess yourself," Smith said, "I trusted my mom gut and and it saved him."
2000 beads of courage and 849 days later, Maddox is finally cancer free.
"He rang the bell on February 6th of this year, his fifth birthday."
Now Maddox is ready to take on the world.
"He's been through so much in his in his little life, and he deserves to be able to go."
Soon the family will be headed to Disney, thanks to Make-A-Wish foundation. The organization said they're sending the family on May 25.
Meanwhile, another national group, Campaign One At A Time is also helping the family. The charity has launched a donations campaign for the Smiths to raise money for any of their needs.
"This would mean the world to us," Smith said, "All of his, his clinic visits and the pokes and lumbar puncture, then he still walks out of there with a smile. He's so resilient and so brave and just he amazes me."
Original News Source

Running For Office? Conservative Campaign Management – Election Day Strategies!