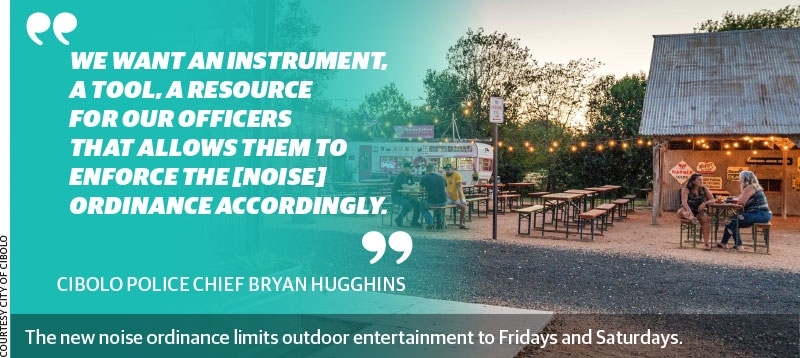 After nearly two years of constant noise complaints about businesses along Main Street and five months of meetings to find a solution, the Cibolo City Council on July 26 approved an amendment to the city's noise ordinance, lowering the acceptable levels of noise by 10 decibels.
The new limits are 75 decibels—which measures slightly louder than a running dishwasher—between 10 a.m.-10 p.m. and 65 decibels—or a little louder than a running air conditioner—between 10 p.m.-10 a.m.
The Cibolo City Council had taken up the noise issue in earnest beginning in December and asked a committee of Old Town Cibolo residents and businesses to work together on a compromise for the council to consider.
Police Chief Bryan Hugghins on April 12 presented 60 noise complaints that had been made anonymously throughout 2021 to the City Council and were used during the amendment process.
Hugghins said enforcement of the ordinance was not the issue and that the noise ordinance would need to be updated for the Cibolo Police Department to enforce further regulations on businesses.
Under the ordinance, first offense fines are not to exceed $100, and the fine caps at $500 for the fourth and subsequent offenses.
According to Hugghins, with most of the complaints not exceeding 85 decibels under the old ordinance, police could not fine business owners since owners were not violating the ordinance.
"This department does enforce what we have right now," Hugghins said. "We still hear concerns that the noise level is too loud, which is why this whole process got started. We want an instrument, a tool, a resource for our officers that allows them to enforce the ordinance accordingly."
District 4 Council Member Katie Cunningham said the noise issues extend further than the ordinance, and the city will need to revisit the Unified Development Code to address the root of the Main Street problem.
According to Cunningham, the UDC requires a concrete barrier for noise suppression, but businesses in Old Town that are in buildings that were formerly homes were not held to the sound suppression standards set by the city.
"The UDC was not consistently enforced by Cibolo," Cunningham said. "This is not an issue for businesses, because they decided to just flat out not do the stuff in the UDC. They were given permission in an inappropriate way to do things that were against what was written in the UDC."
Business concerns
Hugghins said the 60 complaints were lodged against five businesses on Main Street, with the majority being directed at 1911 Cigars, and three of those complaints were found to be in violation of the ordinance.
1911 Cigars opened in 2019 and has a backyard area for patrons to enjoy live music and other entertainment in the evening. Hugghins said 45% of the total complaints came from a single complainant.
April Williams, a Cibolo resident and chief financial officer of 1911 Cigars, said she and her husband, who is co-owner of 1911 Cigars, feel that the noise ordinance amendment does not protect the rights of business owners.
With the majority of the complaints being directed toward 1911 Cigars, Williams said she believes the complaints are not strictly related to noise.
"Close to half of all complaints identified were from one person, and for the majority of those instances, 1911 Cigars was in compliance," she said. "Many others were unfounded situations where either we were not playing music or we were closed."
Being a veteran- and African American-owned business, Williams said having the police show up at 1911 Cigars, whose customer base is predominantly African American, does not give a good image for the business and hinders growth.
District 1 Council Member T.G. Benson addressed the concern by requesting City Council look into regulating complaints harassing local businesses that are in compliance with the ordinance.
"We need to find out what the case is. We need to get to the bottom of it, and if we need to write an ordinance to find out how to get rid of people who are just anonymously complaining about nothing, then let's do that," Benson said. "But at the same time, just because you are a complainant does not mean that it is not a problem."
Jayme Mathis, co-owner of Kindling Kitchen, said the noise ordinance issue would not be resolved by lowering the decibels alone, since many of the complaints presented by Hugghins were tied to bass effects.
"The complaint is of windows rattling, of vibration, of that feeling in my chest that comes from bass," Mathis said. "That bass will not be addressed in lowering the decibel points."
Mathis also said he believes the noise ordinance would not have been brought up to the council if the majority of complaints were not coming from a couple of individuals.
"If something has to be [done], then so be it," he said. "Even though Old Main [Icehouse], even though 1911 Cigars, even though Ernie's is doing all of this stuff that costs them tens of thousands of dollars behind their establishment to give additional buffers for those citizens that are complaining."
Resident concerns
Cibolo residents attended each meeting and shared their input with businesses during shareholder gatherings to come to a compromise for reducing city noise.
Resident Adam Savoy said, while he has never called the police to complain about noise or sound, he is still affected by music downtown and does not get to bed until 11:20 p.m. on nights with concerts going.
"I have never filed a complaint about this, but I have suffered having had to listen to noise," he said. "I have been in front of this council and other councils multiple times, and I shared my concerns. I welcome the attention to the issue."
Savoy said during his time living in Old Town, he has seen neighbors leave due to noise-related issues.
"I have seen my neighbors move, and I have seen my neighbors attempt to get change in place, but it didn't happen. They left," Savoy said.
Resident Kara Latimer said the plan for Old Town Cibolo was misinterpreted, which allowed live music and entertainment venues to be close to residential homes, with some businesses directly adjacent to residences.
"In almost every other city from Georgetown down to San Antonio, you aren't allowed to play live music within 150 feet for residents [of residental properties]," Latimer said. "That is pretty normal, standard zoning in amplified sound nuisance ordinances."
Latimer said the businesses moving into the area resemble gentrification, and the noise issue can be traced back to the lack of definition of small-scale music venues in the Old Town Cibolo Revitalization Plan.
"The conflict over people to businesses or over people to people is heartbreaking," Latimer said. "[This conflict is] over three words we didn't define."
Using the Unified Development Code
With resident and business owners expressing concerns, Cibolo City Council approved the noise ordinance amendment presented by Old Town residents and business owners.
Benson said the issue moves beyond adjusting an ordinance, and some businesses downtown are not in line with the current UDC.
"The reality is there are businesses down there that are not in compliance with the law," Benson said. "People complained, and once the complaint was there, you start looking at what is going on and what is supposed to be happening. Then, you have to do something."
Council discussed the UDC issue with the agreement that the city was not enforcing laws set in the UDC, which gave permission for businesses to operate without meeting the requirements.
"We are where we are because we have a UDC, and we weren't following it," Benson said. "We have to have laws that are followed."
To address concerns in Old Town, council members said they would need to revisit the UDC and hold meetings to consider the next best steps for the city. No official time period was announced for addressing UDC concerns.
"Do we have businesses that are not following the UDC, absolutely," Cunningham said. "Are they these law breakers or rule breakers out to screw everyone over? Absolutely not, and I am really fed up with hearing that terminology because it creates more division. It does not fix anything. We have to fix the UDC."