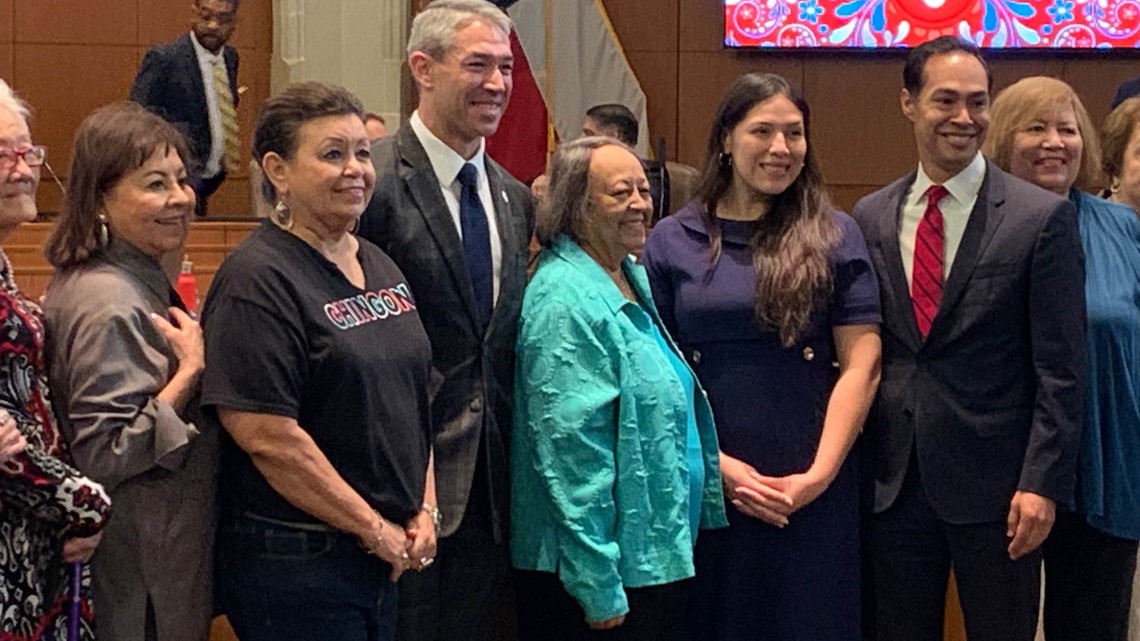 Castro, the mother to prominent politicians Joaquin and Julian, has lived in the district all her life.
SAN ANTONIO — Rosie Castro, an experienced activist and mother to prominent San Antonio politicians Julian and Joaquin, was formally appointed by City Council to represent District 7 for the next few months.
The formal vote followed another public interview at Thursday's City Council meeting. This came after Wednesday's unanimous vote for her as the lone finalist was met with audible cheers and applause in the council meeting room.
The applause and cheers continued Thursday morning when Castro took her seat on the dais with the other city councilmembers. The other members also gave her a warm welcome during the public interview.
Ana Sandoval, who had been in the seat since 2017, resigned earlier this year and ahead of the May 6 city election. Four candidates applied to serve in the interim, effectively filling out the rest of Sandoval's term.
A lifelong resident of District 7, which covers northwest San Antonio stretching from the Woodlawn Lake area to Loop 1604, Castro said her experience working with the city and her family's history of public service has given her "a great deal of respect for public officials."
She has been involved with the Mexican American Legal Defense and Educational Fund on the national level, as well as affirmative action and education organizations on the local level.
Speaking to City Council members Wednesday, Castro would prioritize using the resources at council members' disposal to connect with constituents.
"I feel very confident we can keep up that connection between residents, elected officials and the staff," she said, citing public health, infrastructure and unity between different organizations as other priority areas she would focus on.
Three other candidates were considered for the seat. In a statement, U.S. Rep. Joaquin Castro called his mother "the most qualified Castro" for public office, despite her never having held it.
"My mom has spent decades as a civil servant, political and community organizer, and advocate," his statement went on to read. "I'm excited to see the good work she'll do for San Antonio as interim councilwoman for District 7."
Voters in May, meanwhile, will have five names to choose from for the next full-time representative, including Sandragrace Martinez, Jacob B. Chapa, Dan Rossiter, Marina Alderete Gavito and Andrew "AJ" Luck.
>TRENDING ON KENS 5 YOUTUBE:
[embedded content]
Since going on the air in 1950, KENS 5 has strived to be the best, most trusted news and entertainment source for generations of San Antonians.
KENS 5 has brought numerous firsts to South Texas television, including being the first local station with a helicopter, the first with its own Doppler radar and the first to air a local morning news program.
Over the years, KENS 5 has worked to transform local news. Our cameras have been the lens bringing history into local viewers' homes. We're proud of our legacy as we serve San Antonians today.
Today, KENS 5 continues to set the standard in local broadcasting and is recognized by its peers for excellence and innovation. The KENS 5 News team focuses on stories that really matter to our community.