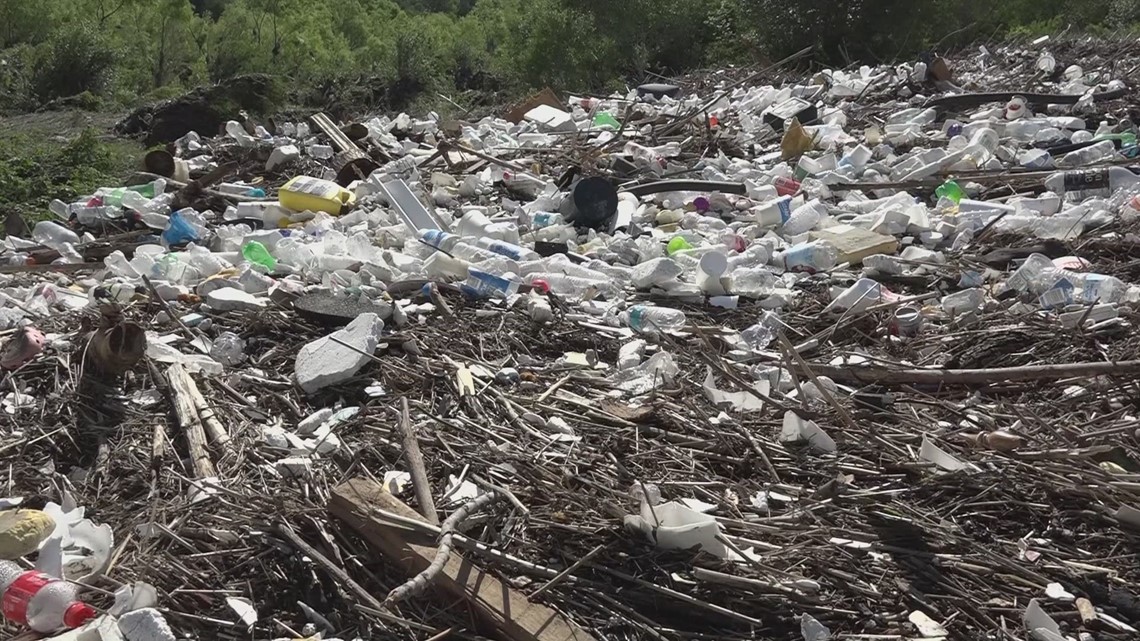 Mission Reach of the San Antonio River gets a makeover from driven volunteers with a big convention bringing visitors to the Alamo City.
SAN ANTONIO — Thousands of tourism professionals from 60 countries around the world are about to arrive in town for the U.S. Travel Association's IPW convention.
Community leaders say it is a chance for San Antonio to shine, as buyers and global media spend four days sampling the best the city has to offer.
But the crown jewel of local tourism has a spot that's tarnished and volunteers are working hard to spruce things up before guests arrive.
Friday volunteers from the River Warriors group fanned out in Espada Park in south San Antonio to remove tons of litter that has accumulated during the last few weeks of heavy rain.
Frates Seeligson is the Executive Director of the San Antonio River Foundation.
"We have this beautiful river," Seeligson said. "It's the envy of the world, yet after every after every rain event it is littered with trash."
Saying the solution must come from citizens, Seeligson said "This litter is coming from every community in San Antonio! Every district. No one district is at fault. It's a collective problem that we need to collectively solve."
Explaining that all local creeks feed into the San Antonio River, Seeligson said, "So if you live up by Fiesta Texas, you might not think that piece of trash that blew out of your car is a problem but it all ends up in our waterway, and it all funnels down to the San Antonio River."
Seeligson said in addition to taking our the trash, public education will be key to a cleaner future.
"We need to reach out and preach to others that we need to be better stewards with our trash. Don't put it in the back of your truck. It's going to blow out," Seeligson said.
"If people spent one day, one afternoon doing this they would seriously change their habits with regards to trash," said volunteer Royer Bockus.
Isabel Nieves said she was new to San Antonio and she enjoyed the chance to meet people, be in nature and make the community better.
Stephanie Statz said helping the plants and animals of the river area is a worthy goal
"This was my first time," she said. "Every one is really nice and it's a beautiful place to spend the morning."
Cleanups are a regular activity for Charles Blank of River Aid San Antonio. His group conducts litter pickups in all local watersheds and they will be back on the San Antonio River Saturday morning, in advance of the visit from the world-wide convention.
"We'll be back at Espada Park, just below Espada Dam to concentrate our efforts on the Mission Reach which has just been pummeled by litter over these last weeks and it's screaming out for help," Blank said, adding no pre-registration is needed for the 9 a.m. to noon event.
Blank said volunteers are asked to bring a reusable water bottle and to wear closed-toed shoes, as the terrain is rough and much of the vegetation where trash is trapped is covered in thorns.
Blank said the constant need for volunteers is great.
"More is much better in this situation because until these rains stop we could get down here every week with 50 people and probably hit the same spot a week later."
The San Antonio River Authority has a pledge campaign underway with a theme of "Don't let litter trash your river."
[embedded content]
Original News Source

Running For Office? Conservative Campaign Management – Election Day Strategies!