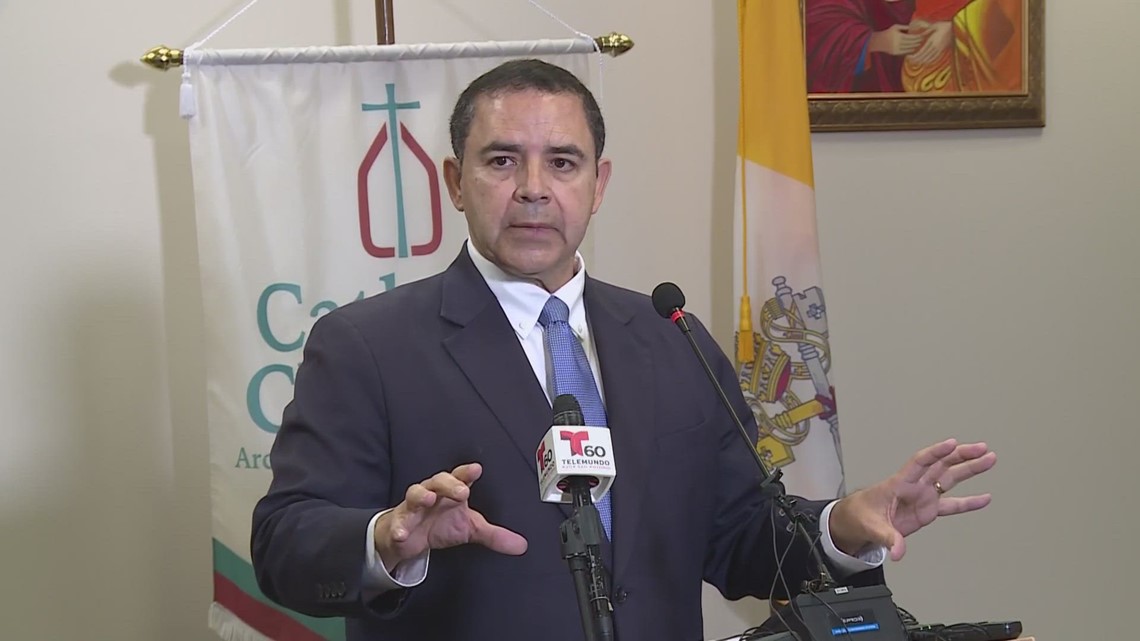 The City of San Antonio has seen their normal flow of migrants quadruple in the last week. How will the city meet the increased need?
SAN ANTONIO — The Biden administration is expecting to see 10,000 migrants cross the border each day once Title 42 expires on May 11th. That pandemic-era rule allowed for the faster deportation of migrants due to public health concerns and officials expected to see more migrants after it expired.
Instead, San Antonio is seeing migrant numbers spiking a week earlier.
A City of San Antonio press releases stated, "The City of San Antonio's Migrant Resource Center is over capacity, as the number of migrants traveling through San Antonio has continued to rise. Over the past week, the number of migrants sheltered at the Migrant Resource Center (MRC) and Airport has quadrupled…. This situation is not sustainable and continued funding from the federal government is uncertain."
On Friday, Texas Congressman Henry Cuellar (TX-28) said he is working to secure more federal funding for issue. That money could be allocated to the City of San Antonio, or to Catholic Charities, in order to find more space to serve migrants.
Congressman Cuellar discussed the challenges of Texas is currently facing at a press conference on Friday.
Catholic Charities already runs the Migrant Resource Center on San Pedro and can house just over 700 individuals. President & CEO of Catholic Charities Antonio Fernandez said they have been over capacity nearly every day.
"There was a couple of times that we were over capacity in the building so we had to have people in the parking lot," Fernandez said.
Fernandez said he was in early talks with the City of San Antonio on where they could put additional people, but funding remained an issue.
"We're talking about different options that we can do right now, soon. But it's hard to know how to do all these things when we don't know how much money the government is going to give us," Fernandez said.
Cuellar's office could not provide the exact funding amount at the time this article was published.
While Title 42 is expiring, Cuellar said the Biden Administration still had plenty of options to deport individuals under United States Code Title 8.
"Under Title 8 there is actually some teeth. If you are deported you cannot come back. There is a bar for five years, 10 years, 15 years, 20 years, or lifetime depending on the facts." Cuellar said. "If it is done correctly you can see what you need to do at the border."
Cuellar also said the Biden administration was making other changes that will eventually help, though he said they should have been implemented earlier.
"It's a little late but they are finally doing some things that will have an impact. Since it was implemented late we are going to see large numbers of people coming in late at this time," Cuellar said.
One measure is an agreement between Panama, Columbia, and the United States that would stop some migrants who are traveling between Panama and Columbia before they attempted to travel north to the United States.
Another measure is to put asylum officers within border patrol facilities so those officers could expedite a migrants' asylum case.
Cuellar also said there could be rules enforced that would deport people back across the border anytime they came across without using an official port of entry.
Finally, Cuellar said that to seek asylum, according to U.S. law, you have to be prove you have been persecuted by the state. He said that law could end up returning many migrants after their immigration hearing.
"A lot of these cases are going to be rejected and a lot of folks that we have here, with all due respect, are probably not supposed to be here if you apply the law the way it is supposed to be applied," Cuellar said.
Original News Source

Running For Office? Conservative Campaign Management – Election Day Strategies!