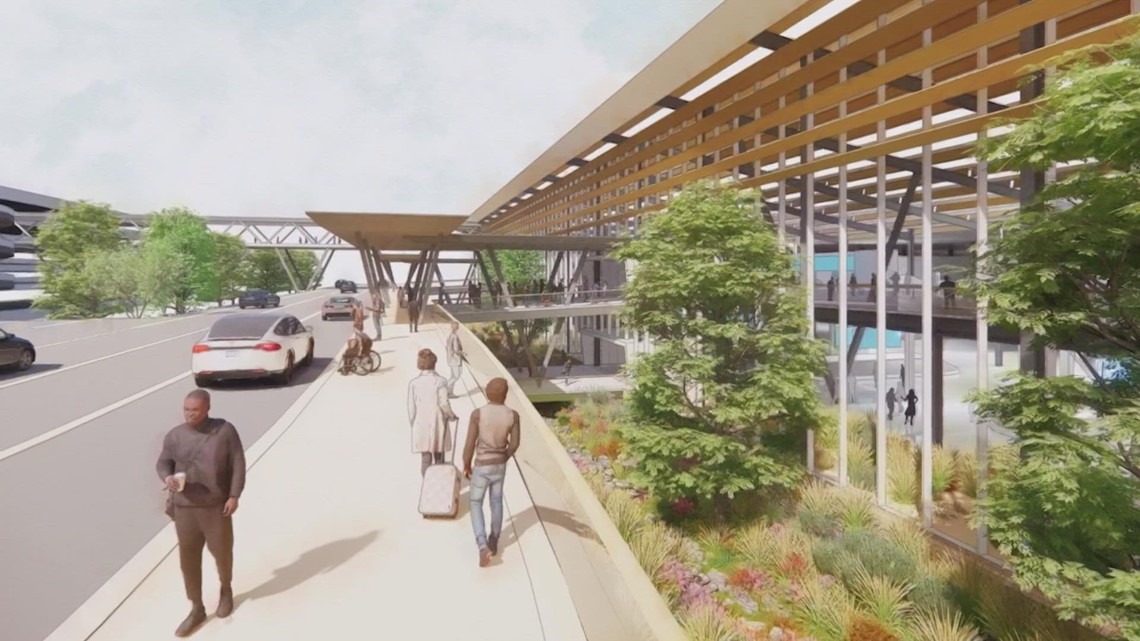 An Alamo City-based architecture firm is one of the partners enlisted to envision the next era of San Antonio International.
SAN ANTONIO — The architect team is in place for a massive project expected to double the number of gates at San Antonio International Airport (SAT), following City Council's unanimous green-lighting of a service agreement on Thursday.
That contract costs $30 million, a small chunk of what's expected to be a $2.5 billion price tag for the new airport terminal.
Dallas-based Corgan Associates and San Antonio-based Lake|Flato will collaborate on the mission to design a terminal bearing a "sense of place" for visiting travelers. Lake|Flato's fingerprints can already be seen all over the Alamo City; the firm devised the looks for the downtown federal courthouse, the Pearl complex and a Witte Museum expansion, according to SAT officials.
Corgan's reach is broaders, with past projects in Shanghai, China, as well as Phoenix, Los Angeles and Nashville. The company says it's been designing airports for more than 70 years, and works to incorporate a "people-centric approach" that spotlights individual cities' "iconic culture, history and identity."
>See photos of prior Corgan Associates airport design projects below.
Concepts of previous airport projects undertaken by Corgan Associates
Construction on the new terminal could start as early as 2024, with plans to open it for business by the summer of 2028. It's expected to expand SAT by more than 832,000 square feet, while conceptual drawings released in February tease an outdoor courtyard area, various conduits for natural lighting and textures reflecting San Antonio-area terrain.
>TRENDING ON KENS 5 YOUTUBE:
[embedded content]
Since going on the air in 1950, KENS 5 has strived to be the best, most trusted news and entertainment source for generations of San Antonians.
KENS 5 has brought numerous firsts to South Texas television, including being the first local station with a helicopter, the first with its own Doppler radar and the first to air a local morning news program.
Over the years, KENS 5 has worked to transform local news. Our cameras have been the lens bringing history into local viewers' homes. We're proud of our legacy as we serve San Antonians today.
Today, KENS 5 continues to set the standard in local broadcasting and is recognized by its peers for excellence and innovation. The KENS 5 News team focuses on stories that really matter to our community.