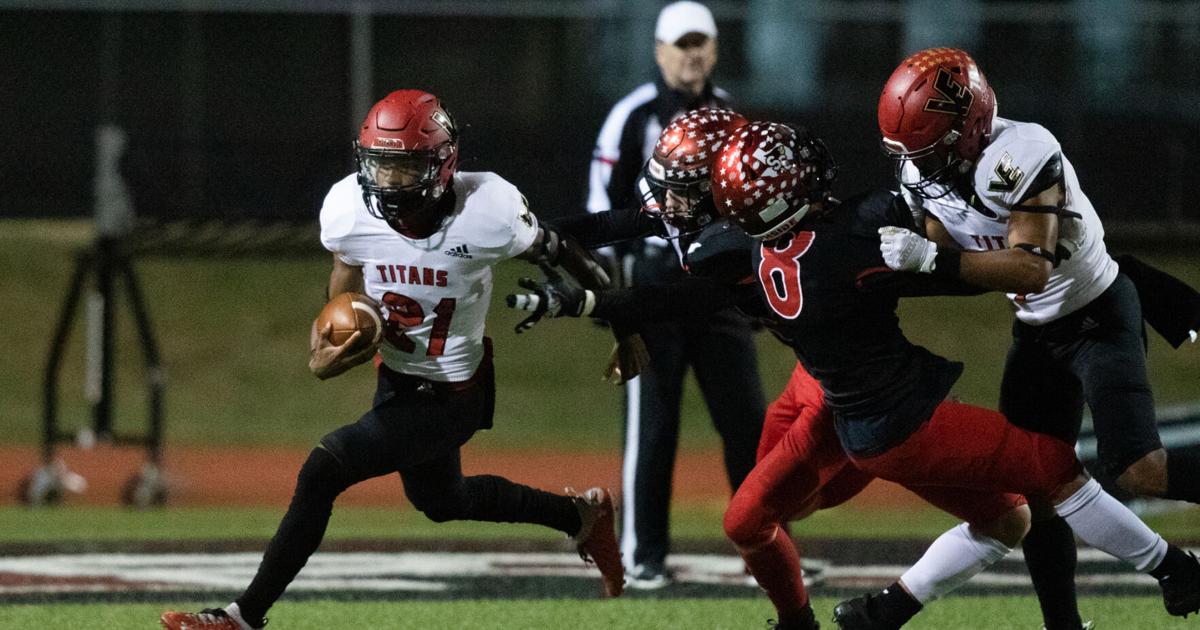 SAN ANTONIO — Victoria East's season came down to just one play.
After already erasing a 16-point deficit in the first half to tie their Class 5A, District l bi-district playoff game against San Antonio Southside at halftime, the Titans had the chance to erase a 14-point fourth quarter deficit with just under four minutes left.
However, after being held to a 4th-and-15 by the Cardinals (10-1) defense, senior quarterback Jadon Williams threw up a prayer to senior Thomas Vargas 40 yards down the field and it was broken up by a defender, handing the Titans (4-7) a heartbreaking 37-36 season-ending loss.
"These guys, they fight to the very end every time they hit the field and tonight was no different," said East head coach Roland Gonzalez. "We just fell a point short."
"We gave it everything. We fought to the end," said junior Nijahrell Prater. "Sometimes you just come up short and God has other plans."
Prater was the fuel to the Titans fourth quarter push, coming up with two touchdown catches, the first a 70-yarder, and the second a 75-yarder, in what set up his team to potentially tie the game.
"I was able to catch them," Prater said. "Jadon made a great connection and great throws."
However, the extra point on the second touchdown was missed, which forced Williams to try to make another trip down the field.
Williams ended the game completing 13 of his 19 passes for 275 yards and two touchdowns. He also added two touchdowns on the ground.
"He did a great job," Gonzalez said about Williams. "His leadership has been stellar all year. He came in and made some plays and put us in a position to compete and have a chance to win the game."
Williams didn't see any action in the first quarter, due to a reason not disclosed by Gonzalez, however he was able to make an immediate impact on the game when he entered in the second quarter.
His two second quarter rushing touchdowns, along with multiple stops from the defense got the Titans back into the game.
"He did great. He did what he was supposed to. Made great throws and great runs," Prater said about Williams.
East's defense not only made stops in the second quarter, but a key stop in the fourth quarter to get the ball back to the offense with the chance to win the game.
"They really stood tall in the fourth quarter to give us another opportunity," Gonzalez said. "They held their offense and gave us a chance at another offensive run."
"Defense has been showing out for a long time to try to give (offense) chances," said junior linebacker Joe Soto. "We just got to do our job."
Soto and the Titans defense faced a Southside offense that leaned heavily on the run Friday night, as they rushed the ball 50 times for 247 yards.
"We went up against a hard nose offense," Gonzalez said. "Probably 80% run and they grind it out, and on a night like tonight like the wind blowing the way it is it was evident that they were going to run the ball."