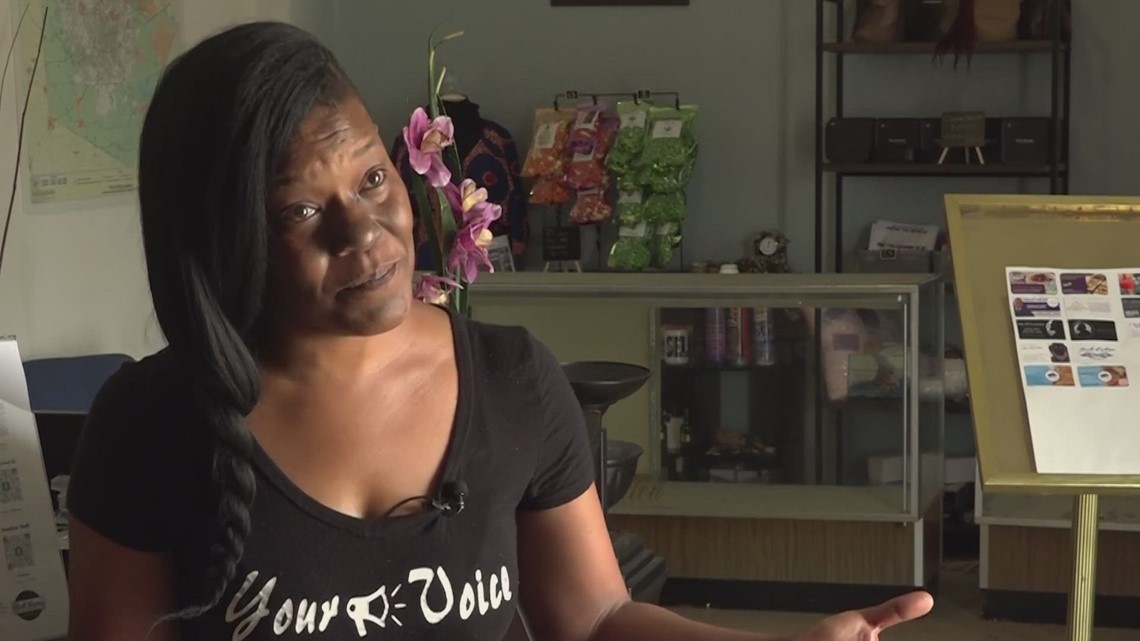 The City of San Antonio says it can't comment on individual applications, but more than 40 businesses have received funds already.
SAN ANTONIO — An east side San Antonio business owner says she's frustrated she hasn't received help, despite dealing with construction impacts literally outside her front door.
The City of San Antonio says it is reviewing applications for the COVID-19/Construction recovery grants. As of this month, 218 applications were received from 15 different construction corridors around the city.
On a busy stretch of North New Braunfels Avenue, Nneka Cleaver is a businesswoman.
"Black Business San Antonio is a platform for business owners to get education, exposure, business opportunities and support," Cleaver says she's looking to receive support since the construction forced her to close down another business on the street.
"I have to really be creative on how I'm going to sustain…We provided education and resources to the community. They can't get this education and resources because they can't even get in the building," Cleaver said.
Cleaver applied for the city's COVID-19 and Construction recovery grants.
"I started the process back in January, February, I got word back that I made too much money," Cleaver says she submitted appropriate documents and is still fighting to get approval.
But the city says eligible businesses must've lost at least $10,000 in net revenue in 2022 compared to 2021.
So far—only 44 businesses have received funds totaling $1.179 million. 218 applications were received for the $2.25 million available.
"It tells me it's really difficult to prove they're a business that's impacted by construction that everyone in the city can see, and that's a problem," Cleaver said.
Loan agency LiftFund is reviewing the applications in what it calls a "rigorous and thorough" process.
A statement from LiftFund says: While we cannot disclose specific details about individual applicants, we assure you that each application is evaluated based on the program's eligibility criteria and supporting documentation provided by the applicant to ensure the funds are distributed fairly.
According to documents from City Council, the funds will be disbursed by June 5.
Original News Source

Running For Office? Conservative Campaign Management – Election Day Strategies!