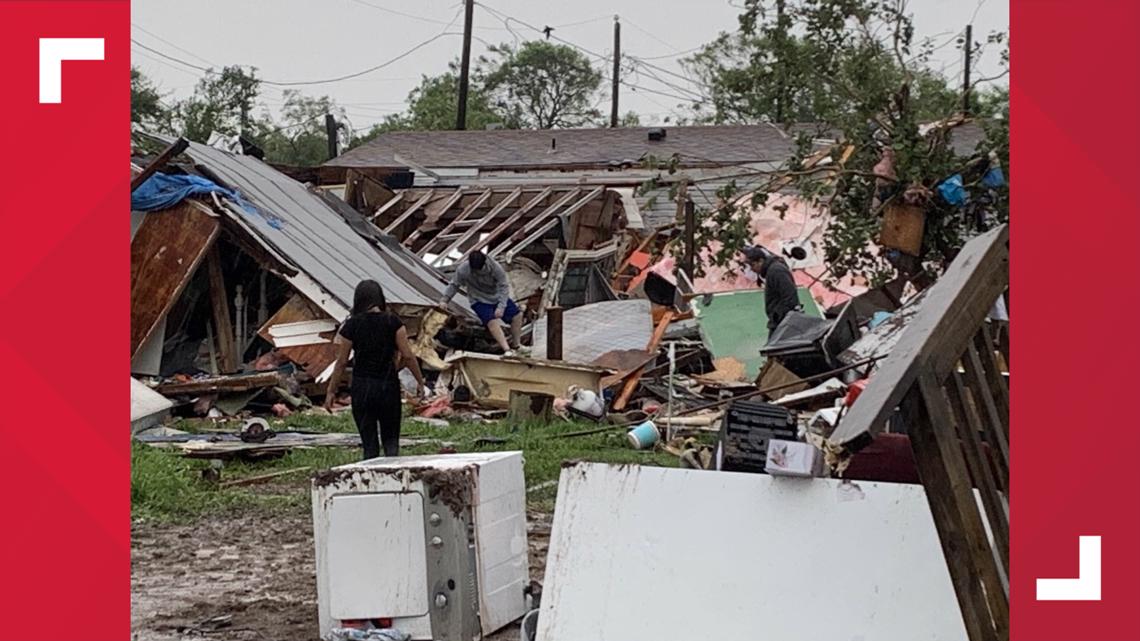 It happened around 4 a.m. Saturday, according to Port Isabel Police. A shelter has been opened for affected Texans.
LAGUNA HEIGHTS, Texas — Note: A previous version of this story quoted a county official saying that two people were killed by the tornado. Officials on Saturday afternoon said just one person has died.
A tornado touched down in Laguna Heights, near the South Texas community of Brownsville, around 4 a.m. Saturday, killing one person and injuring at least 10, according to officials.
The National Weather Service later classified it as an EF1 tornado that potentially reached wind speeds of 110 mph, based on an initial damage assessment.
"We're very fortunate there was not more life lost," Cameron County Judge Eddie Treviño Jr. said Saturday afternoon. "We can rebuild property, but loss of life is something we want to avoid."
Treviño said a litany of local, regional and state agencies are assisting in the aftermath of the deadly weather event. The Port Isabel Event Center is being used to shelter people affected by the storm.
The westbound lanes of Highway 100 at 510 are back open to traffic, as is one eastbound lane, according to the Port Isabel Police Department, which previously said the route into Laguna Heights would be closed all day.
Tornado touches down in Laguna Heights, killing two and injuring at least 10
Crews are currently working to clear debris and downed power lines. The police department confirmed that multiple structures were destroyed by the tornado.
A KENS 5 crew was traveling to the site Saturday morning, and we will update this story as we learn more information.
Since going on the air in 1950, KENS 5 has strived to be the best, most trusted news and entertainment source for generations of San Antonians.
KENS 5 has brought numerous firsts to South Texas television, including being the first local station with a helicopter, the first with its own Doppler radar and the first to air a local morning news program.
Over the years, KENS 5 has worked to transform local news. Our cameras have been the lens bringing history into local viewers' homes. We're proud of our legacy as we serve San Antonians today.
Today, KENS 5 continues to set the standard in local broadcasting and is recognized by its peers for excellence and innovation. The KENS 5 News team focuses on stories that really matter to our community.
Original News Source

Running For Office? Conservative Campaign Management – Election Day Strategies!