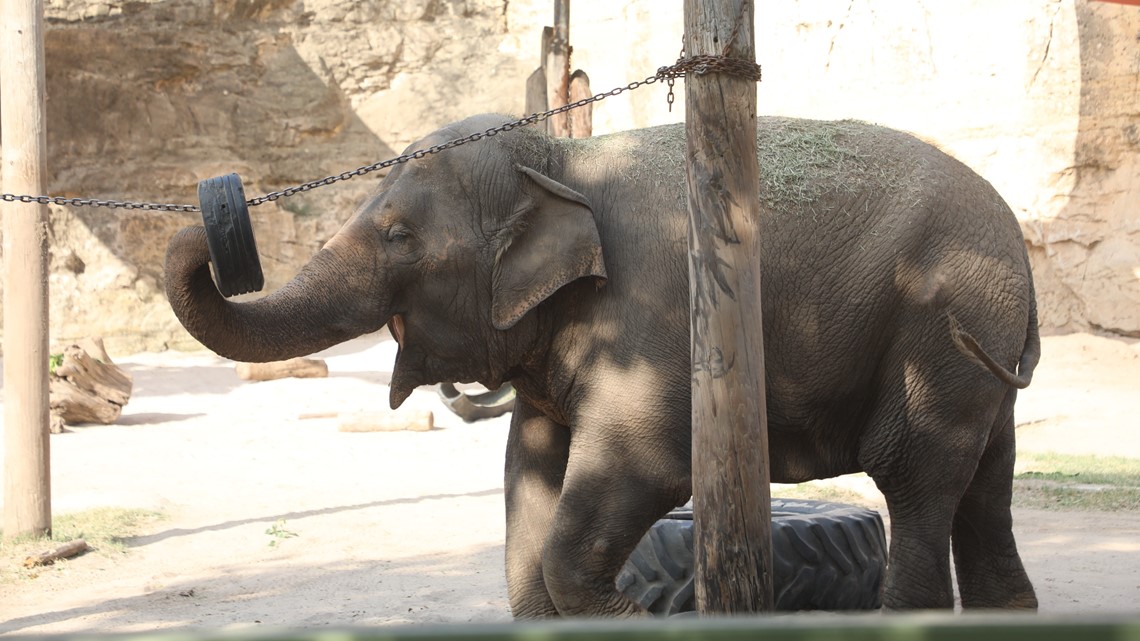 Nicole is the only surviving member of a trio nicknamed 'The Golden Girls' after the other two passed away in 2022.
SAN ANTONIO — An elderly elephant at the San Antonio Zoo will spend her remaining years at an elephant sanctuary in Tennessee.
The zoo's Asian elephant Nicole was part of their Asian elephant geriatric herd coined, The Golden Girls who were together, from 2016 until Karen & Lucky's passing in 2022.
The trio brought millions closer to Asian Elephants and their caring nature.
"We are going to miss Nicole dearly," said Tim Morrow, President & CEO of San Antonio Zoo. "We are grateful for the years she spent with us as one of the Golden Girls. She and Karen bonded beyond expectations with Lucky and inspired visitors to care for and want to protect elephants from extinction."
Nicole may be moving from the zoo this week, but that doesn't mean the zoo is saying goodbye to elephants forever.
"Elephants WILL return to San Antonio Zoo in the future as part of the zoo's expansion with a new world-class elephant habitat," said Morrow. "We are currently in the largest growth period our 108-year-old zoo has ever seen, and elephants are a big part of our future plan. An inspiring new entrance will be opened later this year, with the largest gorilla habitat in the U.S. coming shortly after. Inspiring our community through education and conservation will continue to be our focus as we look to the next 100 years of securing a future for wildlife and wild places in Texas and worldwide."
Elderly Asian elephant to spend remaining years at sanctuary
The zoo plans to join the current elephant and giraffe habitats, which will allow them to add more giraffes and other species to an expanded savanna. Until that construction begins, five Bactrian Camels will move into that space shortly after Nicole's departure.
Nicole is making her 800-mile trip in a climate-controlled transportation crate with a veterinarian and support staff. She has spent the last month in her habitat acclimating to the crate.
"Nicole is actually used to traveling," said Rachel Malstaff, Director of Mammals at San Antonio Zoo. "Before joining the Golden Girls in Bahiti Waters, Nicole was part of a traveling circus. She was naturally curious and quickly comfortable when we introduced her to the transportation crate. I have no doubts that the trip will go smoothly and this sweet elephant will feel right at home when she arrives."
Nicole, who will soon turn 48 years old, will join nine other elephants ranging in age from 37 to 60.