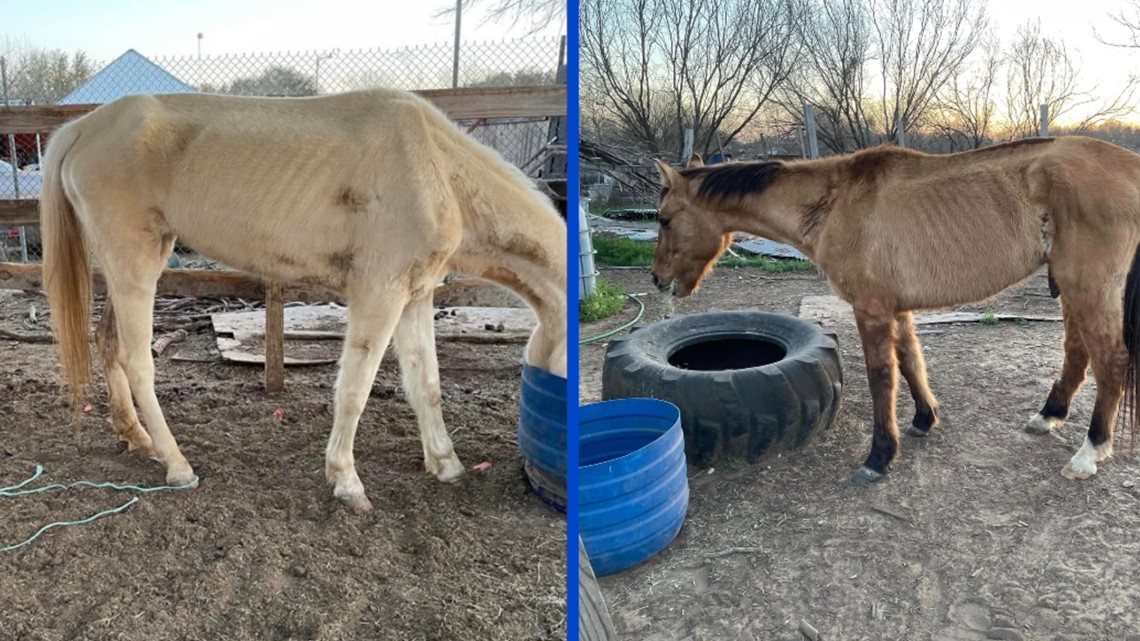 The horses were extremely thin and had been eating the bark off of trees nearby as well as the wood from their enclosure.
ATASCOSA, Texas — Deputies with Bexar County Sheriff's Office rescued two horses from deplorable conditions in Atascosa last Wednesday.
BCSO says they respnded to a tip they received regarding a case of animal cruelty involving malnourished horses.
Deputies and an Animal Cruelty Investigator went to the location in the 10000 block of Silver Trail and saw the two emaciated horses.
Officials say that the two horses had no access to food or water and were apparently eating the bark off of nearby trees, as well as the wood in their enclosure.
In addition, the horses' water bucket had algae and debris inside it.
The two horses were seized and removed from the location, then taken to a nearby veterinary office for further treatment, before they will be transported to Meadow Haven Horse Rescue and Sanctuary.
This is an ongoing investigation.
Since going on the air in 1950, KENS 5 has strived to be the best, most trusted news and entertainment source for generations of San Antonians.
KENS 5 has brought numerous firsts to South Texas television, including being the first local station with a helicopter, the first with its own Doppler radar and the first to air a local morning news program.
Over the years, KENS 5 has worked to transform local news. Our cameras have been the lens bringing history into local viewers' homes. We're proud of our legacy as we serve San Antonians today.
Today, KENS 5 continues to set the standard in local broadcasting and is recognized by its peers for excellence and innovation. The KENS 5 News team focuses on stories that really matter to our community.