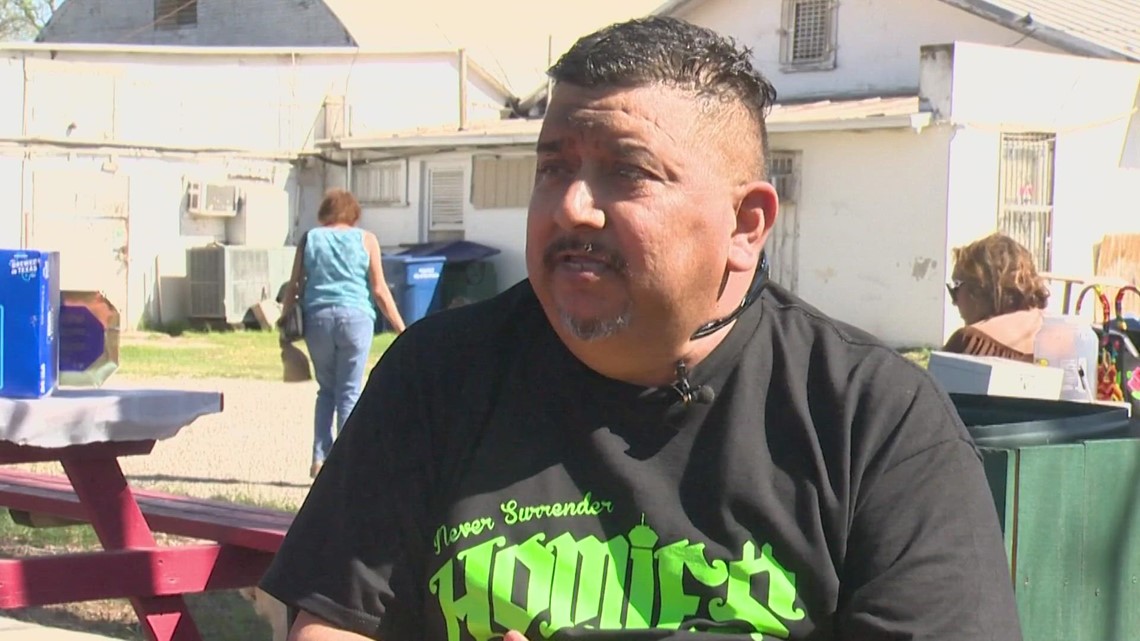 The founder of Big Homie Street Mentoring was diagnosed with Stage 4 Liver Cancer in 2022.
SAN ANTONIO — Big Homie Street Mentoring and Ministry held a plate sale Saturday at VFW post 4700 (2219 Frio City Rd) to support their founder's fight against cancer and, he hopes, build something more.
Music filled the lot behind the VFW post while small children danced with puffy pink unicorns. Nearby, brisket sandwiches and turkey legs were sold with chips and a drink for $10 each.
All of it was to support "Big Homie" Tommy Acosta.
"I'm formerly incarcerated, paid my debt to society. And I wanted to change my life and do an impact on people that are impacted by the, by the justice system," Acosta said.
Tommy founded Big Homie in 2017 to give back after he finished serving time for a federal counterfeiting charge.
"I started to see a lot of things that were going on in my community… and I wanted to be part of that change that I was thinking about, that was needed in our community."
The organization works on violence prevention, mentoring at risk kids and adults before the run afoul of the law.
"It can save somebody's life," Acosta said. "It can give somebody an opportunity to continue to be somebody's brother, son, or father."
They also coach formerly incarcerated individuals on voting rights, immigration issues, and work to support activists on women's rights.
Acosta called Homie's a self-sustaining organization, relying on volunteer activity rather than outside sources of funding.
"This was the first time that I ended up calling out for community support to come out and support this Homies Against Cancer project,"
Acosta was diagnosed in 2022 with stage 4 liver cancer. He said at first, he fell into despair, "It was devastating for me. You know, I went through a depression stage," he said. "I didn't know what to do, I thought it was the end of life."
But then, he said he saw it as an opportunity to use the network he built to create something greater.
Some of the proceeds from Saturday's sale will help Acosta's own medical bills, with the rest going toward offering resources for uninsured cancer patients. He wants other people facing cancer to draw strength from what he is doing.
"There's always hope. It's never the end," he said. "I'm still at it, I'm still fighting."