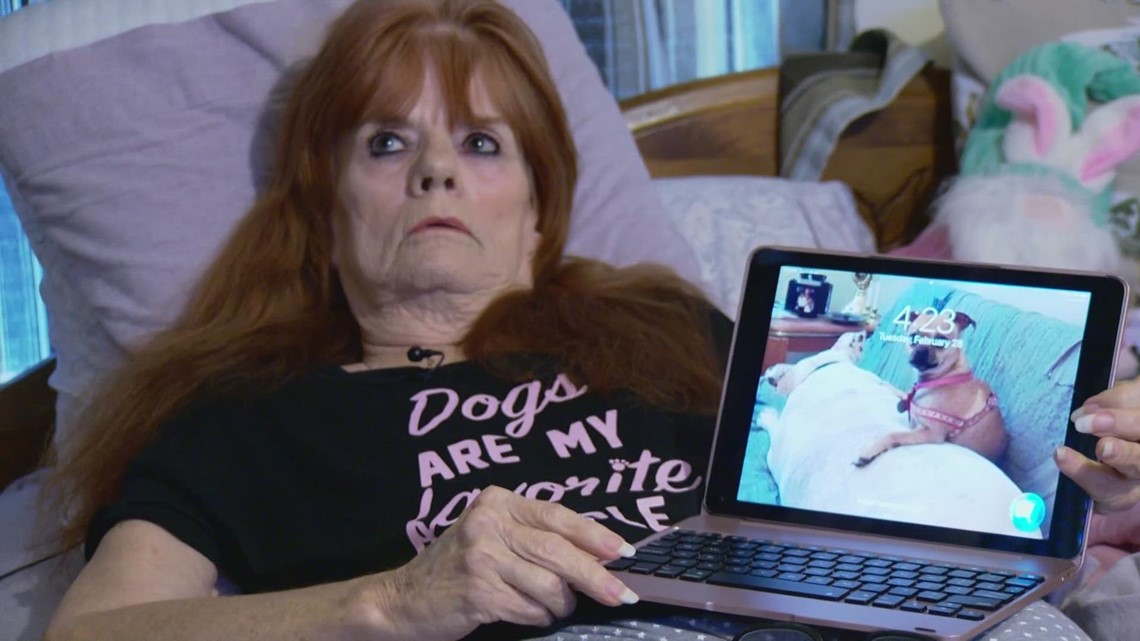 It happened while Linda Lackey was walking her dog Baby in her own neighborhood. She was released from the hospital this week, but says she's traumatized.
SAN ANTONIO — On the heels of last week's deadly dog mauling, KENS 5 has learned about another dog attack that send a woman to the hospital.
It happened at about 3:30 p.m. on Wednesday, Feb. 22. Linda Lackey says she was walking her dog, named Baby, near Hillman Drive and Dauphine Drive.
"Every day I walk my Baby," she said. "We had walked up here like we always do and it was going to be the last for the evening. This white dog came out of nowhere and started barking at [Baby], so I reached down to pick her up. When I reached down to pick her up, this big brown dog came out of nowhere and jerked her out of my hands and knocked me down."
Lackey says she screamed for help, but no one came.
"When I turned around, I saw the dog had her in its mouth," said Lackey. "When it finally dropped her, I picked her up. She was dripping blood all the way down the street and all the way through the house. She died in my arms."
Lackey says she was more traumatized by Baby's death than her injuries.
"She was my sidekick," said Lackey. "She slept with me, went to the store with me. If she wasn't welcome somewhere, neither was I; that's the way I felt. It really tore up my whole family. My husband, my kids, my grandkids, my great-grandkids … they all loved Baby."
Lackey spent four days in the hospital. She says she had a hip replacement and was treated for a fractured rib and head injury.
According to Animal Control Services (ACS), the dogs' owners were cited. Neighbors told KENS 5 it's not the first time their animals have been aggressive. We're told the family has five dogs. One of them has reportedly chased children down Hillman Drive.
On Tuesday, an ACS spokesperson said the two dogs that attacked Baby were up to date on their rabies vaccinations. Since the incident is considered a dog-versus-dog attack, it's different than the deadly mauling on Friday. ACS officials say they can't put the dogs down under Texas law, so they were returned to their owner. Lackey can request an investigation to try to get the dogs designated as 'dangerous animals.'
"Dog owners need to be responsible," said Lackey. "Small fences are not enough because those dogs can jump, and they do. They kill that man and injured his family and friends [on the west side]. And then these dogs up here killed my dog and put me in the hospital. I just want people to understand if you cannot take care of an animal, don't get one. Get a stuffed animal."
[embedded content]