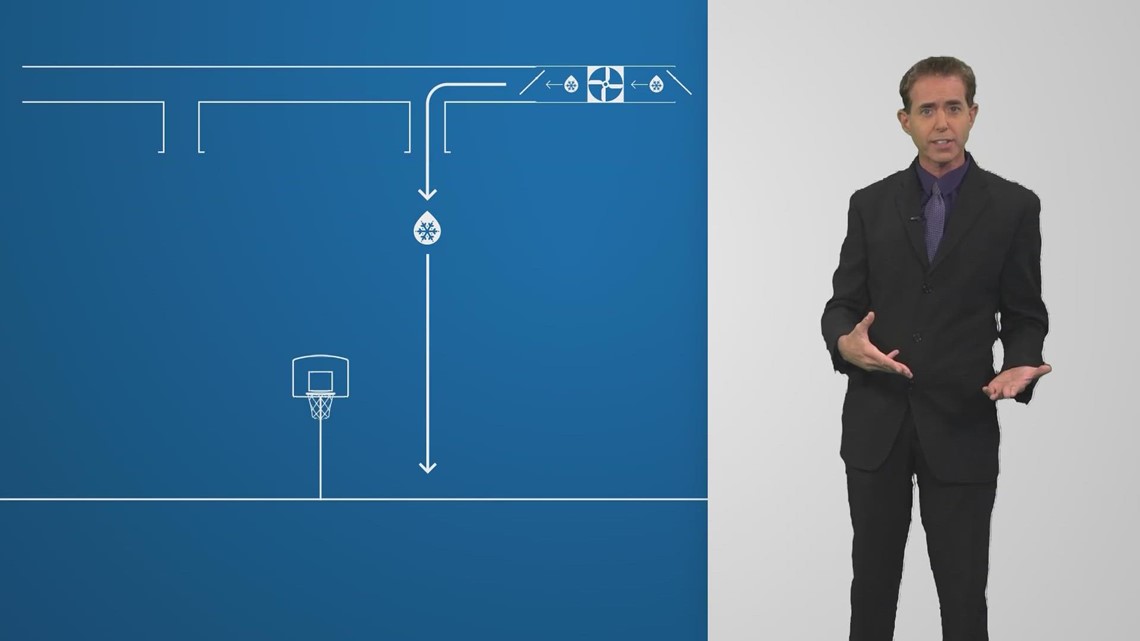 SAN ANTONIO — Less than 24 hours ago severe storms rocked much of Bexar County downing trees and powerlines, even impacting a sporting event at the Alamodome where the weather made it's way inside.
This happened during the semifinal games of the UIL girls state basketball tournament. Those games continue today, and the state championships are being held tomorrow. The boys tournament is next week. So it is a busy time for those working at the Alamodome, with an added extra assignment of cleaning up the weather that made it's way from the skies outside to the hardwood inside.
"Rain is falling inside the Alamodome as we play the 4th quarter of this girls 5A state semifinal between Frisco Liberty and Wagner," said our very own Vinnie Vinzetta who was shooting the basketball game at the time.
In a statement the Director of Convention and Sports Facilities for the City said, "Shortly after 8 p.m. Thursday, a fast-moving severe thunderstorm over downtown San Antonio produced strong wind gusts that drove small hail and rain sideways through the exhaust fan vents on the Alamodome roof. The falling precipitation caused a brief delay in the UIL Girls State Basketball Tournament. Play was able to continue after crews cleaned and dried the playing surface."
You may be scratching your head wondering how hail can end up on the floor of a fully covered Alamodome. Its really quite simple. When the wind was howling at it's strongest it blew open two large five foot by five foot metal spring loaded doors for the housing of the exhaust fan which was not in use. THOSE Doors are usually shut. That wind allowed the rain and small hail to blow horizontally through the exhaust fan vent, through the ductwork, into the Alamodome, eventually landing on the floor inside.
After any storm event like last night the Alamodome says they have roof inspectors come out the following day to check for damage.