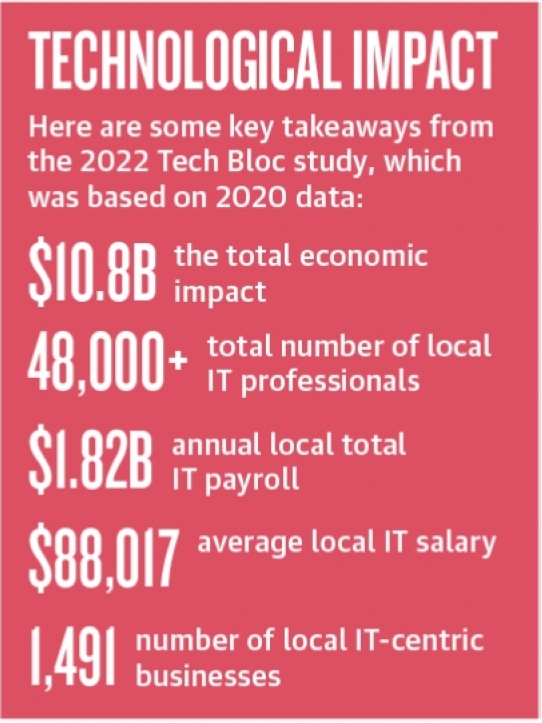 Celebrating annual San Antonio Startup Week activities in October, local high technology business and political leaders reflected on a report about San Antonio's $10.8 billion information technology industry. The local tech economy, especially along the US 281 North/Stone Oak corridor, is primed for more growth, they said, as long as there are enough skilled workers, well-paying jobs corporations with presence and other resources in town.
David Heard, chief executive officer of Tech Bloc, the advocacy organization that released the local tech economic study based on 2020 data, said San Antonio has seen a significant increase in tech-related jobs, businesses and wages since 2000.
According to the Tech Bloc report, employment in computer services, such as design and programming, has risen from 34% of the overall tech economy in 2010 to 41% in 2020, and the average area IT salary increased from $43,539 in 2000 to $88,017 in 2020. Also, the number of IT products and services employees rose from 11,475 in 2000 to 20,718 in 2020.
But Heard—who is also the chief marketing officer of tech firm SecureLogix Corp., located near Hill Country Village—urged collective private and public sector efforts to boost the local tech talent pipeline to further nourish San Antonio's IT workforce and overall economy.
"We're generating more economic activity, and there are more efforts to activate the startup ecosystem, but we're not where we need to be. We need more tech talent here," Heard said.
Info tech's rise
Authored by Trinity University Professors Emeritus Richard Butler and Mary Stefl, the Tech Bloc report contains data reflecting the economic strength of local IT sectors, such as cybersecurity, private and public sector cloud computing, digital retail and commerce, financial service and compliance technology, and Software-as-a-Service, such as Dura Software's SecureVideo telehealth platform.
Key findings in the report show varying increases in the local computer services employment rate, total economic value of local computer services, the number of IT products and services, and IT-related salaries since 2010 as well as IT's total economic impact climbing from $3.4 billion in 2000 to $10.8 billion in 2020.
Butler and Stefl estimated more than 48,000 IT professionals worked in San Antonio's private and federal/military sectors in 2020, compared with 34,377 IT professionals identified in a 2014 study of the local tech economy—a 39.6% increase over six years.
"It's also important to note that the number of civilian IT professionals increased by more than 50% over the past dozen years," Stefl and Butler said in the 2022 report.
Citywide growth
According to the Tech Bloc study, while tech startup activity and employment tend to cluster in geographic hot spots in some cities, development and population trends in San Antonio have largely spurred clustering of IT businesses and employment in certain spots outside of the downtown tech hub.
Butler and Stefl said the US 281 North corridor from Stone Oak through Alamo Heights contains one of the highest levels of IT employment, with ZIP codes 78230, 78232, 78216 and 78249 each home to more than 1,000 IT professionals as of 2019. ZIP code 78258 had between 501-1,000 IT professionals, the report said.
"That crescent between Loop 410 and Loop 1604; and between Rackspace on the northeast side and [The University of Texas at San Antonio]; [and] USAA and Westover Hills has the biggest concentration of tech workers in the city," Heard said.
Rackspace, a homegrown cloud computing firm with 6,600 employees, announced Oct. 21 it is relocating its 14-year-old headquarters from Windcrest to the RidgeWood Plaza II office building near Loop 1604 and Redland Road.
Butler and Stefl said employment clusters outside of downtown, such as the US 281 North corridor, have organically grown despite organized attempts to market and expand such IT employment areas into distinct tech-centric hubs.
"Many of these large-employer-driven zones are more car-centric and suburban in character, and their growth seems to be driven by affordability, accessibility and convenience," the study's authors said.
The authors also said, since March 2020, startups appear to be more distributed across Bexar County due to COVID-19, the rise of remote work and cost management.
Cristina Aldrete, North San Antonio Chamber of Commerce CEO and president, told Community Impact that business growth in a specific geographic zone is usually predicated upon available real estate, accessible workers, and comparable costs of living and doing business in a certain area.
"The [US 281 North] and Westover Hills areas are prime for business growth and development. Our tech industries apparently recognize these opportunities," Aldrete said.
Local leaders' views
Leaders of San Antonio-headquartered tech companies, such as DOCUmation and Boardline Academy, cited various local amenities for their respective organization's growth.
Arthur Clarke, technology solutions director for DOCUmation, a 30-year-old firm based near Shavano Park, said local agencies, businesses and educational institutions focused on cybersecurity have aided his company's advancement toward offering software, print document and unified communications solutions.
The Tech Bloc study said San Antonio has the nation's highest concentration of cybersecurity employees outside of Washington, D.C., a sector that numbers an estimated 16,447 federal employees.
"There's a huge advantage of doing business here in San Antonio," Clarke said.
In Hollywood Park, Boardline Academy, a three-year-old startup, provides online training for homeowner associations and management companies nationwide, helping them to navigate risk management, financial administration and legal requirements.
Company President Cameron Lange said Boardline is capitalizing on low costs of living and doing business, affordable housing, and recreational amenities in San Antonio. The 2020 U.S. Census said San Antonio's median value of owner-occupied housing units is $156,700 compared with $358,600 in Austin, the nearest metropolitan center of IT activity.
"From a cost perspective, it's less expensive to operate out of San Antonio with slightly different benefits than being in Austin," Lange said.
Workforce challenges
Local business and elected leaders said even more skilled tech workers, higher wage jobs and corporate offices are required locally to amplify San Antonio's reputation as an emerging center of tech activity.
Heard said tech professionals—either newcomers or homegrown—want to be well-compensated and have access to a wider variety of business and cultural amenities that make staying in town worthwhile.
"We've got to recruit more top talent and develop growing local talent, but if we don't educate that talent about our community, they might be inclined to move to other cities, and we'll see more brain drain," Heard said referring skilled workers moving to more appealing locales.
"The Tech Bloc study said the number of San Antonio IT products and services employees rose from 11,475 in 2000 to 20,718 in 2020, but the local tech employment number has stayed in the 19,000-20,000 range since 2018 partly due to a shift in local IT activity from the production of products to the provision of services.
Local business, political and tech organizations, and business accelerators, such as Geekdom and VelocityTX, participating in San Antonio Startup Week promoted programs in October, such as Bexar County's $1 million annual innovation fund, which cultivates job recruitment, talent development, business expansion and technical workforce training.
Kicking off SASW, Mayor Ron Nirenberg said such initiatives and organizations that make up the local tech ecosystem allow startups to flourish.
"San Antonio is rapidly becoming where opportunities are created for entrepreneurs and startup founders," he said.