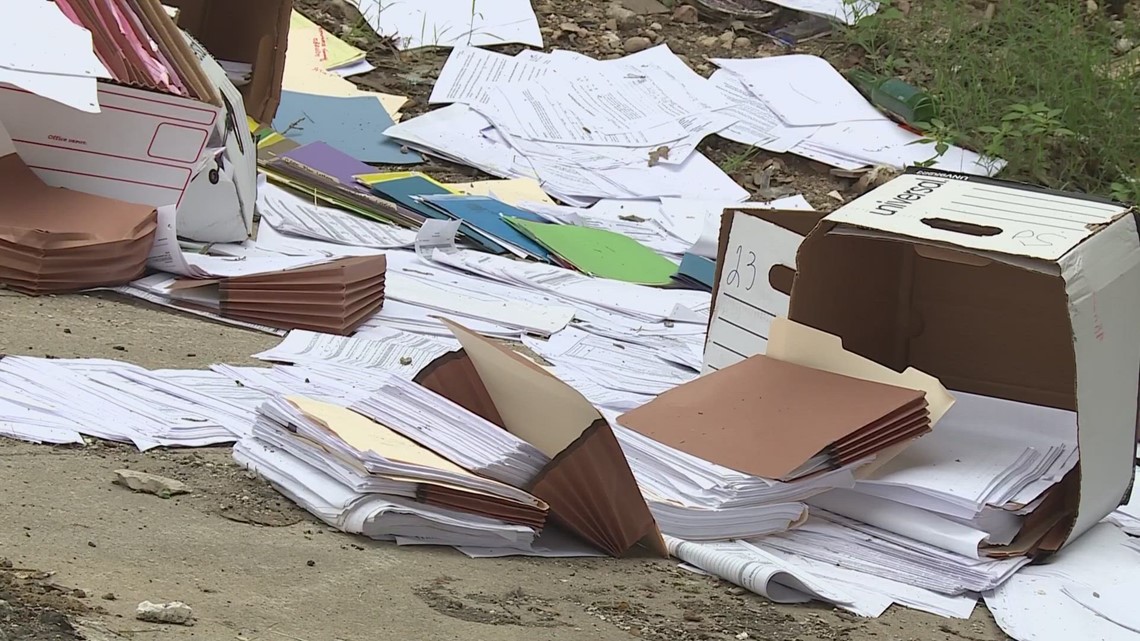 The nursing home promised action to protect residents and staff.
SAN ANTONIO — The investigation into how sensitive medical records and employment documents ended up under a southeast San Antonio freeway continues.
David Newman oversees the city's Solid Waste Management Division.
Newman said as soon as he learned of the records at risk, he launched an immediate response late Friday.
"I had a few minutes before my folks clocked out and went home, so I got a hold of them and we got out there and we cleaned it up," Newman said.
Newman said even though there are protocols for the handling of medical records, the threat required fast action.
"There was a storm that night that was a pretty big one and I wouldn't want them to wash off or blow down the road. My folks are awesome and I'm glad they could get out there and get it done quickly," Newman said, adding that the threat posed by the illegal dumping has been neutralized.
Newman said, "We had half a dozen workers out there. We collected all of it. It has been disposed of and at this point it is inside a landfill and it's never coming back out again, so those folks don't have to worry about anything."
Many of the more than 40 boxes jammed with documents bore the address of a nursing facility about ten miles from the dump site, which was under Loop 410 near Salado Creek.
The documents from Southeast Nursing and Rehabilitation on East Southcross included stacks of paperwork dating back several years, and included private medical records of hundreds of patients.
KENS 5 contacted family members and employees whose names were found on the documents and confirmed the people did, in fact, have connections to the facility.
The records included names, social security numbers, birth dates and thousands of pages of medical records.
There were boxes full of logs related to the facility's COVID response, tracking visitors, test results of staff members and more.
Employee records included applications with personal information and pay records.
One folder contained records of an investigation into a sexual assault complaint at the facility with the contact information for the handling detective and a case number.
The file detailed allegations about a male patient who had been found inappropriately touching female residents on more than one occasion.
Friday afternoon, when the mess was discovered, KENS 5 reached out to Southeast Nursing and Rehabilitation for a response.
Local employees said any response would have to come from their parent company, Advanced Healthcare Solutions.
Monday afternoon, KENS 5 received the following email statement:
"The protection of personal information is very important to us. We are disturbed by the photographs we have seen and have launched a full investigation to determine what happened and how to appropriately protect our residents and staff on a go forward basis."
The Texas Department of Health and Human Services oversees nursing facilities. KENS 5 has not received a response from the agency about what they may be doing to investigate the breach.
Anyone with concerns about employment records or private medical information can contact the company here.
Original News Source

Running For Office? Conservative Campaign Management – Election Day Strategies!