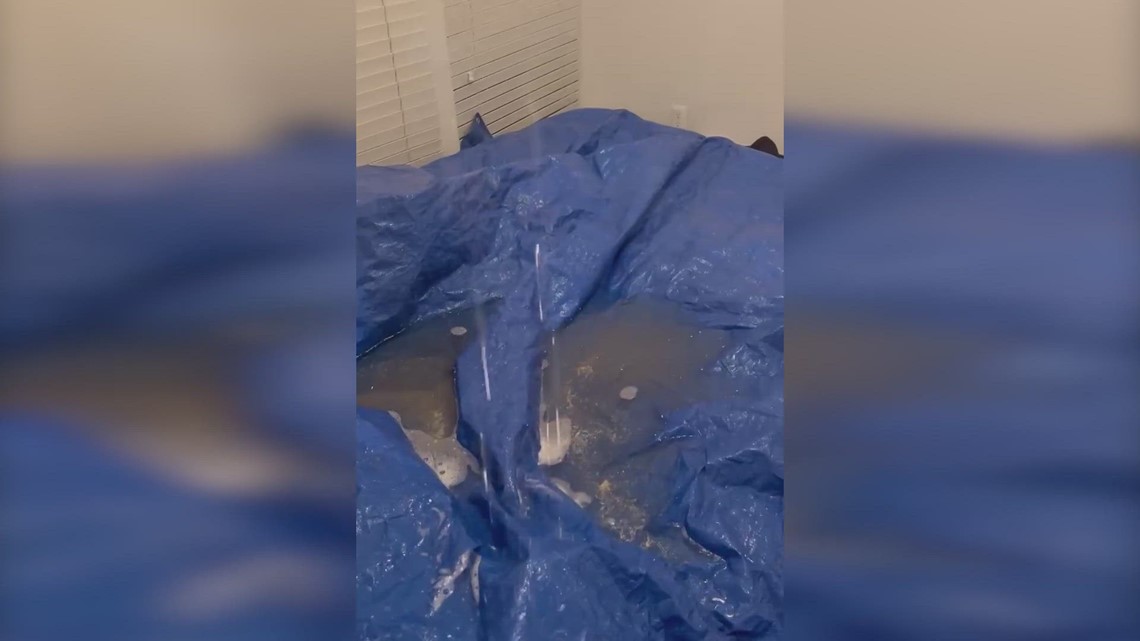 Colton Ricks hopes to officially breaks his lease after the soaked situation.
SAN ANTONIO — A San Antonio man is hoping to break his lease without penalty after his apartment flooded due to a busted water pipe a couple weeks ago.
Colton Ricks lived at the Blair at Bitters apartments on the north side where he experienced a wet mess on May 4.
"I didn't realize it at first because I had my headphones in and I took one out and I could hear as if droplets were hitting water. And I went to check my bathroom and it was more or less like a puddle at that point," Colton said.
The water poured from the ceiling in multiple rooms, damaging Colton's electronics, book collection and mattress. Renter's insurance won't cover the cost of everything so he's resorted to an online fundraiser for help.
"It was like a waterfall coming out of his ceiling," said Colton's mother, Kimberly Ricks.
"It was literally raining," Colton said.
Colton called the emergency maintenance line at least five times before help arrived.
"Took at least over two hours for them to even give me some form of acknowledgement I suppose after letting them know how serious it was the situation and how bad the flooding was getting," Colton said.
Kimberly and Colton have had problems getting clear answers from management as it relates to terminating the lease because of an uninhabitable environment. Texas law permits breaking the lease in such situations.
"They have not been helpful to us at all, especially since none of this is his fault," Kimberly said.
The Blair at Bitters apartment property manager told KENS 5 Colton will be refunded for May's rent starting from the 5th onwards. Meanwhile, Colton is living with his mom until he officially resolves the issue.
"We did reach out to our city councilman today," Kimberly said.
"I'm not trying to make an extra buck, I just want what I feel is right to be done," Colton said.
[embedded content]
Original News Source

Running For Office? Conservative Campaign Management – Election Day Strategies!