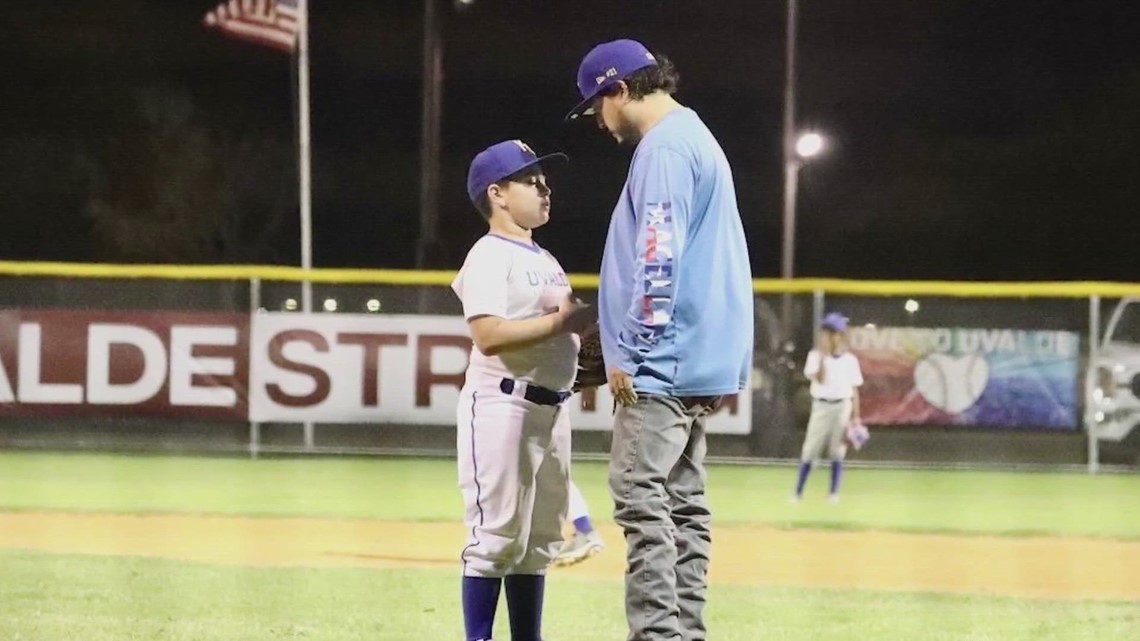 Adam Martinez's son survived the Robb Elementary shooting. Since then, he's pushed for accountability and transparency among school officials.
SAN ANTONIO — A Uvalde father who was banned from school property in February after voicing his concerns about an officer's qualifications is prepared to sue the district.
Attorneys with the Foundation for Individual Rights and Expression (FIRE) are representing Adam Martinez.
During a board of trustees meeting on Feb. 13, Martinez approached Uvalde CISD Chief of Police Joshua Gutierrez to discuss his reservations regarding an officer who was just hired. Martinez said he had missed out on signing up for the public comment portion of the meeting.
"As multiple recordings of the meeting demonstrate, their conversation remained quiet and did not disrupt the meeting. Nevertheless, in response to Mr. Martinez's calm but impassioned criticism, Chief Gutierrez told Mr. Martinez to sit down. Mr. Martinez, who wished to continue speaking with Gutierrez, refused," according to a letter authored by FIRE sent to Uvalde school officials on May 15.
Martinez said Gutierrez escorted him and his family outside the board room building and proceeded to issue a criminal trespass warning from all district properties.
"After Mr. Martinez filed a grievance with the school district, UCISD has allowed him to pick up his daughter from Morales Junior High school and attend events in which she is involved," the letter said. "Upon Mr. Martinez's further request, UCISD allowed him to attend his son's baseball practices."
Attorney Jeff Zeman argues the district, including Interim Superintendent Gary Patterson and Chief Gutierrez, violated Martinez's Constitutional rights.
"It is his First Amendment right to speak out about his government and criticize his government," Zeman said. "This ban violates the Constitution. He wants to bring matters to his local government's attention that he thinks he can make things better for his family and his community."
The FIRE-addressed letter details several precedent cases involving First Amendment issues challenged in court.
The document also noted the ban also "contravenes both Texas state law and the school district's policy" related to free speech and parental rights to take part in his child's education.
>READ the full letter from FIRE attorneys below
"Just to me, it's ridiculous, it's embarrassing," Martinez said.
Uvalde CISD fired Crimson Elizondo from the district' police force after learning she was among the handful of state troopers who first arrived on scene at Robb Elementary.
Body-camera video from May 24 revealed Elizondo responding to another officer about the shooting.
"If my son had been in there, I would not have been outside. I promise you that," Elizondo said in the body-camera footage.
Uvalde CISD's efforts to reform the police department have been heavily scrutinized, which is a major reason why Martinez questioned another officer hire, although it led to him getting banned from school property for two years.
"I felt that it was urgent for me to find out more about this hire and make sure that they knew that he was not rehireable, according to the sheriff's standards," Martinez said.
The father of two leads the organization Keep All righteous Minds Aware, or KARMA, which formed after the Robb Elementary shooting where 19 children and two teachers were killed.
Martinez recalls the frantic phone call from his wife as he was eating lunch at a restaurant in Uvalde.
"She was pretty hysterical and told me there was an active shooter," Martinez said.
His son Zayon Martinez, was in second grade at the time. While not physically harmed in the shooting, Zayon carries the weight of emotional trauma like so many other survivors.
"He's doing good, he still won't sleep in his bed. He was real excited about having his own room and now he shares a room with me and my wife," Martinez said.
The FIRE letter states a lawsuit will be filed if Uvalde CISD fails to remove its ban on Martinez by May 22.
Martinez hopes for more transparency among the district for the benefit of the entire community. He also hopes the ban is lifted so he can attend his nephew's graduation on May 26 and attend future school board meetings.
"If they reached out to the community members a little more, I think we'd be able to come together better."
To view the full letter, go here.
Original News Source

Running For Office? Conservative Campaign Management – Election Day Strategies!