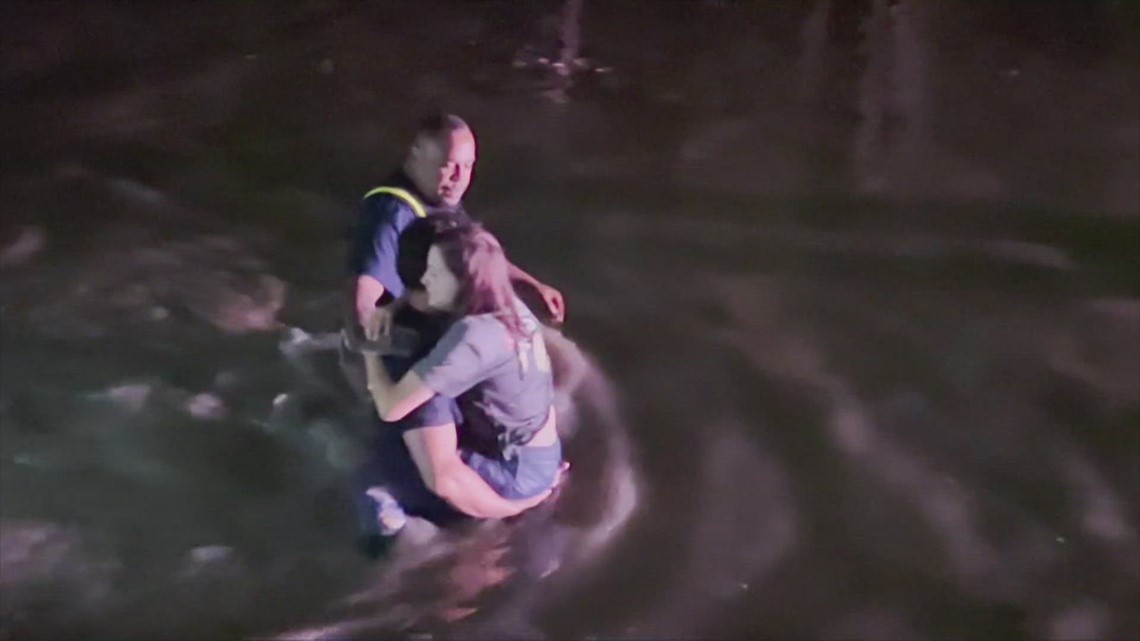 "It wouldn't weigh very good on my conscience if I just stood around and let her drown," one firefighter said.
SAN ANTONIO — The Kirby firefighters who braved raging flood waters and a booming lightning storm to rescue stranded motorists recently say they hope they won't be called into this kind of danger again anytime soon.
"We weren't just worried about the flood water. There's lightning all around us. We're surrounded by trees and water and what does water do? It conducts electricity so a lightning strike on one of these trees around us? It's going to go through that water and now us drowning isn't a problem, we'd be electrocuted unfortunately," firefighter John Mays-Thompson said.
Three people ended up in rising water on Gibbs Sprawl Road at a creek crossing well known for flash flooding. Firefighters said beacons were flashing to warn motorists of the danger, but safety gates hadn't been closed yet when two women drove into the water. One woman was able to walk out on her own, but a man who tried to help the other woman ended up overwhelmed by the swift current.
Firefighter Nick Flores was manning an ambulance unit without rescue gear onboard when he pulled up on the scary scene.
Flores said the woman was perched on the trunk of her small sedan, which was quickly being overtaken.
"When I got there the man was yelling for help and he was saying she didn't know how to swim," Flores said.
Without safety gear, Flores said he made an instant decision to act.
"My ambulance showed up and it was time. I had bandages and needles. That's all I had but I did what I had to do," Flores said.
"It wouldn't weigh very good on my conscience if I just stood around and let her drown and do the best I could to get her out of there," Flores said.
Thinking about dodging lightning strikes while the car threatened to wash away, Fire Captain Jeff Moczygemba called it one of the most disturbing rescues he has ever participated in.
"It's one of the most nerve-wracking, most dangerous situations you could ever work in," Moczygemba said.
"It was one of those like 'oh crap I'm dead!' It makes your heart stop and like oh my gosh!" Mays-Thompson said.
Moczygemba said the water was so fast and rising so quickly, he told the driver of his fire unit to avoid driving into danger.
"I said no we don't know how deep the water is. It was not a risk I was willing to take so we made a conscious decision to back out with our 20-ton vehicle," Moczygemba said.
Flores said when he carried the woman to shore, she was shaken but relieved.
"She was very cold. We were both shivering pretty hard but she was very grateful," Flores said.
Mays-Thompson said he hopes the incident will remind everyone to pay attention when the sky opens.
"She was on the roof and the next thing you know the car is about to go in the span of 30 seconds, 45 seconds, not even a minute," Mays-Thompson said.
"We still want to go home at the end of the day and some of these things could be avoided. They have the slogan 'turn around don't drown' and just try not to put yourself in that situation," Mays-Thompson said.
[embedded content]
Original News Source

Running For Office? Conservative Campaign Management – Election Day Strategies!