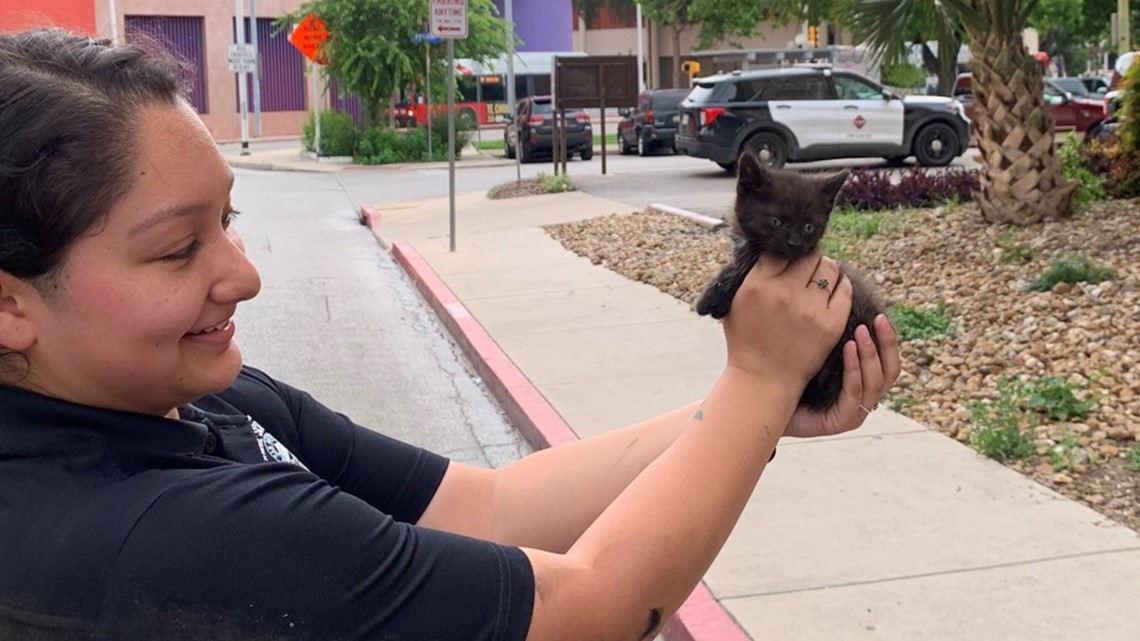 The itty bitty baby was scared and kept retreating further away as the officer was trying to capture him.
SAN ANTONIO — A San Antonio Police officer went above and beyond… and even underneath a car to save the life of a frightened feline who just used up one of his nine lives.
Officer Guerra heard the cries coming from somewhere under the car and decided to rescue the scared kitten. The officer got down on the ground and tried playing kitten sounds on her cellphone to try and get the kitty to come out. The frightened feline just retreated further back in the parking garage and underneath another car.
Fearing the kitten might be injured or killed if the car's owner returned and started it up, Officer Guerra crawled under the car and was able to pull him to safety.
Not only did the officer save his life, she decided he was going home with her. She named him "Ghost."
We appreciate you, Officer Guerra, for rescuing "Ghost" and giving him a forever home.
Since going on the air in 1950, KENS 5 has strived to be the best, most trusted news and entertainment source for generations of San Antonians.
KENS 5 has brought numerous firsts to South Texas television, including being the first local station with a helicopter, the first with its own Doppler radar and the first to air a local morning news program.
Over the years, KENS 5 has worked to transform local news. Our cameras have been the lens bringing history into local viewers' homes. We're proud of our legacy as we serve San Antonians today.
Today, KENS 5 continues to set the standard in local broadcasting and is recognized by its peers for excellence and innovation. The KENS 5 News team focuses on stories that really matter to our community.
Original News Source

Running For Office? Conservative Campaign Management – Election Day Strategies!