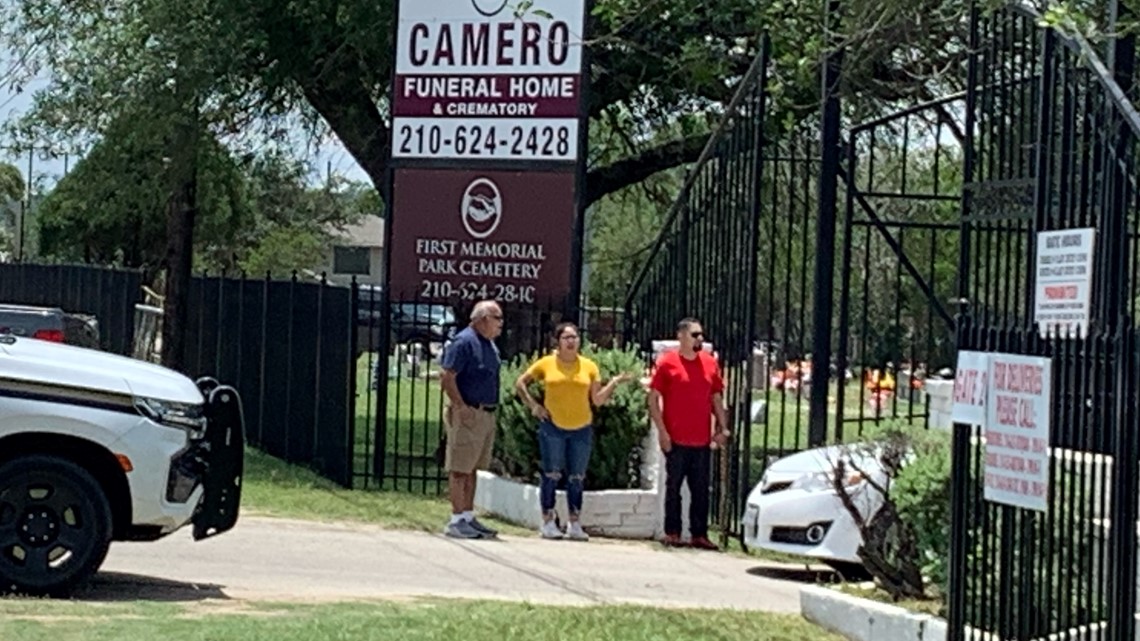 The gates were locked at First Memorial park Cemetery in Von Ormy, upsetting lots of folks who were trying to pay their respect to beloved family matriarchs.
VON ORMY, Texas — Families who planned to visit loved ones' burial sites at a Von Ormy cemetery on Mother's Day arrived only to find locked gates, and shared their frustration online.
"This is very sad, the only way we get to visit with our mothers, and y'all are taking it away from a bunch of families," one Facebook use wrote on a post by First Memorial Park Cemetery.
"Never missed a Mother's Day," another user wrote. "This is so ridiculous… y'all just broke a lot of peoples' hearts."
In a post from Thursday, First Memorial Park staff said a Saturday Mother's Day event would be postponed due to a stormy forecast, but confirmed in the comments section that the grounds would be open Sunday.
Instead, videos sent to KENS 5 show a crowd of families outset a closed wait, upset they weren't able to gain access.
Bexar County deputies eventually arrived, and by 2 p.m. the gate was opened to allow families inside after, according to authorities, some frustrated visitors tried to force their way in by bending bars on the gate.
KENS 5 is told there were a line of cars with people waiting to get inside.
First Memorial Park Cemetery said on their Facebook page that "the grounds were not safe for the public," due to recent rainfall. They also said they were having a problem with snakes.
The business's website show their hours as being open weekdays from 9 a.m. until 5 p.m., and by appointment only on weekends.
The cemetery later apologized for the inconvenience and said they hope to be back open "as soon as possible."
This is a developing story.
Since going on the air in 1950, KENS 5 has strived to be the best, most trusted news and entertainment source for generations of San Antonians.
KENS 5 has brought numerous firsts to South Texas television, including being the first local station with a helicopter, the first with its own Doppler radar and the first to air a local morning news program.
Over the years, KENS 5 has worked to transform local news. Our cameras have been the lens bringing history into local viewers' homes. We're proud of our legacy as we serve San Antonians today.
Today, KENS 5 continues to set the standard in local broadcasting and is recognized by its peers for excellence and innovation. The KENS 5 News team focuses on stories that really matter to our community.
Original News Source

Running For Office? Conservative Campaign Management – Election Day Strategies!