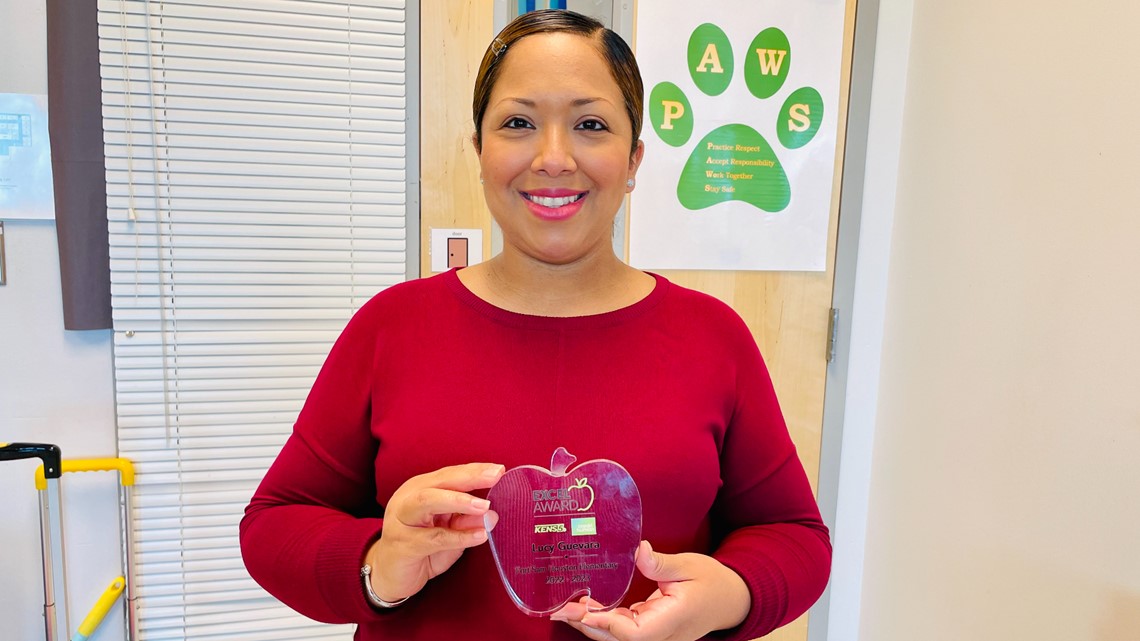 She is a special education teacher who is making a difference at Fort Sam Houston Elementary School.
SAN ANTONIO — A big surprise was in store for Lucy Guevara, a teacher in Fort Sam Houston ISD, as she was presented with a check for $1,000.
This is all part of our KENS 5 EXCEL Award with our partner Credit Human, which honors the best teachers across 19 school districts.
"I really love my job," said Lucy Guevara. "I love coming in and knowing that we're going to be learning."
Guevara found her passion while in high school.
"I always found myself, like, trying to help people all the time," said Guevara. "You need help with your homework. You need help with this. I'm like, I think this is my profession. I think I need to go into it."
The Laredo native started working in a clinical setting, but that spirit for helping others led Guevara to a special education classroom at Fort Sam Houston Elementary
"Our kids, what they need is motivation," said Guevara. "That motivation and having to first show them what we're going to do, but definitely having get to where they are at, you know, having it to present it at their level. So we know that's how they're going to be successful."
Finding that success, Guevara says, doesn't happen without overcoming obstacles.
"It can be challenging sometimes," said Guevara. "Especially having the grades that I have from first to fifth. But I think it's wonderful because it drives me to become a better teacher."
She loves seeing their faces light up every day and watching her students grow and succeed, it's what fuels her passion every day.
"Oh, my gosh, you saw them," said Guevara. "Yes. They are just so happy, I think. I mean, some of my kiddos here are non-verbal, but they do show them by your expression that they're happy."
As for highlights of her career?
"I just like it when our students thrive and then we start to see them go into the geneal education classrooms and they are just thriving in there and they're doing so well, which we have a couple of students that are doing that right now," said Guevara. "And when they get that feedback from the teacher and saying, oh my God, I saw them interacting with this, I saw them playing in the playground. I'm like, oh my gosh. Okay. That, to me is one of the I mean, the highlight of the day when I hear that."
Original News Source

Running For Office? Conservative Campaign Management – Election Day Strategies!