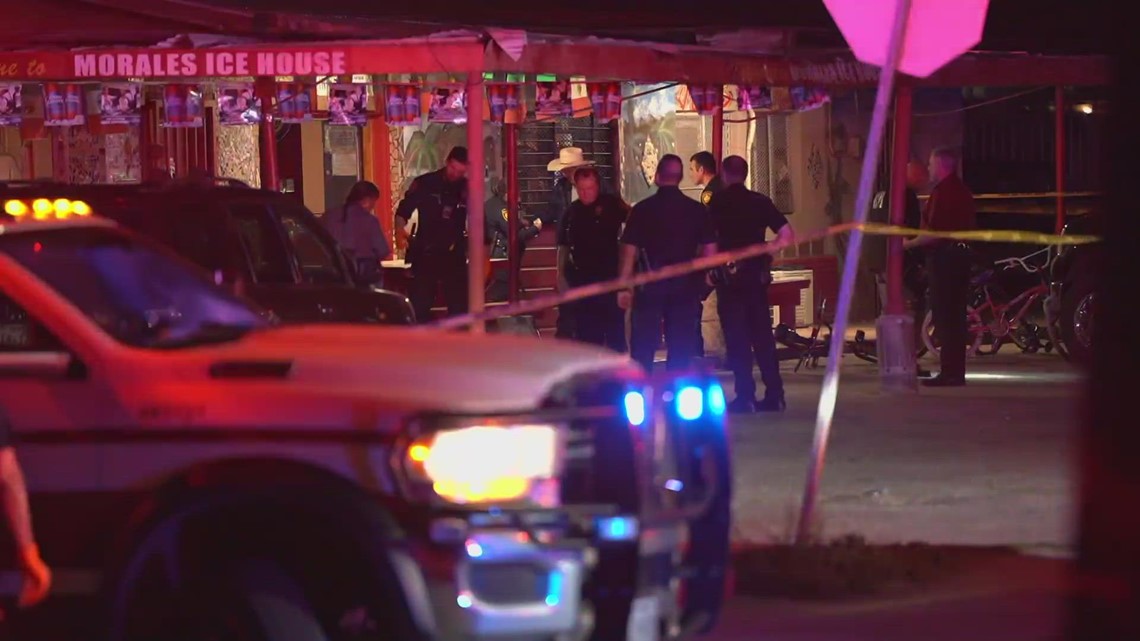 Police have two men in custody, one of which they believe to be the shooter.
SAN ANTONIO — A man is dead after a shooting outside of a bar southwest of downtown late Sunday evening.
Police were called to the scene on Frio City Road just before midnight.
Officials say they have two people in custody at the moment and think one of them may be the shooter, but they're not 100% sure.
The sergeant says when they got to the Morales Ice House, they found a man had been shot multiple times.
EMS tried to save the man's life, but he died at the scene.
We're told he's in his late 40s or early 50s.
Police tell us right now, they're not entirely sure what may have led up to the shooting, but say the incident happened outside in the parking lot, and spilled inside once the man was shot.
The bar also closed after the shooting happened.
No other injuries were reported.
This is not the first shooting to happen there, either.
About a month ago, police told us two men had been shot after a fight at the bar.
We will be reaching out to TABC later this morning to see if they will be opening an investigation at the bar.
This is a developing story.
Since going on the air in 1950, KENS 5 has strived to be the best, most trusted news and entertainment source for generations of San Antonians.
KENS 5 has brought numerous firsts to South Texas television, including being the first local station with a helicopter, the first with its own Doppler radar and the first to air a local morning news program.
Over the years, KENS 5 has worked to transform local news. Our cameras have been the lens bringing history into local viewers' homes. We're proud of our legacy as we serve San Antonians today.
Today, KENS 5 continues to set the standard in local broadcasting and is recognized by its peers for excellence and innovation. The KENS 5 News team focuses on stories that really matter to our community.