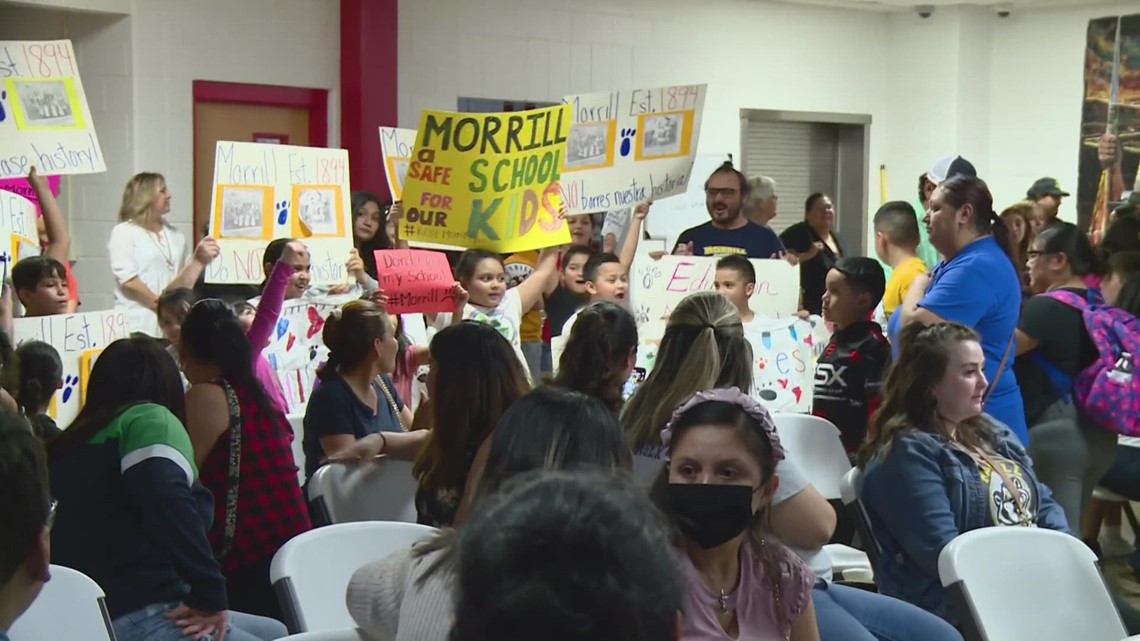 District officials say declining enrollment is to blame for the difficult decisions they now face.
SAN ANTONIO — A historic school district is facing a devastating decision. Harlandale ISD is discussing the closure of five schools. According to district officials, declining enrollment is the reason for the proposal.
Thursday evening, hundreds of people packed into Harlandale Middle School for a town hall meeting.
"Enrollment, as you know, is the basis of the majority of our [state] funding," said Superintendent Gerardo Soto at the meeting. "It has been happening since 2013. Then when COVID hit, there was a sharp decline in enrollment."
According to Soto, the district hired a demographer to forecast future enrollment. He said the findings show enrollment will continue to drop over the next decade.
"We have become more of an empty-nester [neighborhood]," Soto said.
Former Harlandale ISD parent, Maria Villa, says the numbers don't add up.
"The southside is growing, it keeps getting bigger," said Villa. "Harlandale is practically family. My kids went there, my grandkids will go there. So, it's a generational thing. There are new students coming in. So, they cannot predict [future enrollment]. Also, where is our tax money going? We are paying higher property taxes for our schools."
Harlandale ISD gets about $6,000 per student from the state. At the meeting, Soto painted a bleak financial picture, saying Harlandale now has a $12 million deficit.
Soto proposed closing the following schools:
Columbia Heights Elementary
Morrill Elementary
Rayburn Elementary
Vestal Elementary
Jewel Wietzel Center
"We cannot rule with emotion," said Esmerelda Campos, a Harlandale ISD parent. "We have to rule with fact."
Campos is more concerned about what will happen if Harlandale doesn't cut its operational costs by consolidating the elementary schools.
"If we keep hemorrhaging money, at some point the state is going to step in and say, 'You know what, not just these five schools; we are going to go ahead and close six elementary schools, two middle schools and a high school," said Campos. "With that, Harlandale ISD is over as we know it."
"It breaks my heart," said Christian Rios, who has children at Morrill Elementary. "I know the district has to do what it has to do to keep going. But I also enjoy seeing the community come together. I am overwhelmed by the support, especially being an alumnus of Morrill Elementary. It hurts and I know that there are tough decisions ahead of us, but I know the southside will pull together as it always does."
The next town hall is scheduled for Tuesday, March 7, at Terrell Wells Middle School. It starts at 5:30 p.m.