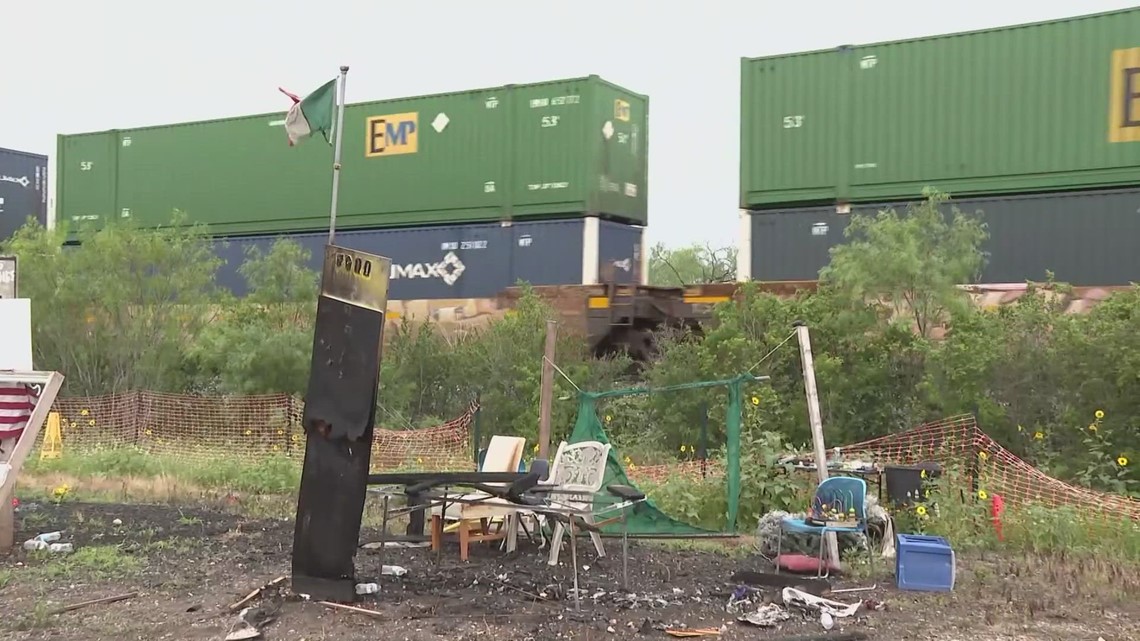 In November, a 44-year-old woman was arrested and admitted to setting the Quintana Road memorial site on fire.
SAN ANTONIO — San Antonio authorities are investigating if a fire at a makeshift memorial dedicated to 53 migrants who died in an overheated semitruck last summer was an act of arson. If so, it would be the second such incident at the far-southwest-side site in six months.
According to officials with the San Antonio Fire Department, someone stopped by Fire Station 52 to report the recent blaze early Monday morning. By the time fire crews arrived, however, the fire was out.
"Is this an act that is sending a message to San Antonio, that migrants are not wanted?" said Sandragrace Martinez, the memorial's curator. "And they're going to start with something that San Antonio organically brought about? I don't know the intent. It's not a good intent, that's for sure."
A 44-year-old woman, Estela Banda, was arrested on the morning of Nov. 22 for allegedly setting fire to the memorial set up along Quintana Road. Fifty-three crosses adorned with flags and flowers had been set up, one for each of the migrants who authorities said died of heat-related sickness after they were abandoned in the semitruck last June 27.
It turned out to be the deadliest human-smuggling event in U.S. history.
There are efforts underway, led by City Council representatives, to build a permanent memorial for the migrants. But funds have to be raised first. Banda is still awaiting trial.
>TRENDING ON KENS 5 YOUTUBE:
[embedded content]
Since going on the air in 1950, KENS 5 has strived to be the best, most trusted news and entertainment source for generations of San Antonians.
KENS 5 has brought numerous firsts to South Texas television, including being the first local station with a helicopter, the first with its own Doppler radar and the first to air a local morning news program.
Over the years, KENS 5 has worked to transform local news. Our cameras have been the lens bringing history into local viewers' homes. We're proud of our legacy as we serve San Antonians today.
Today, KENS 5 continues to set the standard in local broadcasting and is recognized by its peers for excellence and innovation. The KENS 5 News team focuses on stories that really matter to our community.
Original News Source

Running For Office? Conservative Campaign Management – Election Day Strategies!