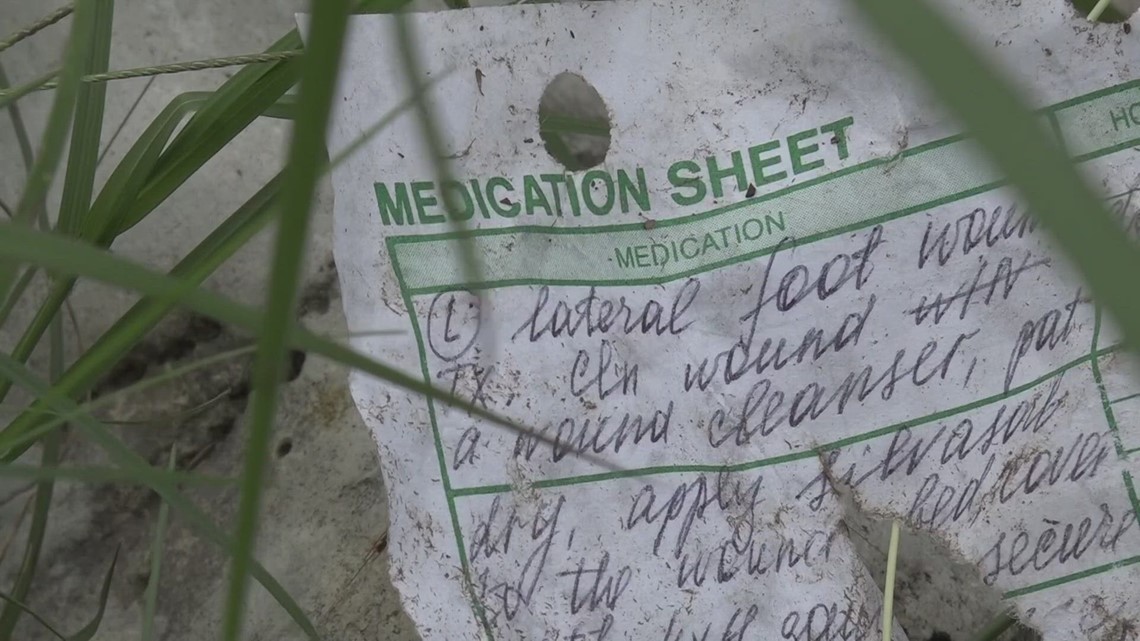 Witnesses say hundreds of pages of private medical information were recovered.
SAN ANTONIO — When a San Antonio woman noticed a blizzard of medical documents littering Southeast Military Drive just east of I-37 last Thursday, she stopped to gather and throw them away without giving it much thought.
Another woman gathering up the trash, however, said she jumped into action after noticing a pickup truck spewing the documents. Shannon, who preferred to use only her first name with KENS 5, said she was with friends when she saw an eastbound truck start to lose its load of papers around 9 p.m.
"We pulled over to help pick them up, we were picking all the papers up for the gentleman who was standing in the road," Shannon said.
It's when Shannon started reading the documents that she knew right away it was a serious issue.
"I was looking through the papers and reading, and it had social security numbers. It had medical documents. It had diagnoses on there," she said. "There was a lot of information, addresses that should be more secured. We started asking, 'What do we do with the papers?' And he said, 'Just throw them away.' Most definitely, it was wrong."
Shannon said she snapped a picture of the dark-colored, four-door pickup truck, but the image was too blurry to discern the license plate.
Days later, when Shannon saw a story on KENS 5 about a similar document dump just two miles away, underneath a Loop 410 bridge, she immediately recognized the name of the facility was the same as the one she encountered.
KENS 5 visited the area Monday evening and found a handful of documents missed by cleanup volunteers.
One paper had the name of Southeast Nursing and Rehabilitation on East Southcross. Another featured the name of the facility's parent company, Advanced Healthcare Solutions. A few others still had patients' names and personal medical information, like prescriptions and treatment plans.
When asked to comment on a secondary breach of patient privacy Tuesday, the company re-sent a statement they provided Monday:
"The protection of personal information is very important to us. We are disturbed by the photographs we have seen and have launched a full investigation to determine what happened and how to appropriately protect our residents and staff on a go forward basis."
On Tuesday, Texas Health and Human Services – the state agency that regulates nursing homes – responded with information about what it was doing to look into the matter. Officials said they were investigating the facility for potential failure to comply with health and safety regulations.
They provided the following citations for additional research.
A Texas HHSC consumer can report a Privacy Incident at this webpage.
If someone has evidence about this specific instance, they may contact HHSC's Region 8 Regional Director Laura Castillo at 512-568-5624 or via email at laura.castillo2@hhs.texas.gov should they find any records or documents that may have been missed after the cleanup."
>TRENDING ON KENS 5 YOUTUBE:
[embedded content]
Original News Source

Running For Office? Conservative Campaign Management – Election Day Strategies!