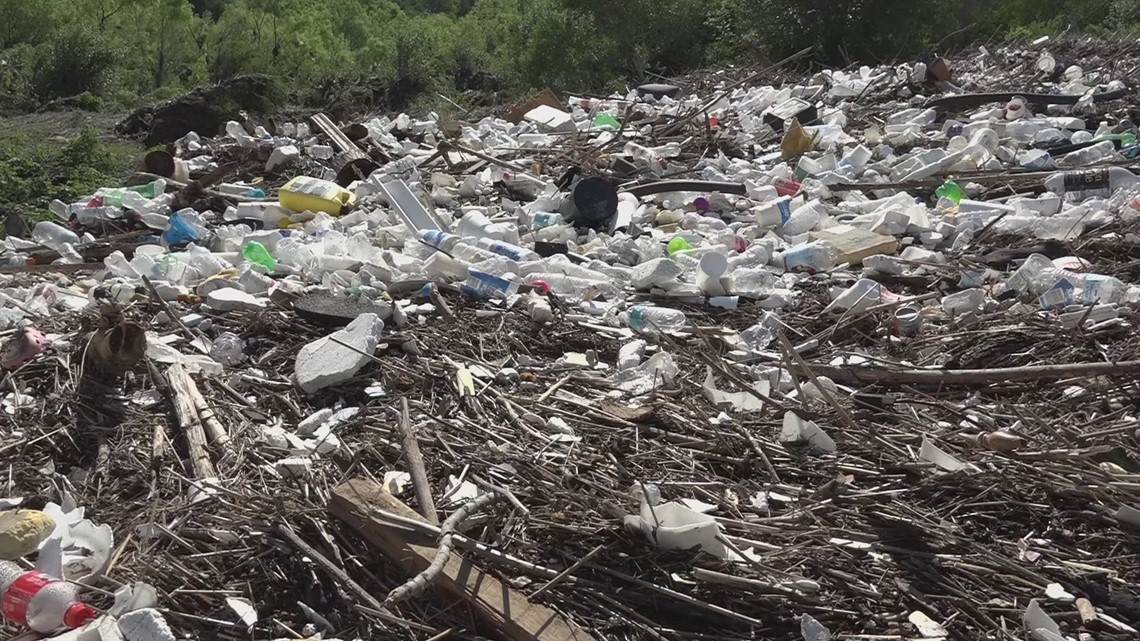 Cleanup workers are struggling to remove mountains of floatable debris.
SAN ANTONIO — As the region prepares for the chance of rain on Thursday night, many are remembering last week's big storm that forced mountains of garbage out of the storm sewer system and into the San Antonio River.
In spite of a push by the San Antonio River Authority (SARA) and a private contractor, much of the mess remains.
A cleanup is underway, but officials say it could get worse before it gets better.
A spokesman for SARA said staff members and contractors will be watching the weather, and if conditions allow, they will be working throughout the weekend to try to get the upper hand on tons of trash left by the last rain event.
By the numbers, SARA reports so far more than 27,000 pounds of mixed litter and thatch has been removed since April 20.
River lover Sixta Garcia was on the Espada Dam overlook Thursday morning, taking a break from her studies. She said she loves the peace and tranquility she finds in the park but she worries about the wildlife struggling to cope with the human-made mess.
Garcia said, "It kind of breaks my heart seeing the wildlife maneuver around it, or they might get caught in it."
The people in charge of the cleanup say we are all to blame.
Steve Graham with the San Antonio River Authority said, "We know from talking to people in surveys that people say, 'No, that litter's not mine. It's somebody else's,' but we all probably contribute to it no matter where we live in the city. It goes straight into our rivers and creeks."
One trail user summed the challenge up perfectly.
He said, "We can't even get people to use turn signals! They're not going to stop littering!"
Garcia agreed, saying, "You're driving and people are like 'Oops, here you go. Toss it out.' It's not cool. I think it needs to stop!"
Graham said while they work hard to help the ecosystem recover, stopping litter at its source is still a smarter idea.
SARA has a volunteer corps of people who like to help improve the river.
They call the program River Warriors and you can explore their website here.
Original News Source

Running For Office? Conservative Campaign Management – Election Day Strategies!