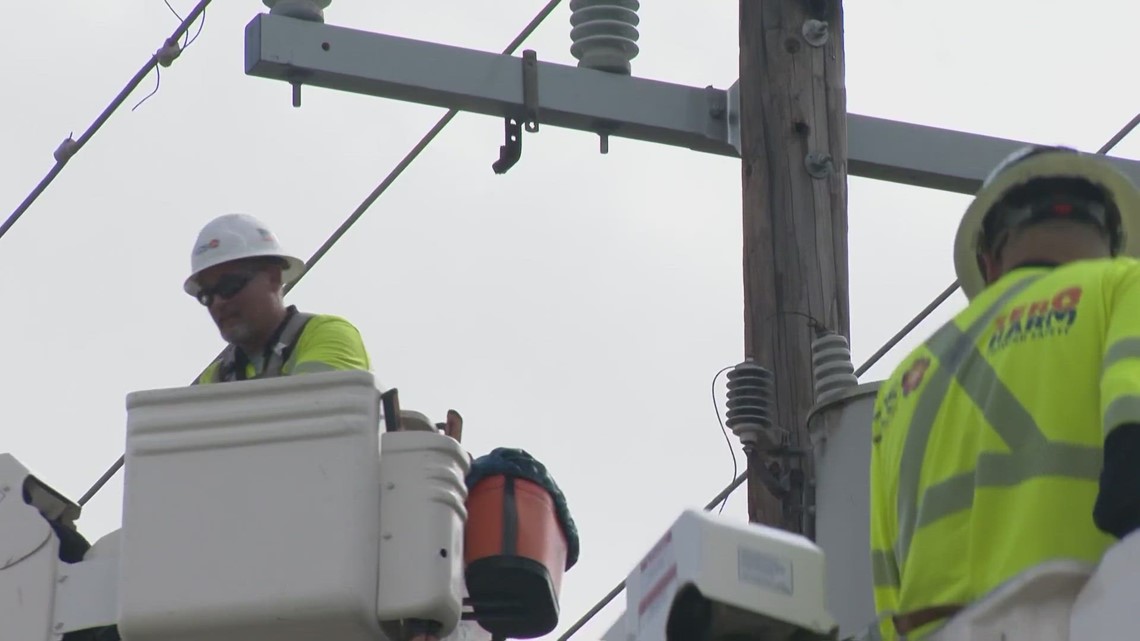 A CPS Energy spokesperson says heavier rain will clean dirty insulators, likely preventing more fires this weekend.
SAN ANTONIO — Burning utility poles forced CPS Energy to cut power to neighborhoods across San Antonio Thursday.
Firefighters and utility crews responded to more than 40 such fires before 5 p.m., according to CPS Energy vice president of system operations and reliability LeeRoy Perez.
Thursday morning's mist mixed with dirt accumulated on power lines. The wet coating provided a pathway for electricity to travel from hot wires, over coiled insulation, onto wooden utility poles.
"As it does that, it begins to create a lot of energy at the top of poles," Perez said. "It begins to create what we call 'pole-top' fires."
The effect is called "tracking."
Tracking repairs are typically quick, Perez said, since crews need only re-enforce or replace burned wood.
But CPS Energy must cut power to the impacted circuit so crews can safely work on the lines. Thousands of San Antonio residents sat in dark, hot homes while workers made repairs Thursday.
Perez noted that San Antonio utility poles are especially dirty, as pollen accumulates and dry dust blows in. Bird droppings also collect on power lines.
Heavier rain should clean the insulation, preventing more fires this weekend.
"In our world, we prefer a heavy rain," Perez said. "Tonight's system that we are anticipating to move in is what we are actually hoping for and relying on."
Original News Source

Running For Office? Conservative Campaign Management – Election Day Strategies!