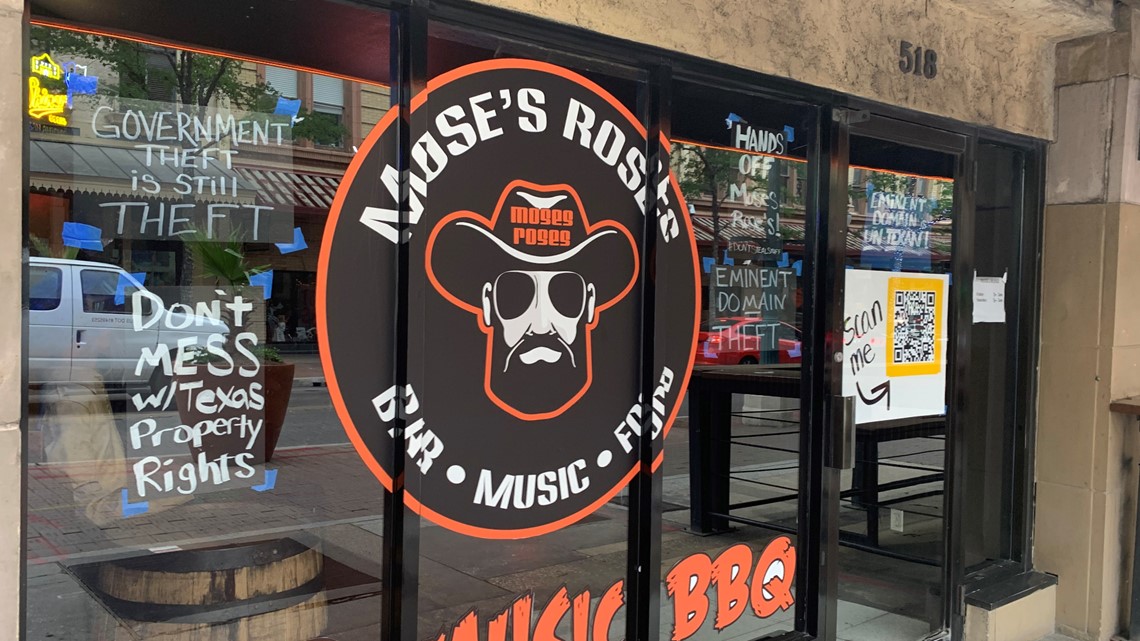 The city filed a condemnation petition Wednesday after owners of the downtown property it's trying to acquire rejected a $5.26 offer in April.
SAN ANTONIO — An ongoing stalemate between the City of San Antonio and the lone downtown business that stands in the way of a long-in-the-works Alamo Plaza makeover has reached a new arena: Court.
The transition was announced Wednesday in the form of a condemnation petition, comes after years of rejected offers and signals a stronger approach by the city in its aims of acquiring 516 East Houston St., currently the address of Moses Rose's Hideout. Last month, the eatery's owners, Vincent Cantu and Elizabeth Harwood Cantu, turned down what the city referred to as its "best and final offer" of $5.26 million.
The petition, filed Wednesday by City Attorney Andy Segovia and his team against the owners, puts the two parties on course for a hearing with a court-appointed panel which "will assess the value of the property." City officials used the filing to say a "necessity exists" in its acquiring of the downtown site, citing the long-term impact of an Alamo Visitors Center and Museum plan which has been approved by City Council.
>>Read the full petition below.
An attorney for the Cantus, meanwhile, said in a statement Wednesday afternoon that the petition contains "nothing that persuades us to think the city has the legal authority to take the Cantus' property."
"The City of San Antonio's willingness to double down today in their unlawful attempt to take the Cantus' property for the GLO and Alamo Trust is both telling and disturbing," the statement reads.
The Cantus requested as much as $16 million for the property in early 2020 before it was appraised for $2 million, a fraction of the asking price. While offers made by the city in early 2022 and February of this year were in the $2 million to $5 million, the Cantus were still requested $10 million in late March, fanning the flames of its battle with the city.
At that point, the Moses Rose's owners said in a statement that while a delayed Alamo Plaza redesign is "an outcome we do not seek," they claimed the Texas General Land Office had "no authority" to take the site through eminent domain.
The city said in its Wednesday statement that it will remain "open to negotiating" outside of the forthcoming court proceedings. Meanwhile, the Cantus' attorney said they "intend to fight back every single step of the way."
>TRENDING ON KENS 5 YOUTUBE:
[embedded content]
Original News Source

Running For Office? Conservative Campaign Management – Election Day Strategies!