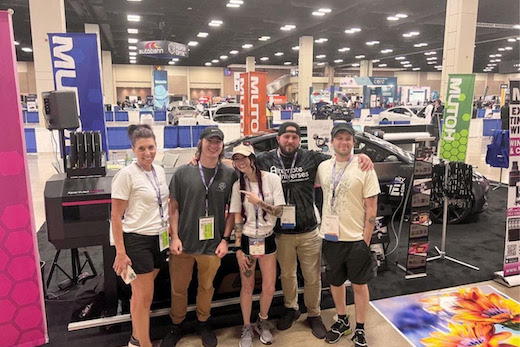 PHOENIX, AZ – MUTOH American Inc. had the entire Henry B. Gonzalez Convention Center buzzing with excitement during this year's Window Film Conference and Tint Off in San Antonio, Texas. Being the only printer manufacturer at the event, MUTOH was ready to share our vast knowledge of the print and wrap industry with the attendees to help them expand their business offerings.
Not only was the MUTOH team equipped with tips and information
on how we can help tinters branch out into the wrap world, we also had a very exciting show special going on for the WFCT attendees. Those who registered for the event were automatically entered into a drawing to win a brand new MUTOH XPJ-1641SR Pro 64" wide format eco solvent printer AKA The Wrapper's Choice and Value Cut 1300 wide format cutter, along with the required training and software, an MSRP value of nearly $30,000! This special created a lot of excitement and anticipation throughout the convention, as one lucky person would be able to add even more value to their business for free! On the last day of the show, MUTOH announced Steve Spoler from Shades of Gray Tint as the winner!
MUTOH was pleased to be joined by Austin and Micaela from The
Tintstitute, an industry influencer with over 55k followers on Instagram, for two days of the show. Over the course of these two days, Austin performed 6 different car wrap demos on a Tesla, using a commercial car wrap with a unique space-themed design that was printed using MUTOH's very own "The Wrapper's Choice" XPJ-1641SR Pro. During each demo, Austin shared his own tips for car wrapping as well as praise for the MUTOH printers they use daily in their shop. The WFCT attendees were impressed to hear that The Tintstitute has owned their MUTOHs for over ten years now, and has given off high quality consistently with every print as well as helped them take their business to the next level.
This being MUTOH's very first time at the Window Film Conference
and Tint Off, we wanted to ensure every person who visited the MUTOH booth had an exceptional experience, and with this much activity going on, we did just that. Intrigued by our printers, attendees asked to learn more about MUTOH and how we can help expand their business offering with car wrapping, vinyl stickers, and more.
MUTOH had a blast at this year's Window Film Conference and Tint
Off. It was our pleasure getting to know each person that walked into our booth and tapping into the world of window film and tint. If you missed this year's WFCT and would like to learn more about our printers and the opportunity they can provide your business, visit us at www.mutoh.com and request your free print samples today.