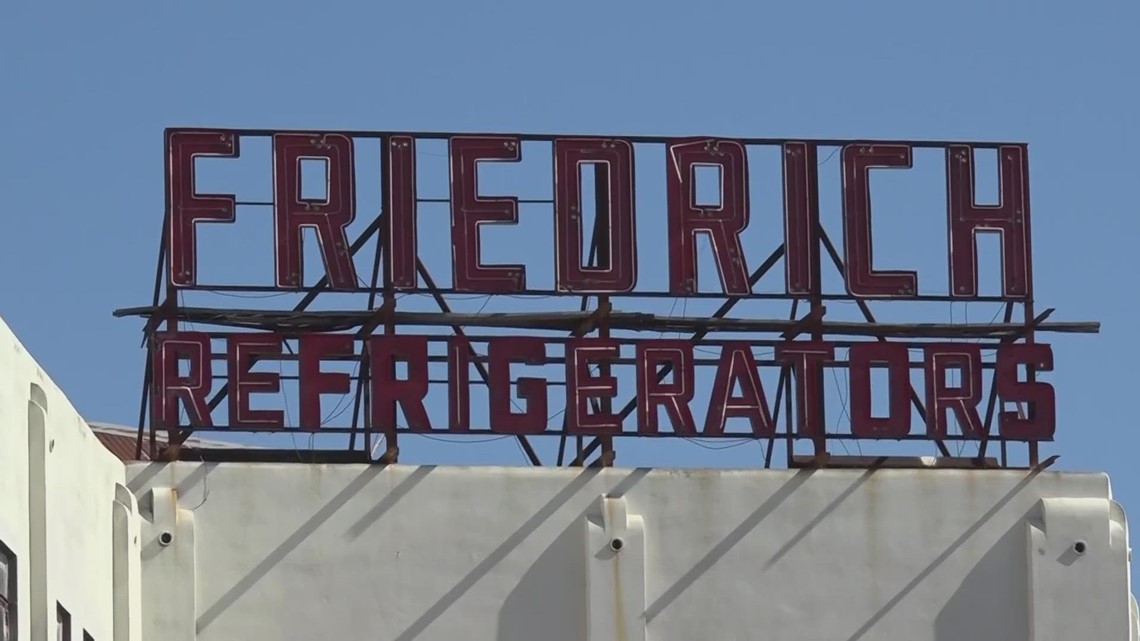 Environmental abatement work started Monday.
SAN ANTONIO — For decades anyone traveling eastbound on East Commerce Street out of the downtown area, has driven into a virtual dead zone.
District 2 City Council representative Jalen McKee Rodriguez said he is looking forward to a rebirth in the area.
The rotting superstructure of the old Friedrich industrial complex has been a forlorn outpost of broken promises for years, as several proposed projects have failed to materialize.
McKee Rodriguez said a public – private partnership appears to be succeeding where others have failed.
"We have an opportunity to bring new life to this entry to the eastside and I'm hopeful we can find innovative ways to do that," McKee Rodriguez said, as environmental remediation work on the compound started this week.
Pete Alanis is with the San Antonio Housing Trust. Alanis said he expects the developer of the project to need about 70 days to remove any hazardous material from the site. Alanis said once the site is safe, demolition work can begin in earnest.
Monica Savino lives a couple of blocks away and she can see the crumbling structure from her kitchen window.
Savino said she and her neighbors have significant concerns about air quality during the demolition phase.
"The air quality resulting from the extensive demolition is a real concern because remember, we have prevailing breezes from the south east. What that does is bring all the air, the dust, the particulates, anything, over to the school and into the residential area," Savino said.
Another concern, Savino said, is what is bound to be a dramatic increase in traffic far into the future.
"We know we're going to have truck traffic, large truck traffic. We're also going to have workers, supplies, materials and then during construction, the same thing because there will be lots of materials coming into the site and into the neighborhood," Savino said, adding that she has heard nothing from neighborhood or project leaders about how the increase will be handled.
"A lot of us see benefits coming from the project, but how the construction occurs between now and then, and the resulting product, will be a concern to neighbors," Savino said. "Once neighbors and business people find out what is going on they are going to want to be a part of it."
Some parents at IDEA Carver Academy have similar concerns.
The school shares a fence line with the site, and children have a playground just a few feet away from where major work should be getting underway soon.
Lisa Perales said she has concerns about what her children may be exposed to.
"The noise, distractions, dust and chemicals our children will be enduring during the coming days and months while they are rebuilding are very concerning. We want to know if there are hazardous materials and if OSHA is involved," Perales said.
Perales said she has traffic concerns as well. "It will severely impact the routes we have to safely pick up our children," she said.
The mother of two said she also has concerns about the workers who will be alongside kids.
"Are there sexual offenders and are they even qualified to be next to a school?" Perales said, adding that she hopes their concerns will be addressed before large scale work gets underway.
Savino said she attended a neighborhood meeting this week and the topic of construction related changes wasn't even discussed.
"We need all of this information now. All of us are going to have to adjust tremendously to this huge project, but if we don't find out until the day that the barricades go up? The roads get closed. The trucks come in. That's going to be way too late. And we will have a wellspring of complaints and unhappy people," Savino said.
McKee Rodriguez said he has been watching developments closely.
"I have the ability to maintain a level of accountability and to ask questions about the status of the project and making sure that my residents are protected and when they have questions and concerns they can come to us. My office is committed to that," McKee Rodriguez said.
Project managers predict it will take six to nine months to complete the demolition work once it gets underway.
When all the old material is gone, a developer plans to build a complex for more than 300 families. They're not saying when they think it might be ready for move-in.
More information about the project can be found here.