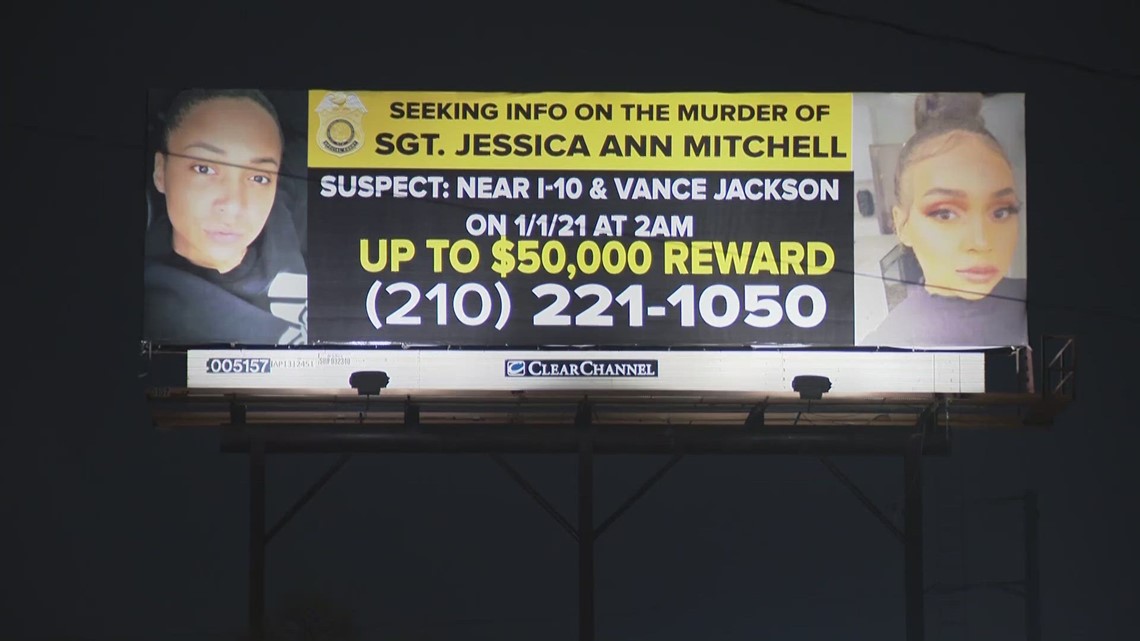 SAN ANTONIO — The murder case of an Army sergeant takes a new turn.
The Army has put up a new billboard pleading for leads in the unsolved case. It is near where Jessica Ann Mitchell was killed off I-10 and West Avenue. The single-mother was found murdered in her car more than two years ago, and to this day no one has been arrested.
San Antonio Police and the Army Criminal Investigation Division are handling the case. Special Agent with Army CID, Joseph James, said the billboard is another step to bring answers. It advertises a $50,000 reward for answers in Mitchell's murder.
"Since day one," James said.
Since the start, James has been assigned to the murder case.
"This case we have left no stone unturned," James said. "We try and look at every avenue."
Police said on New Year's Day 2021, the Fort Sam Houston Army Drill Sergeant was found murdered in her car off I-10.
"We believe someone pulled up next to her and shot her with a high-powered rifle, that's what we know," he said.
James says Mitchell had just left a nearby bar before she was shot and killed. KENS 5 asked if it could be road rage.
"We can't discuss that or give comment at this time," he said.
SAPD had released video of a red truck or SUV that is of interest in the case. Meanwhile, to ramp up efforts the Army increased the reward to $50,000, and days ago put up the billboard.
"Anytime that someone is murdered you want to have that motivation," he said. "Not because it is your job, right. Because it is what I get paid for. It is because you want to seek justice for the individual and their family. But especially when it is one of your own."
SAPD told KENS 5 there are no new updates in the case. However, investigators still believe people in the San Angelo area may have information about the murder.
James said right now this is the only billboard that is planned.
Any person having information regarding this incident should contact Army CID at 210-221-1050.
Information can also be reported anonymously to CID Crime Tips at their website.