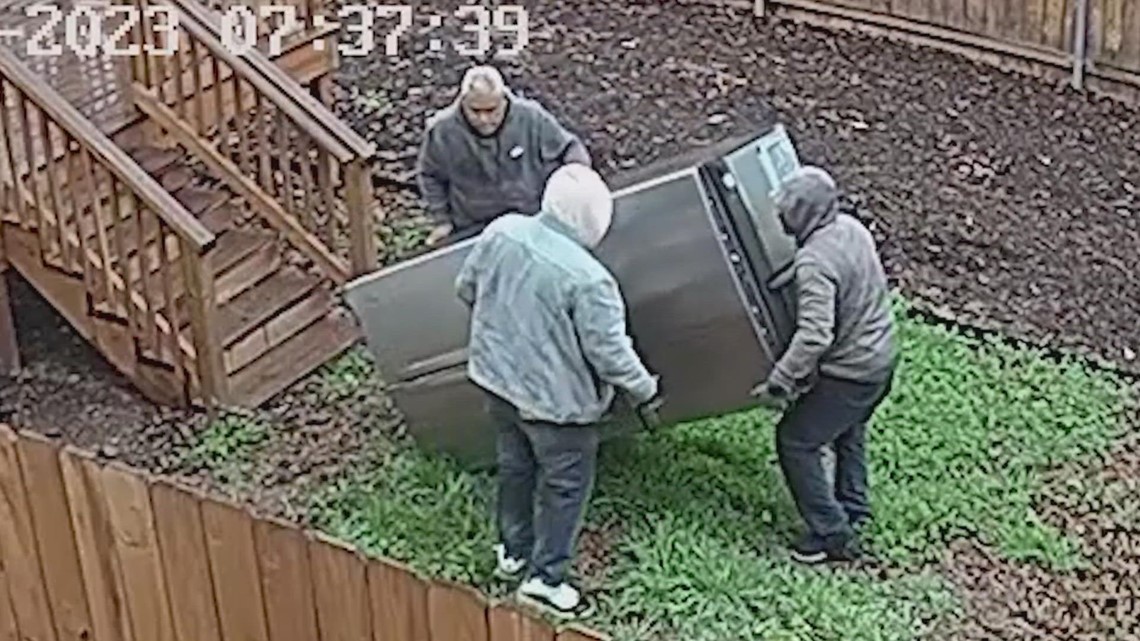 SAN ANTONIO — Thieves target a historic San Antonio home that's undergoing restoration. The homeowner says the most offensive part isn't what the criminals took… it's what they left behind.
The home may look familiar. It's the old Solon Stewart House, built in the 1890's. It made headlines in 2016 when it was moved from Cedar Street, behind Bonham Academy, and transported to Pereida Street to make room for new development.
Fast forward to 2023, the home is now at the center of a criminal investigation.
"She just screamed and said, 'Oh my God, somebody broke in,'" said Paul Perez.
By the time the Perez family saw the security alert on their phone Saturday morning, it was too late.
"[The criminals] were walking in like they owned the place," said Perez.
The family shared their security video with San Antonio Police, which showed three people stealing their property at 311 Pereida Street.
"They were taking their time from 12:38 [a.m.] all the way until 7:30 that morning," Perez explained.
The trio can be seen scoping out the place, then returning an hour later. Two of them wore hoodies to try to cover their face.
"The third gentleman, no hood, no nothing, even with cameras," said Perez. "He didn't really even care."
The home's refrigerator, a wine fridge, and a gas stove were all stolen, along construction supplies.
Perez says what was left behind literally stunk.
"Apparently these guys relieved themselves in both bathrooms," he said. "Was it their signature move or what? I don't know…We ended up having to have somebody come and basically flush them and clean them out because they were clogged up too."
Perez shared the security footage on social media in hopes of catching these Southtown stinkers.
"People know who these people are," said Perez. "I'm going to come after them. I'm going to find out who they are and we're going to try and get them arrested."
Police took fingerprints at the home on Saturday. Officers with the Property Crimes Unit are also reviewing the license plates and security footage.
Perez is the owner of Texas Family Roofing, with more than 20 years of experience in construction. He is getting the Solon Stewart House ready to put back on the market.
"I actually graduated from Brackenridge High School, so I always told my wife, if we ever find something in King William, I would love the opportunity to bring one of those back to life," Perez added.