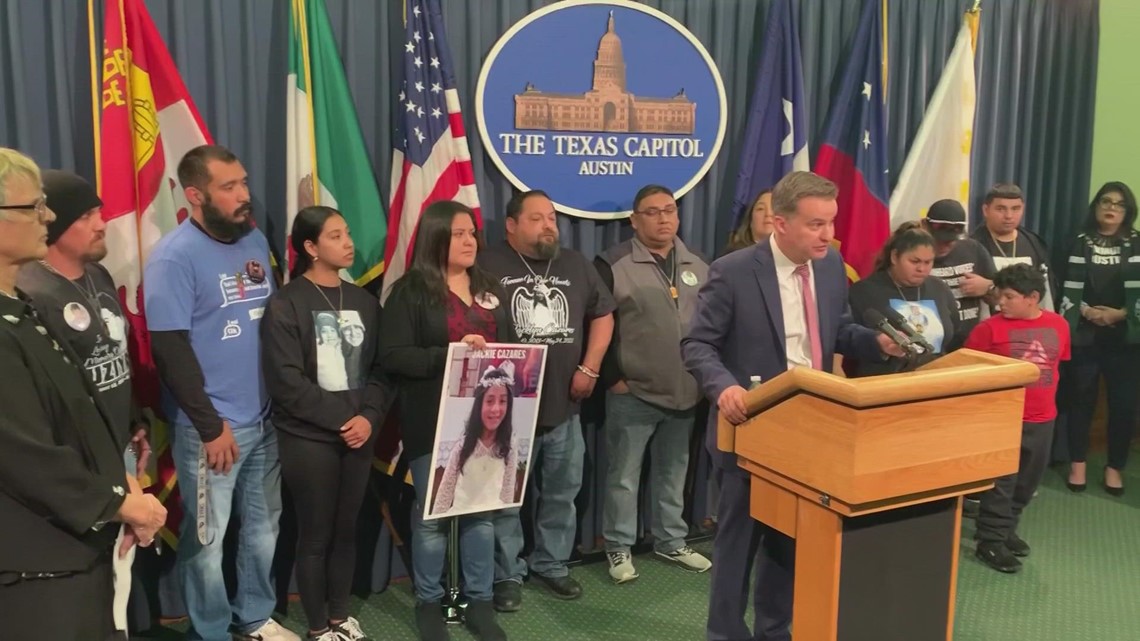 Families of the Uvalde shooting victims were in Austin as four pieces of legislation were filed to curb gun violence and hold agencies accountable for negligence.
AUSTIN, Texas — Families of the students and teachers from Robb Elementary School shared the horrific details of what happened to their loved ones eight months ago. And they support the legislation filed to prevent tragedies like this from happening again.
Some of the 21 families forever changed after the Robb Elementary shooting standing together again. The families of victims including Uziyah Garcia, Jackie Cazares, Lexi Rubio, Tess Mata, Xavier Lopez and teacher Irma Garcia were all in attendance.
"Irma was a natural born care giver, natural funny, bright and dependable," Marisol Lozano is the younger sister of teacher Irma Garcia.
"In her last moments on this earth, her first and final instinct was to protect her students as best she could, she faced homegrown evil, and within seconds he shot Irma 11 times," Lozano and the other families say aren't going anywhere.
"They're here to knock on doors and they will be knocking on legislators to swing legislators that are willing to listen," State Senator Roland Gutierrez filed two bills—one that would create a victim's compensation fund for school shooting victims. Another bill would end qualified immunity for police officers, many who failed to take action on May 24.
"There's not an amount of money that's going to bring back their children, not one bit, but there should be justice," Gutierrez said.
The State Senator says the victims compensation fund would be supported by a proposed state tax on bullet purchases. His legislation would propose giving $1 million to families whose student died in a school shooting, $250,000 for an injured child and $100,000 for children who has "mental injuries."
The qualified immunity legislation would allow police officers and agencies to be sued, action that the legislator is calling for after law enforcement's failed response to the shooting.
"I believe and I support law enforcement 100%, but…under no circumstances should they be allowed to walk away and not compensate people," Sen. Gutierrez stated.
The two resolutions that Gutierrez filed includes one that would also allow families to sue municipal agencies for their negligence in response to the Robb shooting.
Another resolution would call on Congress to end the Protection of Lawful Commerce in Arms Act, which was passed in 2005 that gives immunity from lawsuits to firearm manufacturers, sellers and importers according to the Giffords Law Center.
Justice has let down some of the families, some who believe change is needed to prevent another tragedy.
"Our children are no longer here, our teachers are no longer here but we are fighting for the future of the kids in the schools, the teachers," Veronica Mata, Tess Mata's mom told reporters.
The families say they its been months since they've had contact with top lawmakers governor Greg Abbot or Lieutenant Governor Dan Patrick. However, these families and others will be here every week to discuss issues related to what happened in Uvalde.