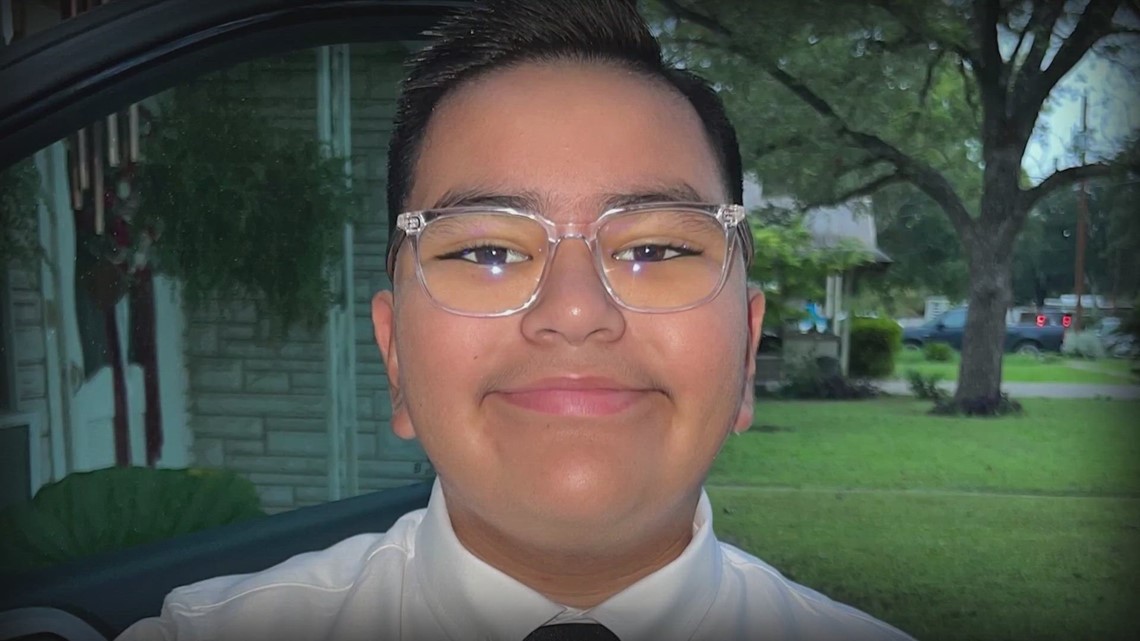 Noah Orona, 11, was shot in the back and has a difficult recovery since the shooting on May 24, 2022.
UVALDE, Texas — Among the victims in Uvalde who survived the shooting, is 11-year-old Noah Orona. He was in his 4th grade classroom, in Room 112, when the gunman stormed in and started shooting.
Noah was shot and a bullet pierced his back and his road to recovery has been long and difficult.
May 24, 2022 was awards morning at Robb Elementary.
"They wanted him to get an award, so they gave him the music award."
Oscar Orona is talking about Noah's 4th grade teachers. Noah had been struggling in math and worked hard to get better so his teachers, Eva Mireles and Irma Garcia, wanted to see him get an award. They decided to give him the music award.
"That's the kind of people they were, always watching out for him," Oscar said.
He and his wife, Jessica, were at Robb Elementary that morning celebrating Noah.
When the presentation ended, they waved goodbye to Noah and Oscar returned to work.
" You can never really prepare for something like this."
Then the unimaginable. "My wife called me, goes, hey, did you hear there's a shooter near the school?"
Oscar rushed back to the campus. "The thing that hit me the most was a pungent smell of gunpowder. It was just so strong."
He immediately started texting Noah's teachers. Ms. Eva Mireles was always in contact with them. "I had texted her when it all started because both of them were very prompt and punctual and answering text messages, except for this one time there was no response."
Another hour would pass before Oscar learns of the horrific mass shooting and that his son was one of the victims and now in the hospital.
"I got closer to him," said his dad. "He said, Dad, my clothes are ruined. It's all full of blood because I let him wear some new clothes for that event. "
A bullet tore through Noah's back when the gunman shot him in room 112.
"A hole in his back, about 2 to 3 inches in circumference and then his shoulder where it exited was just shreds, basically."
Noah played dead to survive but his teachers and classmates were murdered before his eyes. "Both his teachers had been shot and killed and that one of them probably got shot and killed saving Noah."
Noah underwent surgery to his shoulder where the bullet pierced his back. He spent one week in the hospital.
In the months to follow, he would begin countless hours of physical therapy and weekly mental health counseling sessions.
"He's got a scar, a really ugly scar, which is a daily reminder to him." A reminder of the many terrible things he saw in that classroom, things he won't even tell his parents to this day.
Oscar asked us not to bring up the shooting to Noah saying he suffers from PTSD and if the subject is brought up, Noah shuts down.
Instead, I talked to Noah about his hobbies and his love for basketball. Noah's been part of the city league that made it to the playoffs.
It's one of Noah's proudest moments. "I feel happy because I've never been to a playoffs."
Despite glimpses of a happy Noah, it's obvious he is reserved, a completely different kid from a year ago his dad told us.
"The old Noah would still be sitting there talking your ear off," Oscar said," He was a chatterbox, very outgoing. He probably would have been enjoying the camera more so than he should have. Oscar continued "What you saw now is a mirror shell of what he used to be."
The trauma, the grief, the pain, all taking a toll on the entire family.
"We felt helpless because a lot of our friends and families lost loved ones."
You can feel that loss the minute you drive into Uvalde. Walls that were once bare now carry pictures of familiar faces and the town square weeps for the lives of the 19 children and two teachers whose lives were mercilessly taken. The Oronas have leaned on their faith and say they're overwhelmed with all the love and support they've received, even from strangers.
Some of those special moments are documented throughout their home. Noah alongside some of his favorite players from the Spurs, Astros and the Cowboys.
Even Jeff Kinney, the author of Noah's favorite book, Diary of a Wimpy Kid, sent him a special birthday message for his 11th birthday.
All of that and his new private school, Sacred Heart Catholic, have helped Noah get through some very difficult days.
"My son has persevered. He's still my hero and that no matter what happens, we're going to stand by him. We're going to stand with our families that lost their babies. "
Despite all the fears, and uncertainty, there is one constant, Oscar saying they will do whatever it takes to provide their little boy with all the tools to succeed mentally, physically and financially.
"I think one of the things that people forget about some of our children when I say that I'm talking about our survivors is that this is an ongoing process. You know what I mean? These kids are going to have needs that, you know, we're hoping we can provide for."
Original News Source

Running For Office? Conservative Campaign Management – Election Day Strategies!