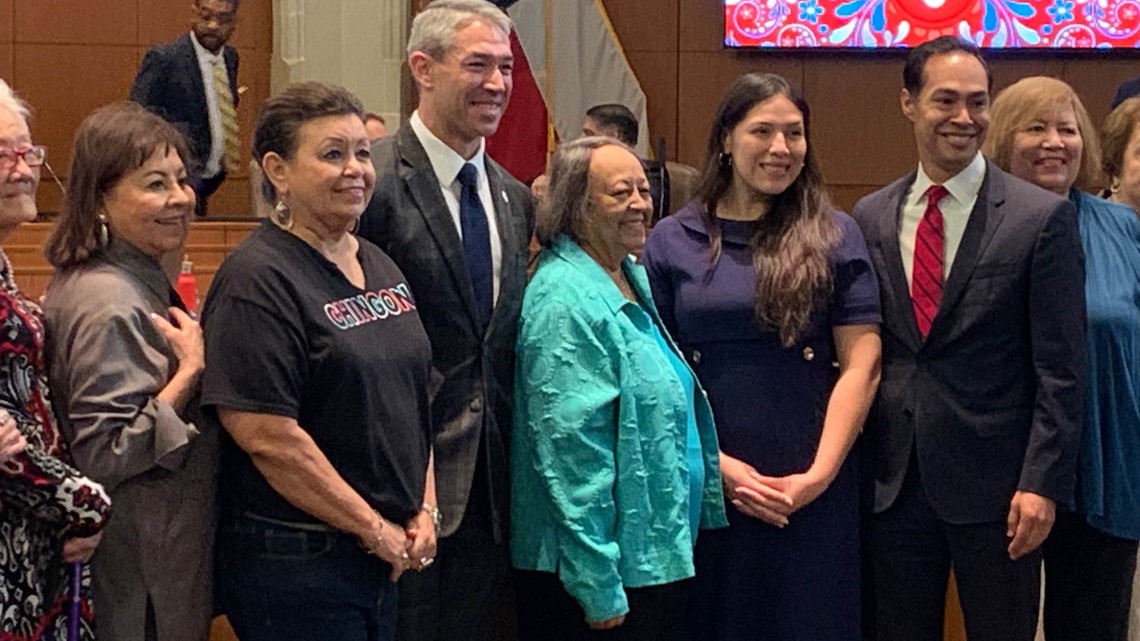 The mother of twins Joaquin and Julian Castro, who was a local civil rights activist, was the lone finalist to fill out the rest of Ana Sandoval's term.
Council members described it as a moment years in the making after all that Castro has done for San Antonio. Castro was involved with the Mexican American Legal Defense and Educational Fund, a founding member of La Raza Unida and advocate for the city's west side.
"I'm really honored to serve the people of District 7, which is a district I love very much. It's been very good to our family," Castro said. She ran for city council in 1971 when there were no single-member districts, and some council members said Thursday's vote is a "full circle" moment.
"This moment for my mother is in some ways 52 years in the making," Rosie's son, Julian Castro, a former San Antonio Mayor and HUD Secretary, spoke before the council.
Part of Castro's goals during her time as council includes addressing safe streets, getting young people registered to vote and continuing to address the priorities of Ana Sandoval, who resigned from council in January.
It was a moment of celebration for women who broke barriers on city council. Maria Berriozabal, the first Latina elected to San Antonio City Council, spoke in support of Castro's appointment.
"She opened the door for people who could not win election after election because the cards were stacked against us," Berriozabal said.
Castro was honored by those remarks, but says other Latino figures helped break those barriers.
"A lot of Latino folks have come before that are now being looked at with MACRE, the Mexican American Civil Rights Institute. There are people that suffered a great deal to be able to make sure we could all have a place at the table," Castro said.
On top of her policy goals, which include staying connected with neighborhood associations and other groups, Castro hopes she can get the younger generation more involved in politics.
"There used to be a day on council where they used to bring their kids to council and county commissioners courts, sometimes they go to the state, but you don't see them at council. I think they need to see government in action," Castro added.
There's already action on the election front. Five candidates including Dan Rossiter, Marina Alderete Gavito, Jacob Chapa, Sandragrace Martinez and Andrew "AJ" Luck have filed to run for the seat in May.