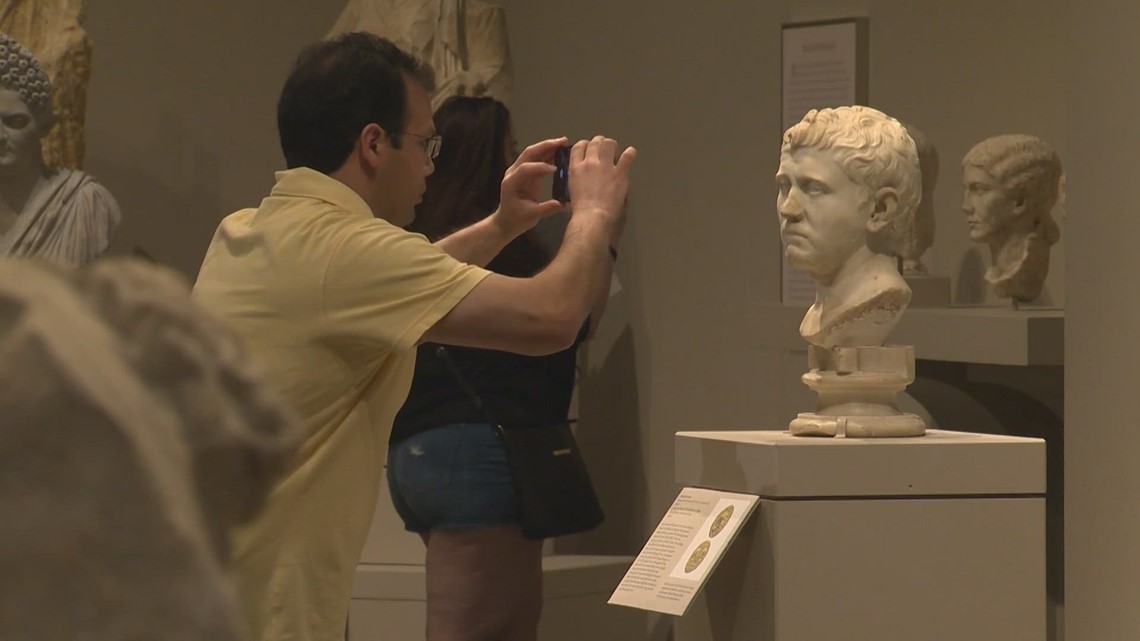 The Sculpture will remain on display until May 28th, before returning back to Germany.
SAN ANTONIO — A Roman bust famously sold at an Austin Good Will for $35 was originally announced as it's journey back to its rightful owners in Germany after Sunday but San Antonians are getting one last chance to see it in person.
The Denman Gallery at The San Antonio Museum of Art is home to many sculptures. For the past year though, one sculpture in particular steals the show.
"It's been a real treat to be able to have it here. It's a really special and unique story," said Tatiana Herrera-Schneider, Chief engagement officer with the San Antonio Museum of Art.
The irony is bust itself is stolen. Taken from a Bavarian art collection during World War II, before eventually becoming famous in the digital age for it's long and storied past.
"It kind of merges ancient history and modern history," Herrera-Schneider said. "It brings to light that looting isn't something that happened a long time ago, that it is a modern problem."
Antique dealer Laura Young found the bust in a Good Will in 2018. It gained international attention after it was traced to the Roman Empire from around the first century. The priceless artifact cost her $35.
The portrait was bought by King Ludwig I of Bavaria in the 1830s for his Antiquities Collection. It eventually became property of the Bavarian States Antiquities Collection under the unified German Government where it lived in a replica Pompeii villa in the town of Aschaffenburg. It disappeared after the allied forces bombed the town in 1945, close to the end of the war.
Young said it was a bittersweet feeling seeing him go.
"I did cry when he left the house. I'm not going to lie. That hurt a little bit. And it'll probably hurt tonight," she said. "But it's fine. It's, he needs to go home."
Before it's discovery the bust, which Young named Dennis, spent years on a table in her home. At one point she had taken so many pictures of it, that her phone mistook it for her child.
"One of my friends joked that I was going through empty nest syndrome when he left last year," Young said.
Like any child growing up, Dennis is flying the coop: going back to Germany to be with his rightful owners. Folks here in Texas have until May 28 to get one last look.
Original News Source

Running For Office? Conservative Campaign Management – Election Day Strategies!