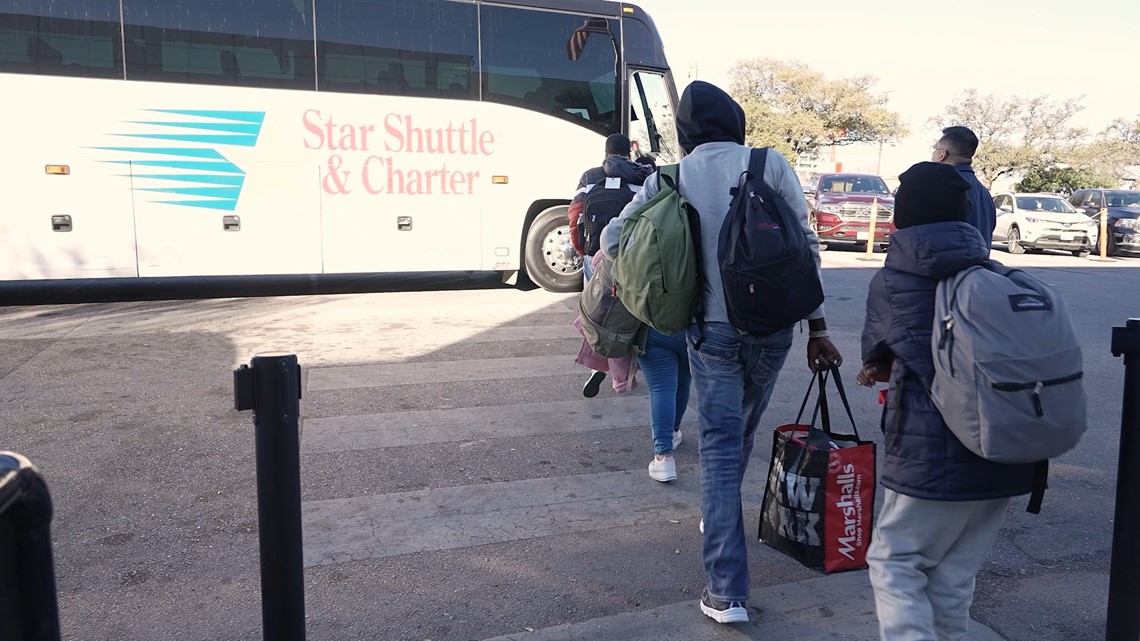 The Alamo City is expected to bus hundreds of migrants to the Texas capital in the coming days so they can more quickly reach their destinations.
SAN ANTONIO — San Antonio city officials have asked Austin leaders to assist in flying out asylum-seekers to their sponsor destinations, according to a City of Austin release which cites "significant fluctuations" in the number of migrants arriving to the Alamo City in recent months.
No specific figures have been provided by San Antonio about the trends of individuals being serviced at the local migrant resource center as of late, but the city said the collaboration began Wednesday. Those migrants are typically flown out of San Antonio International airport to connect with their U.S. sponsors.
"Our goal is to support our neighboring cities, help asylum-seekers be able to reach their sponsor destinations safely and with dignity, while also maintaining a busy airport and capacity to respond to local emergency needs," Juan Ortiz, director of Austin's Office of Homeland Security and Emergency Management, is quoted as saying in the release.
"We are grateful to our neighbors in Austin for partnering with us to make sure asylum-seekers reach their host city destination," added San Antonio Deputy City Manager Maria Villagomez.
Officials said the migrants being flown out of Austin-Bergstrom International have completed the initial paperwork assigned to asylum-seekers. Up to 120 are expected to arrive in Austin by bus each day as the city helps fly them out.
This is a developing story. Check back with KENS5.com for updates.
>TRENDING ON KENS 5 YOUTUBE:
[embedded content]
Since going on the air in 1950, KENS 5 has strived to be the best, most trusted news and entertainment source for generations of San Antonians.
KENS 5 has brought numerous firsts to South Texas television, including being the first local station with a helicopter, the first with its own Doppler radar and the first to air a local morning news program.
Over the years, KENS 5 has worked to transform local news. Our cameras have been the lens bringing history into local viewers' homes. We're proud of our legacy as we serve San Antonians today.
Today, KENS 5 continues to set the standard in local broadcasting and is recognized by its peers for excellence and innovation. The KENS 5 News team focuses on stories that really matter to our community.