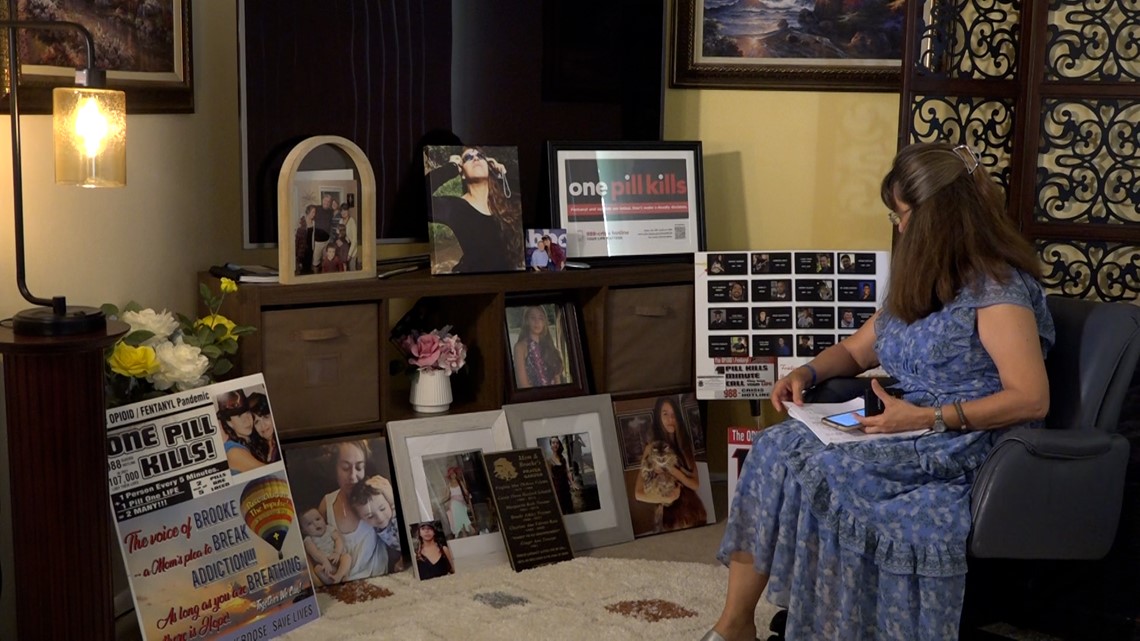 After Ginger Treanor's daughter lost her life to opioids in 2021, she's teaming up with VIA to spread the message and warning that "One Pill Kills."
SAN ANTONIO — A blanket made of her daughter's T-shirts hangs on the wall inside Ginger Treanor's home.
"She was a modern day hobo," Treanor said. "She hopped trains, she traveled all over, she was all about being outdoors and doing things with her hands."
The mother has now been moved to action herself, motivated by loss. Her Treanor's daughter, Brooke, lost her life to fentanyl in 2021, joining a cohort of Texas families for whom tragedy has spurred activism.
"(Brooke) suffered for six years from addiction. We need to think of addiction more like a cancer," said Treanor, who is now a chaplain helping girls on their recovery journeys.
Treanor has now found herself enlisted in the effort, sharing the message that "one pill kills." Her campaign has found success as of late, and Treanor hopes her story can remind others to take the drug crisis seriously.
That message will soon hit each corner of San Antonio. On Wednesday the VIA Board of Trustees announced its fleet of buses will feature placards reading "One Pill Kills," along with QR codes providing links to the Drug Enforcement Administration's website for resources and more information.
"They're better than billboards," Treanor said. "They're traveling all over— schools, colleges, all over our streets to where the people are."
'You will never get over it'
The people who have lost their lives to fentanyl all look different.
Brooke's photo is on the website Texas Pictures, where other families share their heartbreaking stories on camera. Treanor wants to turn her grief into action.
"You will never get over it. You have to find ways to get around it and keep your loved one's story alive, and doing what I'm doing, helping girls in recovery, and every initiative I've done with One pill Kills is amazing," Treanor said.
She says she will be joining state and local leaders to get this message out.
Whether its police or a parent, Treanor says the fentanyl crisis can impact anyone.
"There's no demographics; everyone is affected by the fentanyl crisis and we need to get the word out," she said.
Treanor says she is also trying to start a nonprofit in her daughter's name to raise awareness and help other families.
>TRENDING ON KENS 5 YOUTUBE:
[embedded content]