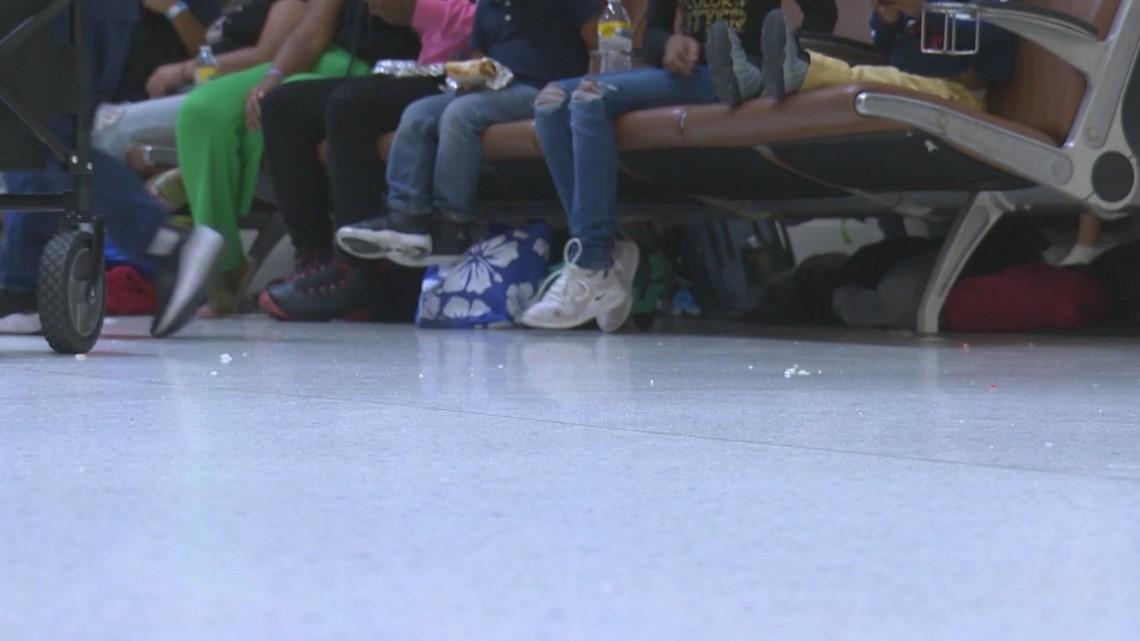 Eagle's Flight Advocacy and Outreach has been bringing hot meals and childcare items, and they're hoping other groups join them.
SAN ANTONIO — Title 42 is expiring later this week. However, San Antonio has already seen migrants arrive in large numbers, with some arriving at the airport unsure of when their flights would be leaving.
The Trump administration put the policy in place in March of 2020 as a COVID protocol, allowing border agents to expel migrants seeking asylum in the U.S. President Biden tried to end the policy when he took office, but was blocked in court.
Several families with young children filled the crowd inside the San Antonio International Airport's B-terminal Friday night. Some kids tried to sleep under benches while parents tended to toddlers in ill-fitting second-hand clothes.
For Pamela Allen, seeing the influx of migrants at the airport was a haunting reminder of her work overseas in the mid-1990's
"It reminded me of those refugees from Bosnia and Sarajevo," Allen said. "And it is a bit overwhelming."
"We had so many people in line and we weren't able to feed them all," she said. "And that was a horrific feeling for me because some of those in the line were children."
31-year-old Yenifer Silva is a single mother of two. She spent 23 days traveling with her 8-year-old son and12-year-old daughter from Venezuela to the U.S.
"Jungle, rivers, swamps, forests. A lot of risk, a lot. We put our lives on the line. Everything to be able to come here," Silva said
"Rivers with crocodiles," her son added. "And streets. Streets with too much walking."
Fitlleisy Martinez says that for her family, the jungles were a little intense, but they didn't feel safe staying in Venezuela
"The country is very dangerous, crime is very riotous, and the economy is very, very complicated." said Martinez. "My husband and I really worked there and the money was not enough for us. The money doesn't go far in Venezuela"
Allen says the weekly trips to the airport have been costing eagles flight five-hundred dollars each, but on their own they can only do so much.
"Those warm meals do mean a lot to them, though," she said. "I'm hoping that some other nonprofits will jump on, too, and will say yes, let's do this, let's help this traveler.
[embedded content]
Original News Source

Running For Office? Conservative Campaign Management – Election Day Strategies!