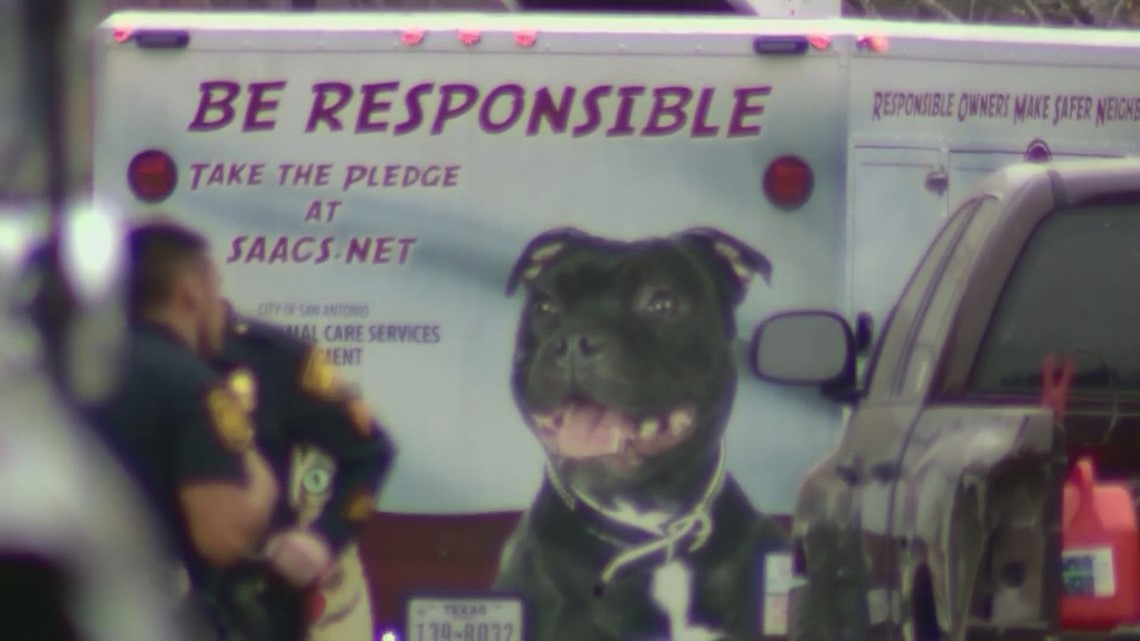 A memo obtained by KENS 5 outlines details of a new program proposed by San Antonio's City manager to reduce the risk of vicious dog attacks.
SAN ANTONIO — After a dog attack left an 81-year-old man dead and three others injured, one of San Antonio's leaders says it will propose a new program to address aggressive dogs around the city.
According to the memo from City Manager Erik Walsh, 911 was called 114 times and 311 was called 42 times to the address on Depla Street from April 2020 to February 2023.
The proposed "Good Neighbor Program" will be presented to address homes with a significant number of 911, 311, and non-emergency calls.
Walsh announced other proposed policy changes in wake of the dog attack, include ACS giving criminal citations, rather than civil citations if a dog was unrestrained and off the owner's property during a bite call.
ACS will also have a new quarantine policy to increase capacity for dangerous dogs and bite impoundments, but it says the policy will only apply if the bite occurs on the owner's property.
Another key component that could change is the process of filing a signed affidavit to report a dangerous dog. The memo says ACS will work with SAPD to train SAFFE officers on helping residents fill out the affidavit to conduct a dangerous dog investigation.
"Having our SAFFE officers equipped with that knowledge to connect our neighbors and neighborhood leadership with the affidavit process, I believe is going to be key to closing that gap that existed," Councilwoman Teri Castillo told KENS 5 there's often disconnect when data isn't shared between agencies.
Two of the three dogs involved in the fatal attack, who were later put down, were not designated as dangerous dogs because previous bite victims did not file a report. Neighbors complained the dogs were an issue in the past.
The memo says city staff is working with its State delegation on state law to enhance dangerous dog enforcement. State Senator Jose Menendez and State Representative Liz Campos filed bills in the legislature.
The program and proposed ordinance will be presented at the April 5 B session. Meanwhile, the memo says the city is inspecting 103 dogs who were designated dangerous. As of March 14, 43 are in compliance and 60 are out of compliance.
Under a canvassing pilot in council districts 2 and 3 addressing multiple bite dogs and aggressive dogs, ACS identified 139 home addresses where an animal was quarantined at least two times for bite cases, and the memo says ACS is making sure those dogs are being restrained.
"It's very alarming," Councilwoman Castillo said about the data.
On March 22, ACS will be providing an update on its strategic plan, laying out priorities for the next five to ten years.
Meanwhile, dog owners Christian Moreno and Abilene Schnieder are facing felony charges from the attack. Schnieder's sister, Destiny Cardona was charged with retaliation against a witness to the fatal dog attack and is out on bond.
Original News Source

Running For Office? Conservative Campaign Management – Election Day Strategies!