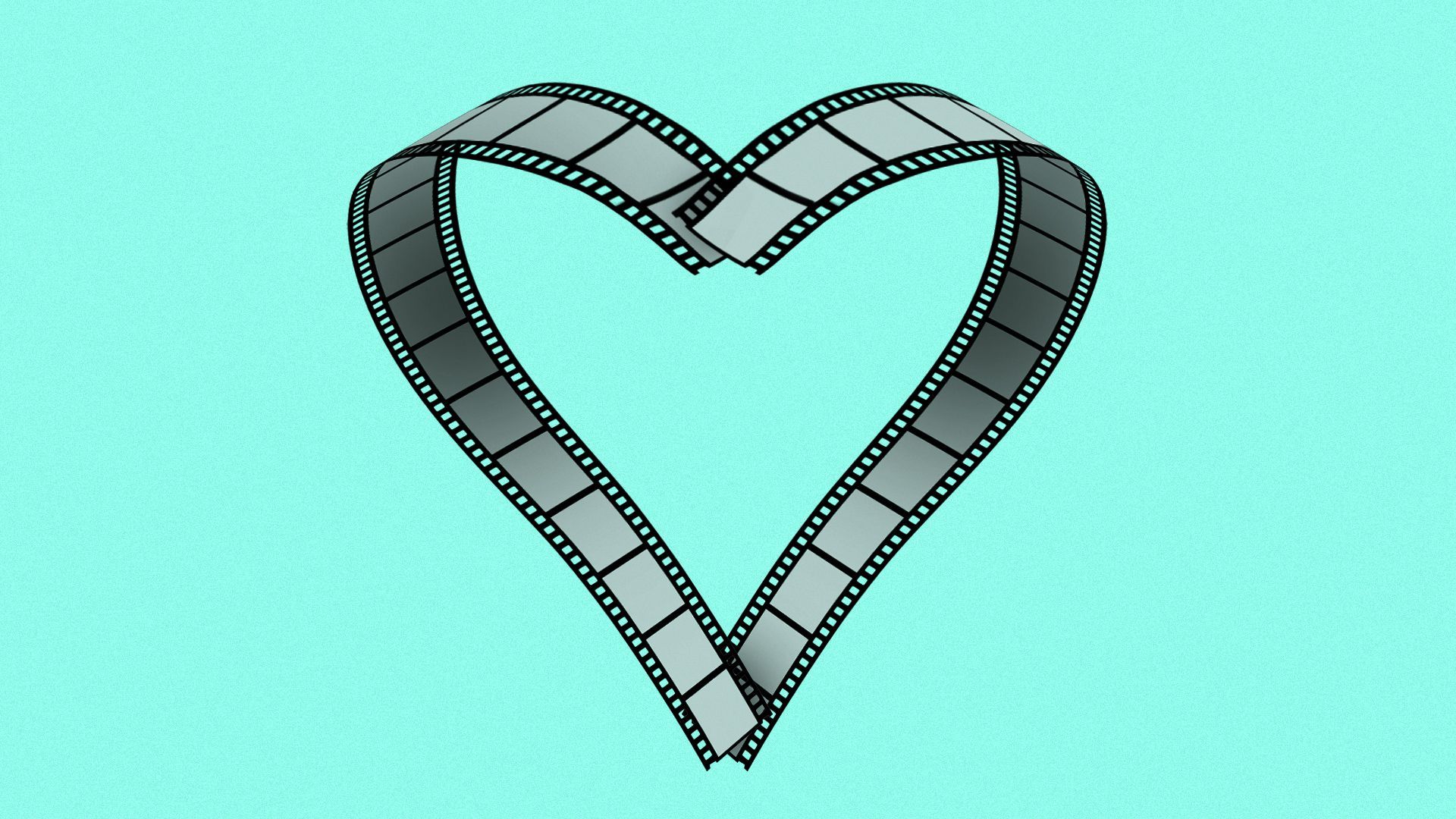 San Antonio made the list along with other major Texas cities. Illustration: Aïda Amer/Axios
San Antonio is a film-friendly city for the fifth consecutive year, according to a ranking released by MovieMaker on Wednesday.
Why it matters: Texas often lags behind states like Georgia for film production and is not the most financially friendly environment for filmmakers, especially after state lawmakers made steep cuts to the incentive program used to lure productions in 2017.
What's happening: MovieMaker, a Hollywood-based website, named San Antonio No. 22 of the 25 Best Places to Live and Work as a filmmaker.
The list was based on surveys, production spending, available tax incentives, research and visits.
Free permitting at 250 city-owned locations, the reinstatement of the city's film incentive program and new programs like UTSA's bachelor of fine arts in film & media studies, which launched last fall, also helped make the case for San Antonio's spot on the list.
MovieMaker editor-in-chief Tim Molloy also called San Antonio "astoundingly photogenic."
Atlanta is No. 1 on the list. Austin, Dallas, Houston and Fort Worth are 20th, 21st and 25th, respectively.
State of play: Stacey Norton, spokesperson for the city's Arts and Culture Department, says the Supplemental San Antonio Film Incentive Program, a rebate program funded by the hotel occupancy tax, is separate from the state incentive program. The city program was paused during the pandemic but reinstated in September.
The San Antonio incentive program gets $250,000 annually, according to film and music commissioner Kim LeBlanc.
"If Texas wants a real, thriving film community, (funding) is going to be the single, most important factor," Paul Ardoin, director of film/media in UTSA's new program, tells Axios.
Ardoin says the San Antonio incentive program is an example of how the city is overcoming the diminished state funding by brokering connections within the industry. For example, a course at UTSA is being taught by John Herrera, a writer for "The Handmaid's Tale."
Adroin points to partnerships with SAY Sí and Santikos Entertainment, which provides opportunities to showcase work, as those supporting San Antonio's film industry.
"We want to be training up great talent here so we have people available when the productions come to town, but we also want to make sure that out of town (filmmakers) know who we are and bring the production to us," he says.
Movies including "The Answer to My Prayer," starring Luis Fonsi, and HGTV's home renovation show "Why the Heck Did I Buy This House?" were filmed in San Antonio in 2022.
Flashback: "Miss Congeniality," Jennifer Lopez's breakthrough in the beloved "Selena" biopic and "The Big Brawl," Jackie Chan's American debut, were also filmed in San Antonio.
What they're saying: Daniel Saldivar, CEO of locally based White Rhino VFX, has a resume that extends beyond city limits and includes projects for Megan Thee Stallion, Santana and Fortnite.
"We know that it's a magnet city. San Antonio is a town that loves making movies and is the same exact town that loves watching movies. Here you have a culture that wants to be involved and enjoys seeing the results," Saldivar says.