Helotes, Shavano Park and Leon Valley reported broken tree limbs and power poles due to thunderstorm wind damage.
SAN ANTONIO — After near record-breaking temperatures the past week, a cold front rolled through San Antonio bringing severe weather to the city and surrounding areas.
Helotes, Shavano Park and Leon Valley have reported broken tree limbs and broken power poles due to thunderstorm wind damage.
One video in Del Rio shows a high school track meet ended due to high wind speeds near 40-50 mph.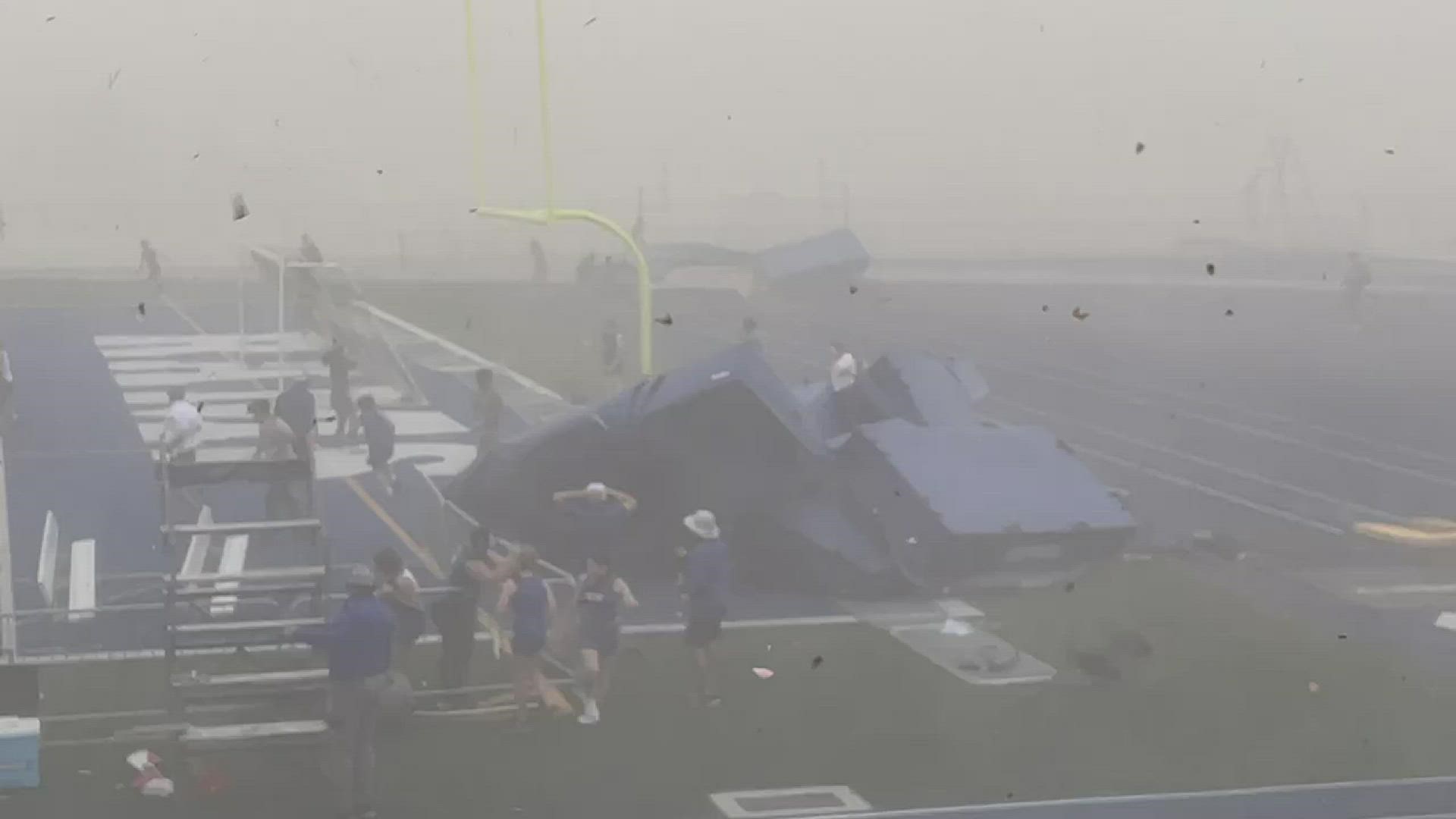 A girl's high school playoff game was paused at the Alamodome after hail and rain was reported to be leaking through the roof.
Power outages are growing in the San Antonio area as there were about 21,553 CPS Energy customers without power in the metro as of 8:45 p.m. Power outages have since dropped near 6,000 by 10:30 p.m.
San Antonians will still need to be on alert since high winds have placed a Red Flag Warning for Bexar County through Friday morning at 3 a.m.
What to expect before the weekend:
Thursday (High 86 and Low 67):The front brings a chance of damaging straight line winds and large hail up to 3 inches are possible. Wind gusts between 40-50 mph are possible and more likely in the Hill Country.
Remember to have a safe, secure place during severe weather as high winds and large hail and knock down trees and power lines.
Thanks to plenty of moisture and instability storms can turn severe quickly and will reach the Hill Country area before San Antonio.
Storms are expected to exit our region around midnight tonight. However, Bexar County is currently under an Red Flag Warning now until 3 a.m. Friday and a Wind Advisory until midnight tonight. This means any fires that develop could become difficult to control due to high winds and dry conditions.
San Antonians will want to secure any loose items that will easily blow away and avoid activities that could cause fires.
Friday (High 75 and Low 50): Cooler air will settle in bringing high temperatures around 15 degrees lower than Thursday. This cooler air also brings morning low temperatures closer to average for the next couple of days.
A warming trend will begin by the weekend sending high temperatures into the upper 70s.